FLOWERY BRANCH, Ga. -- A tweet was sent out from the NFL on CBS Twitter account on Tuesday morning that featured the Falcons, and not in a good way.
Since the start of the 2021 season, Atlanta's defense has accumulated the least amount of sacks compared to other teams across the league, and by a relatively large margin at that. The Falcons have 37 sacks in the last two years. The next closest teams are the Raiders and Lions, who both have 60 sacks.
But if anyone has actually been paying attention to what the Falcons have had to do at the edge rusher position, specifically, in the last three years, you know why that specific stat looks the way it does. NFL on CBS's social media account might deem it "Yikes"-worthy, but no one with a pulse on the Falcons this year should be shocked by that number at all.
There has been hardly any consistency in pass rushers in the last three years in Atlanta, in terms of both bodies and production. Don't believe it? Here's what the position group looked like in each of the last three years.
2020: Steven Means, John Cominsky, Dante Fowler, Charles Harris, Allen Bailey and - for a time - Takk McKinley ... as a group, they totaled 12.5 sacks out of the 29 sacks the Falcons had as a team.
2021: Steven Means, Brandon Copeland, Dante Fowler and Ade Ogundeji... as a group, they totaled 5.5 of the 18 sacks the Falcons had as a team.
2023: Lorenzo Carter, Ade Ogundeji, Arnold Ebiketie and DeAngelo Malone... as a group, they so far have totaled 8.5 of the 19 sacks the Falcons have as a team.
Arthur Smith, Terry Fontenot and their staff came to Atlanta in 2021. When they did, they knew that rebuilding the outside linebacker position in Atlanta was going to take time, probably a lot of it. Truly, that rebuild didn't officially get underway until the 2022 NFL Draft, as evident by the drafting of Ebiketie and Malone.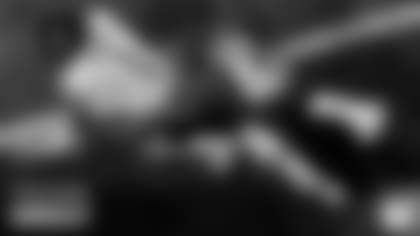 So, what did you expect of the 2022 Falcons? Did you expect the pass rush to make a hop, skip and a jump in production? Well, improvement was reasonable but a complete turnaround? Not as likely.
"For those young guys, yeah, you'd love to have a guy go out as a rookie and have 15 sacks," Smith said, "but that usually doesn't happen. We feel good about their development but we have to continue to improve and it's all across the board."
Because let's not forget that it isn't just on the edge rushers to make a difference in pass rush. It's on the interior defensive linemen as well.
Nothing against Abdullah Anderson, Jalen Dalton and Timmy Horne, but they were fighting for a roster spot in August. Now they're playing significant rotational roles, if not starting alongside Grady Jarrett. It's not an excuse, but it is the reality.
"We have to find ways to continue to pressure the quarterback, and it's sometimes not the edge, but the coordinated rush inside, too. There's a lot that goes into it," Smith said. "... It's inside-out, too."
Let's also not forget that all stats can be manipulated.
The Falcons only have 19 sacks in 2022, but in their last seven games they've held opponents to a 20.7 points per game average, as opposed to a 25.6 average in the previous eight games. They've kept three of their last four opponents from scoring more than 20 points a game. Though they have given up their fair share of explosives, this defense has been much better in the red zone in the back half of the season. It may not seem that way when you're looking at league rankings and box scores, but if you're watching the Falcons you know the defense hasn't been the problem child as it has grown in 2022.
It's a unit that has had its growing pains, sure, and you're right that sack totals look the way they do, but if the Falcons continue to come up with stops when it matters most? That's quite all right for where this defense currently is.
And that's an important distinction to note, that this is where this defense - more specifically this pass rush - is at this point in time. Because, again, the process to rebuild this part of the defense was going to take time, years even.
Outside linebackers coach Ted Monachino used the analogy of a chef learning the ways of a restaurant menu as a way to break down where this group currently stands.
"Before we can move to the french pastry we gotta handle the meat and potatoes," Monachino said. "There's some of that still going on with the meat and potatoes, eventually we will be able to start adding little nuances and tricks and tools into their tool box, but right now it's about how we play well in this down and in this call."
Monachino said there is hope for where this position group is going despite the sack numbers being what they are. He said there's a "marked difference" with the collection of talent the Falcons have right now. As people, Monachino said, it's hard to beat Means and Copeland, but from a youth and talent standpoint, the Falcons have made a significant jump by adding Ebiketie and Malone to the roster.
What gives Monachino hope for where this group is going lies in a foundation of development. It's a development that will require patience, though.
"They're going to develop in Year 2, Year 3, Year 4, Year 5. That's when they are starting to hit the prime of their career," Monachino said of Ogundeji, Ebiketie and Malone. "Our goal is to move them down the road so that when they are hitting the prime of their career they are playing their best football. That's where I see it going."
The Falcons aren't there yet, and they weren't supposed to be. A dominant pass rush isn't just born, it's nurtured and developed. That process is in the early days of happening, and let's be honest: An offseason with money to spend could do wonders for this process, and the next step in a years-long, pass-rush plan.
"That's certainly a huge point of emphasis this offseason," Smith concluded.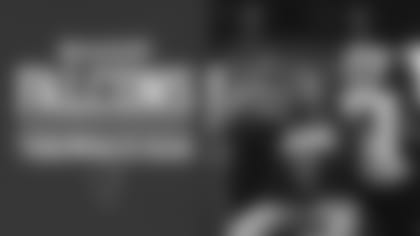 Swaggin' Since 1966
Takin' it back to 1966! Shop the Red Helmet Collection today online or in-store at Atlantic Station.