*Editor's note: Following each Falcons game, Falcons coach Dan Quinn will break down a play from the game in which he feels was a key play in the game. *
This week, Dan Quinn broke down Matt Ryan's 3-yard touchdown pass to Justin Hardy on the opening drive of the second half.
After a tight first quarter, the Falcons orchestrated an 80-yard drive on offense to take a 10-7 lead with less than two minutes remaining, and then Adrian Clayborn ended Dallas' ensuing drive with a strip-sack of Dak Prescott. That stretch at the end of the first half helped put the Falcons ahead, but they put together an 11-play, 85-yard scoring drive to capture a 17-7 lead – Hardy's 3-yard touchdown catch.
On third-and-3, the Falcons had a three receiver, one tight end and one running back set in place.
Below: How the Falcons set up at the start of this down – Hardy is lined up on the right side.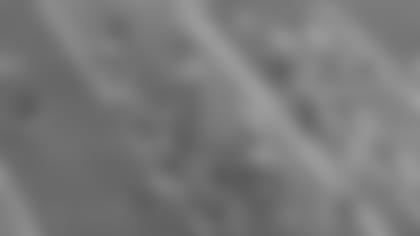 Dan Quinn: "In this particular play, they were playing man-to-man. So when those opportunities happen, some people have to win who are getting single coverage. Julio Jones has double coverage – the safety and linebacker."
Below: Jones draws double coverage, opening up space for Hardy.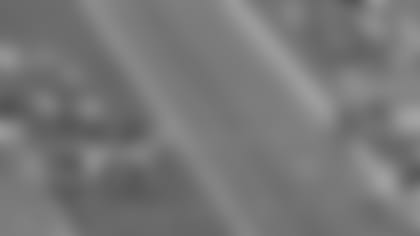 Hardy fakes the Dallas defender to think he's going inside to get some separation and then finishes his route to the outside in the middle of the end zone.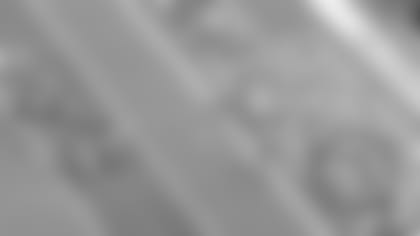 Above: Hardy finishes his route back to the center of the field.
Quinn: "See where he tries to fake him and break him outside, that's the separation that's needed to win in a one-on-one to win. On this one, Matt Ryan could have gone to Justin Hardy like he did, or back outside to Mohamed Sanu. The double ending up going to Austin Hooper and Julio Jones. When those things happen, that's when [the decision] goes down to Matt. He waited for it, good protection by Jake Matthews and Ryan Schraeder. Which allowed Matt to buy a little bit of time to allow Justin [to get open]. Justin has such good hands. That's an aggressive catch by Justin at that spot and keeping both feet in."