FLOWERY BRANCH, Ga. – The Falcons players are enjoying a day off and Friday and it's worth looking at the biggest storylines following the first four-day block of AT&T Atlanta Falcons Training Camp.
When camp kicked off on Monday, it definitely had what Dan Quinn referred to as a "family reunion" kind of feel to it as some familiar faces were back on the practice fields, including safeties Keanu Neal and Ricardo Allen. Both missed the majority of the 2018 season due to season-ending injuries, and it was unclear whether they'd be ready for camp.
Julio Jones and Deion Jones were also camp participants right off the bat, too. Both are coming back from foot injuries and the Falcons' star wideout is easing his way back into a full-go (more on that below).
So, without further ado, let's jump right in.
10. Young receivers catching people's attention
When Julio Jones, Mohamed Sanu and Calvin Ridley are taking reps in practice, it's tough to get noticed or, dare I say, stand out. But that's exactly what Russell Gage, Devin Gray, Christian Blake, Kahlil Lewis and Marcus Green have done during the first block of camp.
Gage carried his offseason momentum into camp, running a nice curl route against starting corner Desmond Trufant on Monday. On Tuesday, Gray beat Atlanta's defense right down the middle catching a home-run touchdown pass. Green flashed, getting the best of rookie Kendall Sheffield during 7-on-7 drills. Lewis torched Ryan Neal deep on a one-on-one drill, two days after he made a nice sideline grab over a defender.
9. Falcons secondary steals the show on Day 4
The Falcons defensive backs and receivers went head-to-head in man-on-man passing drills Thursday and it was … intense, to put it mildly. As you'd expect, players were competing (some for a roster spot) – and there's was plenty of jersey grabbing, contact and even some trash talking.
The usual playmakers stood out. Damontae Kazee picked off a pass and also made a couple of pass break-ups during an 11-on-11 drills. Trufant also made a handful of pass break-ups.
But it's the play of some of the rookie draft picks, specifically Jordan Miller and Kendall Sheffield, that had to be encouraging for a defensive unit that slipped in several statistical categories in 2018. Both Miller and Sheffield have stood out at times, making plays on the ball and hauling in interceptions.
8. Rookie John Cominsky takes reps with starters
When breaking down John Cominsky's skill sets, Dan Quinn noted how the rookie's combination of length and speed will allow him to play both inside and outside along the defensive line.
And so far, albeit it's still early in camp, the fourth-round pick out of the University of Charleston is making his presence known – and catching the attention of Quinn and Co. Cominsky took a few reps with the defensive starters and looked the part, beating left guard Jamon Brown on one play.
Can he make an impact in 2019? Time will tell, but as of right now Quinn has no plans of holding Cominsky back.
"I'm not going to put any limitations on and now that I have spent time with him, we've got five or six weeks to see if he could be there for the start [of the season] to help," Quinn said. "And [seeing] the way he works, you wouldn't put it past him."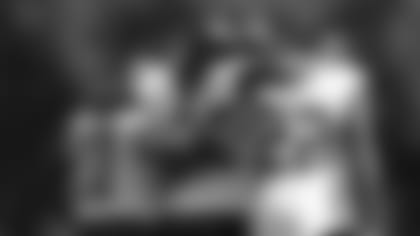 7. Injuries take center stage on Day 1 of camp
Without rehashing the painful specifics, injuries decimated the 2018 Falcons – on both sides of the ball. So when two players were lost to what appears to be season-ending injuries on the very first day of training camp, there were unpleasant feelings of déjà vu circulating.
Defensive lineman Michael Bennett suffered a broken ankle and backup safety J.J. Wilcox tore his ACL. Wilcox will miss the entire season and the Falcons are not ruling out Bennett returning at some point in 2019, according to Quinn. Both players were placed on the injured/reserve list.  
Bennett played in two games last season for the Falcons, recording five tackles, including one tackle for a loss.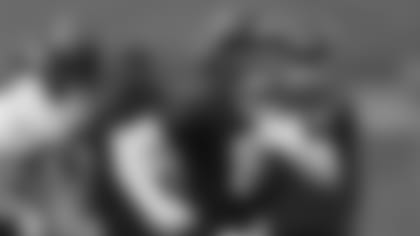 6. Falcons to play more up-tempo style on offense
As everyone who follows the NFL knows, teams don't like to reveal too much of their playbooks in the preseason, let alone open practices to the public. And now that the Falcons have Dirk Koetter calling the offense and Dan Quinn taking over the defense, everyone naturally is eager to see what new wrinkles and changes they'll install.
Well, on Thursday, Falcons tight end Austin Hooper may have provided some clues. When the fourth-year tight end was asked about the differences in Koetter's offense and how it will affect his role in 2019, he had this to say:
"There's a lot of cool up-tempo style plays that are a higher percentage chance for me to find some success and find the football. From a tight end room perspective, I think I can speak for our whole group when we say we really enjoy the new offensive style."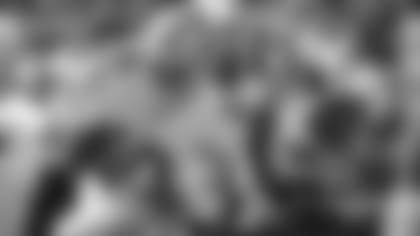 5. Defense bolstered with addition of Allen Bailey
Following a first day dominated by injuries, news broke late Monday night that the Falcons had reportedly agreed to terms with former Chiefs defensive end Allen Bailey. On Tuesday, the Falcons confirmed it and made it official.
Bailey, 30, started 13 games for the Chiefs in 2018 and recorded a career-high six sacks to go along with his 38 tackles, five tackles for a loss and an NFL-best four fumble recoveries.
The addition of Bailey, who will join Jack Crawford, Tyeler Davison and Deadrin Senat as part of the rotation on the defensive front, was a nice shot in the arm for a defensive line that has recently lost Michael Bennett and Steven Means to injuries, too.
4. Chris Lindstrom takes every rep with starters
When the Falcons drafted guard Chris Lindstrom with the 14th overall pick in April's NFL Draft, the expectation was that the athletic 6-foot-4, 308-pound lineman from Boston College would step right in and take one of the open guard spots.
And Lindstrom has done just that, it appears, taking every single snap with the offensive starters through the first four days of camp.
Dan Quinn confirmed as much.
"It's an indicator of where we see him starting right now," Quinn said. "He had earned a lot of that through the spring, about where his performance was. You'll still see some work as we're going through – different combinations of people – it wasn't exclusive to that way (Lindstrom working with the starters) but that's how we began."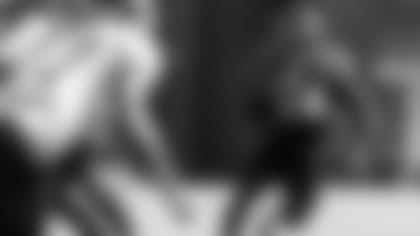 3. Devonta Freeman returns to form, a 'multiplier'
Devonta Freeman is entering his sixth season with the Falcons and is coming off a season that was anything but fun. But perhaps no one is having more of it right now than the running back from Miami, Florida.
After missing 16 games over the last two seasons, Freeman looks energized being back out on the practice fields. Freeman is running with authority, making strong cuts and catching passes out of the backfield – all with hard-to-miss energy.
Dan Quinn has frequently referred to Freeman as a "multiplier," meaning his presence carries over to the rest of the team and boosts the team's energy and enthusiasm. The first words out of the mouths of teammates and coaches are energy, juice, contagious, excitement and fun – all things the Falcons could have certainly used last year as they finished 7-9 and missed the postseason for the first time in three seasons.
When Freeman is healthy and playing, the Falcons are a different team. As I wrote back in May, if Freeman can stay on the field for 16 games, he makes them instant contenders.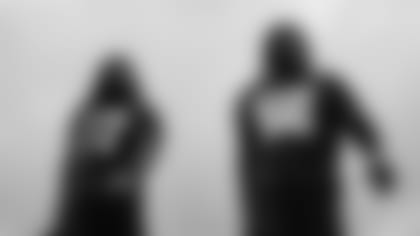 2. Big battle brewing at starting left guard
While the Falcons may have had two offensive linemen – Alex Mack and Jake Matthews – selected to last year's Pro Bowl, overhauling it was the central focus of the offseason. While right tackle Ty Sambrailo was signed to a three-year extension back in February, the remaining three spots – left guard, right guard and right tackle – appeared to be open for competition.
During free agency, the Falcons signed James Carpenter, Jamon Brown and John Wetzel. And in April's draft, they took two offensive linemen in the first round, Chris Lindstrom and Kaleb McGary. And while Lindstrom and Sambrailo have been constants on the right side through the first four days of camp, the battle for left guard between Brown and Carpenter has been dead even so far (in terms of number of reps).
On the first and third day of camp, Carpenter played 16 snaps with the starting offense in 11-on-11 situations while Brown had four snaps with the starters. On the second and fourth days of camp, that flipped, with Brown getting 16 snaps to Carpenter's four.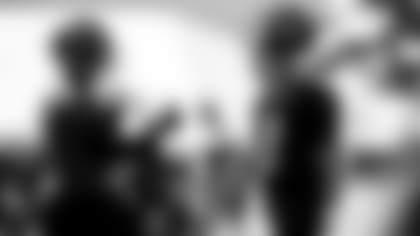 1. Julio Jones inching closer to returning
As noted, Julio Jones is back with the team for camp, easing into drills because of a previous foot injury and, at the same time, negotiating a long-term contract extension. Needless to say, whenever Jones is on the field, all eyes are upon the Falcons ninth-year superstar.
So far, he's been primarily working on individual workouts off to the side and also partaking in some receiving drills.
"For me it's just getting acclimated coming back out," Jones said. "Running full speed and doing full-speed cuts. We don't want to chance anything since I've been taking my time to get back into the swing of things. But I'll be ready to go. Like I said, we've got a plan in place."
On Wednesday, Quinn said he estimated about 10 days to two weeks before Jones is back and fully acclimated into team practice.
The Atlanta Falcons continued grinding for their second practice in shoulder pads. Take a look at the best images from Day 4 here.