Did you do so? Appreciate ya.
Flash poll: Did you use the terms "idiot" or "genius" out loud while referring to those expert selections?
Let's see if you do so (again) while surveying the defense and, yes, the specialists – long snappers are people, too – in the second half of our dueling 53-man roster projection.
As a reminder of the format, I lay out the roster projection with some reasoning behind picks in every position group. Then Tori McElhaney follows up by saying how right I (always) am. Or wrong. Who knows? Stranger things have happened. Not many, but some.
Here we go. Our selections: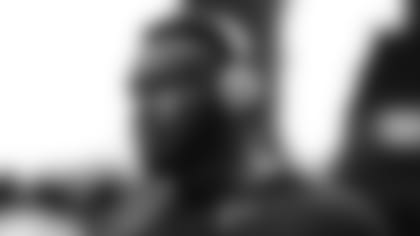 Defensive linemen (6)
Grady Jarrett | Marlon Davidson | Tyeler Davison | Jonathan Bullard | John Cominsky | Ta'Quon Graham
Scott: No change from the last roster projection, and I don't think there's a lot of shock in that. Bullard has really locked down a spot and, quite likely, a significant role up front. This crew, Davidson especially, must step up and help Jarrett generate some heat and be impactful against the run.
Tori: I think I was fairly surprised by the emergence of Bullard. He came in on a short-term deal offseason, but even then I didn't put a lot of stock in him being someone to really rely on up front. He's proved that skepticism wrong throughout training camp as he's been right alongside Jarrett and Davison in just about every first team rep.
Edge rushers (5)
Jacob Tuioti-Mariner | Dante Fowler | Adetokunbo Ogundeji | Steven Means | Brandon Copeland
Scott: Another position group without much movement. Couldn't even do it to raise the roster-projection drama. Ogundeji has earned his keep all summer. Tuioti-Mariner and Means should be staples, and Brandon Copeland also plays a role. Fowler must be the catalyst off the edge. There's plenty of talent in him. It just has to come out.
Tori: Scott is right. Fowler has to be more than what he was in 2020. He knows it. The coaching staff knows it. Now is the time to earn his keep. As for the other names on this list, I think it was a smart decision by the front office to keep Tuioti-Mariner and Means around a little while longer. The plan probably isn't to make them long-term staples of this defense, but they were reliable in 2020. Reliability can go a long way. One more note I will add on this group: It's still so odd seeing Tuioti-Mariner dropping back into coverage after having his hand in the dirt all last year. I still haven't gotten used to it.
Foyesade Oluokun | Deion Jones | Mykal Walker | Dorian Etheridge
Scott: We have a change, and it's exchanging one undrafted rookie for another. Erroll Thompson was here last week. Etheridge is now. Those two have been close all camp, and my previous rationale was this: Thompson's bigger than most Falcons interior linebackers and can be a thumper in short-yardage situations and give the position group something different. But, the more I watched this group in practice and games, Etheridge was always around the ball. That's the most important thing.
Tori: I'm not saying I swayed Scott's decision to put Etheridge on the 53-man roster but...
I've liked what I've seen from Etheridge since the very first preseason game against Tennessee. I should note it's not that I haven't liked what I've seen from Thompson, either. I find that this cut (Etheridge or Thompson) is one of the most difficult ones. In my mind, though, Etheridge wins out. He has the look and skillset that puts him right in with this group. As for the rest of the players here, you know what you're getting with them. And you rely heavily on them to make plays. Even Arthur Smith has said on a couple occasions that he's been pleased with this position group. And when Smith gives a compliment, you listen.
Safety (4)
Erik Harris | Duron Harmon | Richie Grant | Jaylinn Hawkins
Scott: Let's not waste cyberspace pouring over whether these guys are surviving final cuts. Just arrange the padlock appropriately and push down until it clicks. This safety group doesn't include Dwayne Johnson, who should be a practice squad candidate, or TJ Green, who you'll hear more about below.
Tori: I would try to play devil's advocate here, but I can't. This group is just way too obvious.
Cornerbacks (6)
A.J. Terrell | Fabian Moreau | Isaiah Oliver | Kendall Sheffield | Darren Hall | Avery Williams
Scott: I had Kendall Sheffield off last roster projection mostly because he missed a ton of training camp with injury. That allowed, I reasoned at the time, others to stand out and steal his spot. Maybe he sticks and, depending on his recovery timetable, either waits it out or ends up on IR and could return down the line.
Let's go down the rabbit hole a bit farther and say the latter happens. Then the Falcons will have an extra spot to play with to bring somebody back. Instead of Chris Williamson, a cornerback I projected to the roster last week, I'm going with Green. The Falcons cross-trained him at cornerback and safety a bit this summer and that's an asset. I'm a bit concerned about recency bias here after he made some nice tackles Sunday night versus Cleveland, but he's my choice and I'm sticking with it.
Tori: I also have an asterisk beside Sheffield's name. And I, too, would trade him out for Green if he went on IR. I think Green has done enough to earn a spot. He has the versatility that Dean Pees' scheme calls for. That, and we just haven't seen Sheffield. Truth be told, I was going to leave him off the 53-man entirely until Scott and I discussed potentially moving him to IR. I also may or may not have badgered Scott to put Green on his "Who stood out" story from Sunday night. Who's to say?
Oh! Also, don't forget I have an extra roster spot to hand out after I noted in the offensive 53-man roster projection that I thought John Raine could be a practice squad guy. I know my original thought was to use that spot along the defensive line, but the more I got into the weeds the more I thought it should hypothetically go to Williamson. He did some good things early in camp, and even though he hasn't been particularly flashy during the preseason games, I still think he's done enough to stick around.
So, take that note as you see fit. Regardless, I think Raine and Williamson will stick around if they can. I would be fine with either one taking a spot on the 53-man. I just wanted to give you something else to think about.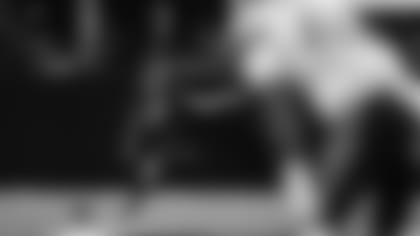 Specialists (3)
Younghoe Koo | Dom Maggio | Josh Harris
Scott: The Falcons have had a punter battle this summer complicated by injury. Original combatant Sterling Hofritcher was waived with an injury and Cameron Nizialek replaced him, but I just don't think he has done enough to overtake Maggio, who might've low-key been the guy the whole time.
Tori: I swear the Falcons have Nizialek on retainer. But you're right: It's Maggio.