ATLANTA -- The preseason is finally, mercifully, behind us. The Falcons wrapped it with Sunday's 19-10 loss to Cleveland at Mercedes-Benz Stadium, the final evaluation point for a roster that was once 90-deep and will be trimmed to 53 by Tuesday afternoon.
Just because it punctuated the preseason, don't for a second think head coach Arthur Smith and general manager Terry Fontenot didn't already know heading into that final game mostly how to construct the roster.
That's why you won't see many changes from last week's roster projection, especially on offense. The evidence had already mounted. We have a clear picture of where the Falcons stand at this point after the preseason slate and oh, so many practices open to the press.
Here's how I think the offense will shake out when the first 53-man roster is announced. Not everyone will agree. That includes new Falcons beat writer/analyst Tori McElhaney, who will debate some of my decisions below. Or, more likely, she'll just call me a genius after analyzing each position group and call it a day.
Let's get to it. Here are my final offensive roster projections and why I chose them, with Tori's take on each position group.
Editor's note: The roster projections that differ from last week have been italicized.
Quarterbacks (2)
Scott: And we've got a rare offensive projection change right away. I swapped Feleipe Franks out and Rosen in here after Sunday's performances. Rosen fared well just six days after signing with the team, showing real arm talent a few times while working the second half. If he did that after roughly a week, he could develop well working with Ryan and Smith.
Keeping Franks just isn't an option at this stage. While he grew a great deal during this training camp, he simply isn't ready to be a primary backup. He could end up on the practice squad. Maybe.
One fair warning: Just because Rosen is here after final cuts doesn't mean he'll be here for a longer term. His week-long audition went well, but the Falcons could find a quarterback hitting the streets after final cuts more appealing. Trevor Siemian comes to mind. I don't know, though. I'd keep Rosen. He's just 24 years old and in a good head space. Combine that with legit arm talent and he's worth keeping around to learn from Ryan.
Tori: I tend to agree with Scott on this, as well as the caveat he threw in at the end. I think you keep Rosen with the stipulation that you still have a bug in the ear of other backup quarterbacks soon to be hitting the open market when cuts are made by Tuesday afternoon.
The possible evidence? What Smith said about the week's plans after Sunday's game.
"We're always looking at the roster, and you never know who's going to come available," he said. "There are going to be a million calls around the league tomorrow between general managers."
I'm not one to breeze past that comment.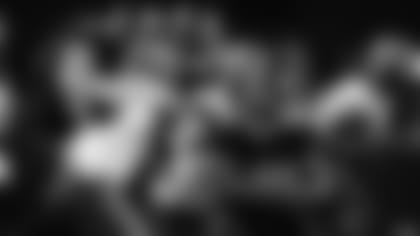 Running backs (5)
Mike Davis | Cordarrelle Patterson | Qadree Ollison | Caleb Huntley | Keith Smith
Scott: Most of these selections feel like locks. Huntley makes it as an undrafted free agent, providing yet another tough runner to the mix. D'Onta Foreman is right there with Huntley, but I'm sticking with the Louisville product. He's big, powerful, typically efficient runner. Can't say Ollison wowed this preseason, but I think he's sticking around. Keith Smith is a core special teams player and solid lead blocker when Arthur Smith requires one.
Tori: This wasn't an all too difficult decision. Could the Falcons drop this number down to four? Sure. If that's the case, I think Huntley moves out of the 53-man. However, knowing that Patterson's role is a fluid one within the offense and that Keith Smith will be a main special teams contributor, if you're wanting to keep a more traditional back then Huntley is the guy, and has been since the Falcons cut Javian Hawkins.
Receivers (5)
Calvin Ridley | Russell Gage | Olamide Zaccheaus | Tajae Sharpe | Christian Blake
Scott: The bottom two receivers could be considered on the bubble, with Chris Rowland and Frank Darby questing for those roster spots. Sharpe has experience working with Smith. Blake has some experience and wins out over Rowland in a close call. The Falcons have Avery Williams and Cordarrelle Patterson as returners – Patterson's also a good gunner – so they don't need Rowland's special teams ability. Can't see the Falcons keeping a sixth receiver, either. Just doesn't fit with the overall roster construction. Darby's a fan favorite who has made a few nice plays, but I can't see him finding a way to crack the initial roster.
Tori: It's so difficult for me not to put Rowland on this list. I don't have nearly as much trouble not putting Darby on this list as I do Rowland. Maybe it's because I am so used to what I saw last year, which was Rowland playing the special teams role he did. As Scott alluded to, Darby just hasn't been able to cut it within the second-team rotation at practice, but Rowland has. In my mind, it's been him, Sharpe and Blake vying for those final two spots. Rowland is so different from the other two, but Scott is right: With Williams behind Patterson as the Falcons primary return men, there's less of a need for Rowland these days than there was last year.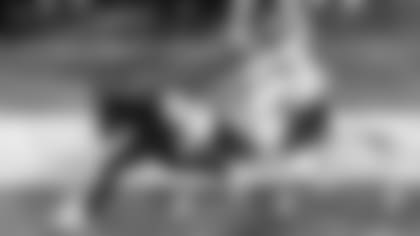 Tight ends (4)
Kyle Pitts | Hayden Hurst | Lee Smith | John Raine
Scott: Raine is the only question mark, and I think his spot became more secure after being asked to play some H-back on Sunday. He's an option who can help in several spots working as injury protection, and he'll obviously be a fixture on special teams. Parker Hesse was also considered, as was only keeping three tight ends, but Raine is worthy of the spot.
Tori: I have Raine on the practice squad. I do take pause in only carrying three tight ends, but I do think there are more necessary depth needs elsewhere (likely the line of scrimmage). My thinking here is that if the worst happens to any of the other three, you still have Raine around, and you could call him up as needed if/when there is a spot. Do I see Smith - the former tight ends coach - realistically keeping just three tight ends on the active roster? Perhaps not. But if you recall, when it comes to roster construction, Smith said in a perfect world you have depth on both lines of scrimmage... just a thought.
Offensive line (9)
Jake Matthews | Josh Andrews | Matt Hennessy | Chris Lindstrom | Kaleb McGary
Jalen Mayfield | Drew Dalman | Willie Beavers | Jason Spriggs
Scott: Tori and I vowed not to discuss this roster projection to avoid her influencing my selections. Then, after we turned all stories in on Sunday night, I broke the rules and asked if Spriggs was going to make the roster. (It was late, okay??). She instinctively said no before realizing she should've given a, "No comment." I thought and thought about that piece of insight, and still left him on. The Falcons need depth at tackle, even if a fourth option isn't always active on game day. Spriggs provides that, with a dash of experience lacking within the reserves.
As a note, we don't have to clear a spot for Matt Gono. He'll be on a physically unable to perform list and not count against the roster limit, but still have a chance to return later in the year should his rehab/recovery permit.
Tori: All right, all right. Perhaps I jumped the gun on Spriggs. (It was late, okay??). Perhaps that's why I did what I did to poor John Raine in the above section, too. Perhaps I wanted to make room for Spriggs under the same reasoning why I moved Raine to the practice squad. In the defensive installment coming later this morning, I tend to think that if you can carry as many defensive linemen as you can, you should. So, in order to make room for a couple of the defenders I think should be on there, it means dropping someone from the offensive side of things. If Smith is dead set on carrying four tight ends, then I drop Spriggs. I have kept my offensive linemen total at eight in previous 53-man roster projections, but again, maybe I jumped the gun.