LAST UPDATE: 11:36 p.m. — AtlantaFalcons.com managing editor Jay Adams will be live blogging from the Falcons' team facilities in Flowery Branch all throughout the 2011 NFL Draft this weekend. Refresh this page often to see Jay's latest updates, including photos, analysis, news, information, featured tweets from the fans and much, much more. Keep it locked right here for all the inside coverage you're not going to find anywhere else.
11:36 p.m. — That's going to do it for our coverage of the first round. Make sure to check us out Friday night for our coverage of the second and third rounds!
11:31 p.m. — Click here to check out a photo gallery of new wide receiver .
11:10 p.m. — Wow, the NFC South is looking stacked right now: Cam Newton, Julio Jones, Mark Ingram, Adrian Clayborn, Cameron Jordan. That's some pretty good talent right there. We'll see how much these guys contribute right away, but in my opinion, I'm thinking they'll all make an impact this season.
What does Julio pick say about #Falcons' admin's thoughts? We need to score more points. Defense is young and solidifying. Confidence high.
Absolutely correct. Thomas Dimitroff said it while speaking to Wes and Dave. The coaching staff and front office are very impressed and happy with how young players, especially on defense, have developed in the three years the regime has been in place. It shows confidence in how guys like Lawrence Sidbury and Kroy Biermann are coming along, William Moore, Brent Grimes, and others.
10:30 p.m. — I see this Julio Jones pick is a polarizing one. Lots of anger — which I don't really understand — about what the Falcons gave up to move into the No. 6 spot. It's important to point out that the Falcons still have six picks in this year's Draft — a third, a fifth, a sixth and three sevenths. There's a lot that can be done with those slots, folks, so if there's a need the Falcons haven't addressed that you'd like to see taken care of, hold tight for the next two days. In the meantime, I'll say in my own opinion, the addition of Jones is going to drastically change the Falcons' offense. The word "unstoppable" comes to mind.
10:17 p.m. — Just sat in on a slew of interviews with Julio. He's ecstatic to be drafted by the Falcons. He was taken off-guard by the pick. He says he never interviewed with the Falcons at the Combine, which definitely made the shock even more intense for him. He loves the idea of playing with Roddy White and is extremely excited about picking his brain and getting close to him. Julio will be picked up in New York City in the morning and will have a press conference in Flowery Branch at 5 p.m. Friday.
9:43 p.m. — Vote in this new poll:
9:34 p.m. — One feature I'm including in my live blog is analysis from Scott Carasik of ScarDraft.com, who is a big Falcons fan. Here's what he has to say about the Julio Jones selection:
*Oh, my God! A trade up! WOW! Julio Jones will be a huge player for the Falcons this year. Should be an instant starter and the Falcons having Julio, Roddy White and Harry Douglas in those three wide receiver sets is ridiculous. Julio is in the perfect situation to succeed. He has not only a top-10 QB in the game with Matt Ryan, but the Falcons have the best TE of all time in Tony Gonzalez, plus White to take off the pressure. I love this pick! A *
9:23 p.m. — If you need any convincing on how much of an athlete Julio Jones is, check out the photo below. Jones is the guy in blue. And this was taken when he was in high school. HIGH SCHOOL.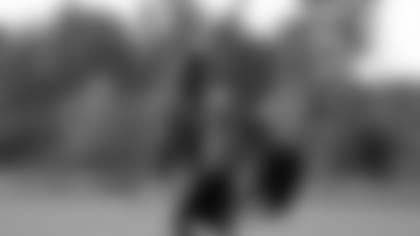 9:17 p.m. — General manager Thomas Dimitroff just joined us in the new media studio. He had a lot of great things to say about Julio Jones. He assures fans that he will get more players out of the 2011 NFL Draft, and he says Julio Jones changes the offense as the Falcons continue to become a more explosive team. The entire interview will be on the site shortly.
8:53 p.m. — Working on updating a few things on the site. Sorry for the silence. I'll be back updating more regularly momentarily. JULIO!
8:35 p.m. — The Atlanta Falcons have selected Alabama wide receiver Julio Jones!
8:24 p.m. — Well, it won't be AJ Green. He gets taken by the Cincinnati Bengals at No. 4. If you're hoping for a trade up, you better hope the Cardinals or Browns are willing to move out.
8:16 p.m. — Von Miller is a great pick for any team. He's one of the guys I considered to be a sure thing heading into the Draft. Buffalo is on the clock.
8:10 p.m. — Just received a text from my good friend, Dave Choate, of The Falcoholic fame: "Cam Newton is about as surprising as a clumsy tie-dyed ninja." Ha!
8:08 p.m. — We'll find out how this is all going to play out in the next half hour or so. Keep an eye on this. We'll know how all this shakes out shortly.
8:00 p.m. — Here we go! It's 8 p.m. and the Draft is about to start. And Cam Newton is already on the phone...
7:52 p.m. — In the current room I'm in, with Dave Archer, Wes Durham, Matt Moore and Robert Gilkes, if the Falcons stay at the No. 27 pick, here's the projections: Jay - Iowa DE Adrian Clayborn; Wes - Clayborn; Dave - Notre Dame TE Kyle Rudolph or Baylor G Danny Watkins; Moore - Rudolph or Mississippi State OT Derek Sherrod; Gilkes - Jim Thorpe, All-American (Wes voted for Robert).
7:45 p.m. — Let's find out what you say. Vote in the poll. If the Falcons were to trade up for a wide receiver, which would you want the Falcons to select?
7:40 p.m. — OK, so let's talk about this potential trade up that everyone's been talking about. Word is the Falcons have been working pretty hard to trade into the top 10 to take either wide receiver AJ Green from Georgia or Julio Jones from Alabama. My take: it's very possible. My thinking is that on one hand, you get a player — Green or Jones — who you pretty much know is going to be a Pro Bowler some day. Balance that against who you may get in the second or third rounds, which are picks you'd likely have to part with if you want to get that high in the Draft. Maybe your second and third picks pan out, maybe they don't, but with Green or Jones, you basically know you're getting a special player. That, right there, is why it makes sense to me. Not to mention the fact that when you talk about "needs" for the Falcons, there aren't any immediate, pressing needs. Yes, pass rush would be nice, but the reason the Falcons would be looking pass rush is for an eventual replacement for John Abraham in a few years, not someone who needs to make an immediate impact. I've heard CB, LB or TE — all of which are not immediate, pressing needs. So the Falcons, this year, can draft for luxury if they like. That's why a trade up, mortgaging a lot of picks, makes sense to me. Will it happen? We'll find out shortly.
7:30 p.m. — Welcome to the 2011 NFL Draft, and the AtlantaFalcons.com live blog. I'm currently at the team facility in Flowery Branch, where the decision of who to pick — and, after today's slew of rumors, when to pick — will be decided. I'll be bringing you all sorts of inside information you won't be able to get anywhere else, while also providing loads of analysis from lots of different sources. Keep refreshing for all the updates as they hit the site.
Below, you'll see our studio for tonight.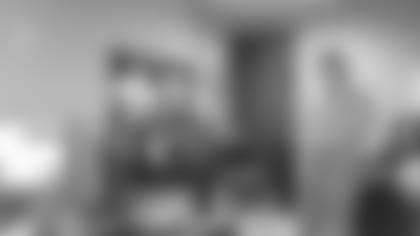 Here's the man behind the videos, Matt Moore, getting the site together while donning the Draft hat the Falcons' first-round pick will be wearing. You can get yourself one here.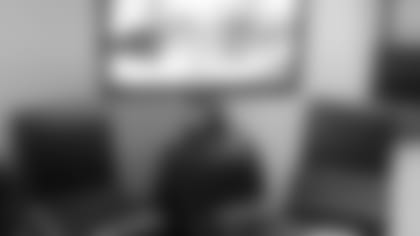 Here's a straight-on shot of the studio where the radio voices of the Falcons, Wes Durham and Dave Archer, will be bringing you great video analysis and interviews.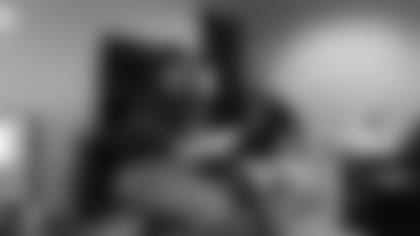 And here's Wes and Dave getting things started. We'll have the video up soon.