Welcome to Straight from the 'Beek! The Falcons are getting ready for the NFL combine and free agency - and you've got plenty of questions. So, let's get to them. Just remember, all opinions you see in this space are mine, unless otherwise noted.
Speaking of the combine, I asked readers and my Twitter followers about it Monday and here's what you all had to say when it comes to watching it:
I get it. It's hard for the average football fan to get excited about prospects they've mostly never heard of - many of whom won't even being playing for their favorite team. Personally, I love the combine … but to each his own.
No questions. All I want is to say is thanks! I love your work and thoughts. Greetings and love from Germany, Kiel.
Matt: Thanks, Kiel! I receive submissions from all over the country and always get a few each day from overseas - and I think it's really cool. I love that I'm able to reach Falcons all over the world. More importantly, you guys are enjoying Straight from the 'Beek! Keep 'em coming … and I think it's going to be a fun offseason. Thanks again, Dave.
---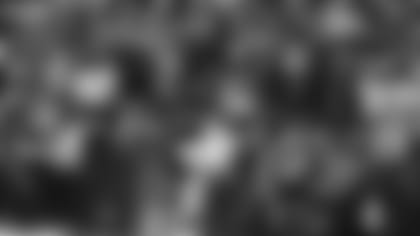 Bruce from Fort Washington, MD
Considering the fact that Falcons tight end Levin Toilolo is 6-foot-8, why isn't he used more as a wideout when they are in the red zone? Try to make a corner cover him and out-jump him.
Matt: You know, I'd be lying if I said I haven't often wondered why Levine Toilolo isn't used more in the red zone to take advantage of his obvious size advantage. Toilolo had one touchdown catch in 2017 (pictured above), and I remember it well. It was a 25-yard reception from Matt Ryan during the Falcons' 34-31 win over the Seahawks on a Monday night in Week 11. Toilolo was targeted just 14 times last season but caught 12 of them for 122 yards (10.2 yards per catch) and the lone touchdown. But to your point, Bruce, he does seem like the ideal red-zone target - much like Seattle's Jimmy Graham, who is 6-foot-7 and caught all 10 of his touchdown passes in the red zone last season. Could he be a sleeping red-zone giant? I think it's fair question.
---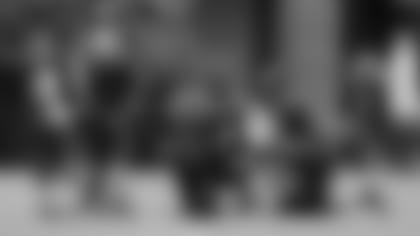 Johnathan from Pearson, GA
What's up, Beek! Thanks for SFTB, it keeps me occupied during this break from Falcons football. My question is, with the massive deal Jimmy Garoppolo signed with the 49ers recently, what do you expect the Falcons to sign Matt Ryan for?
Matt: Hey, Johnathan. I can't say for sure what the final numbers will be - there are other quarterbacks out there, too, who have yet to sign who could affect the market (see Kirk Cousins) - but I can tell you that whatever Ryan ends up signing for, it should end up creating more cap space for the Falcons, allowing them room to go sign other players. What Ryan ends up signing and how much cap room it creates is still to be determined. And thanks for reading, Johnathan!
---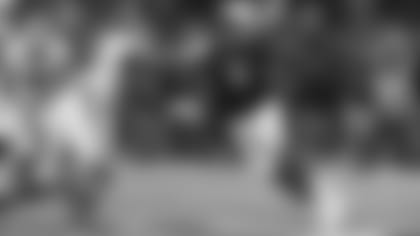 Hey Beek. What do you think about Austin Golson, an offensive lineman out of Auburn? He is really diverse he played almost every position on the line this year and held his own. Or maybe Jeff Holland out of Auburn as well - he has potential to be great. I think either one of these guys would be a good pick up maybe in the third or fourth round.
Matt: I'll get to Holland in a second. I'm still trying to get familiar with as many prospects as I can, especially the offensive line and I haven't watched a ton on Golson yet, Gage. I do know that Golson wasn't invited to the NFL combine - and some folks weren't so thrilled about that call. I did watch a clip of Golson playing against Myles Garrett, last year's top pick (see below). Garrett just bull rushed him and picked up the sack, but his quarterback also stepped right into the rush. Hopefully he has a solid pro day and that versatility should serve him well. It wouldn't surprise me to the Falcons address offensive line in free agency or early on in the draft, depending on what happens.
Now, you also mentioned Holland, an outside linebacker at Auburn who will be at the combine - and I think he could easily end up going on Day 2 of the draft. You can never have enough good pass rushers and he's a playmaker who can wreak some havoc on defense. He's 6-foot-1, 249 pounds and registered 9.5 sacks last year for the Tigers. I really think he could end up being a steal for someone.
---
What's going on, Big Matt. I've been a dirty bird since '91 and I'm still rocking with them. My question is, do we need to go after a big name in free agency at defensive back? Keep rising up so I can keep telling them birds ...
Matt: What's up, Shane. I'd like to see the Falcons add some depth and competition in the secondary, but I don't think they need to go out and spend a whole lot of money for a big name. Also, if they can shore up things on the defensive line in free agency and the NFL Draft, it's amazing how much better the back end looks and plays when there's a consistent pass rush.
---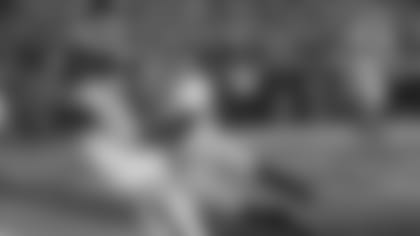 Always great stuff on here and I love the positive vibe you give off! What do you think about the fullback position? I feel like the Falcons were lacking with Derrick Coleman back there and the position was better used in 2016. Is there a big burley FB out there they could pick up? Do you know how Steve Sarkisian might use the position going forward? Thanks!
Matt: Hey, Nick - glad you're enjoying it, man. It'll be interesting to see what the Falcons do at fullback … and I think they'll bring in more competition there for sure, either through free agency or the draft. There aren't a ton of fullbacks out there, to be honest. But if you want versatility, there's a former Oklahoma Sooner named Dimitri Flowers who's got plenty. He's easily the top-rated fullback coming out. I don't know how Sarkisian would use him in the Falcons offense, but it would be fun to watch.
And he's got some wheels.
And that brings us to the Straight from the 'Beek Question of the Day: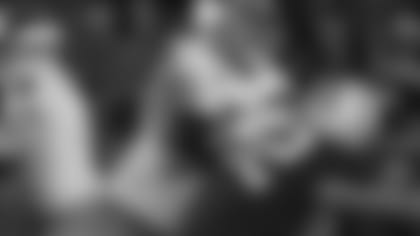 Rick from Lawrenceville, GA
I really appreciate your column. It's a link between us fans and the team we love. Here's my question. I think we all agree both the offensive and defensive line need bolstering. So, in your view, who are the top few offensive and defensive linemen coming out in this year's draft?
Matt: Hey, Rick. Appreciate that! Well, when it comes to offensive linemen, that's an easy one for me. It's Notre Dame guard Quenton Nelson on top of that list followed by Oklahoma tackle Orlando Brown and UCLA tackle Kolton Miller. On defense I'd have to go with NC State defensive end Bradley Chubb on top followed by Michigan defensive tackle Maurice Hurst and Washington defensive tackle Vita Vea. And if I had to pick between Nelson and Chubb right now … I don't know if I could. Normally I'd always go with a pass rusher over an offensive guard, but Nelson is special.
---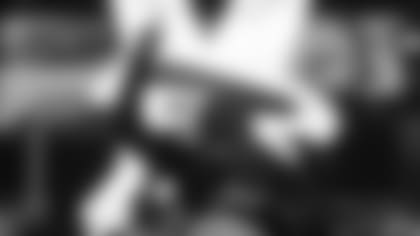 Hey Matt, I've been a Falcons fan for some time now and one of the reasons that I love the Brotherhood is because of its dedication to the community. I saw a recent question as to what fans can do to support the Brotherhood and while it's true that showing up to games and practices is great, I wondered if there was more we could do. Falcons Fridays are a lot of fun but is there a way that we as fans could occasionally go out into the community as a coordinated force and volunteer (perhaps in Falcons colors) and show what it really means to Rise Up? Your thoughts would be greatly appreciated. Drew.
Matt: Hey, Drew. I'm always astounded by these kind of emails - from fans like you who want to do more than just cheer their team on during a game. Being a Falcons fan means much more than that to a lot of you. The Brotherhood isn't just some catchphrase to you, and that's awesome. Many of you have asked what they can do during the offseason to help the team in some way … and I'm going to give this some thought as well as asked around. I know a lot of you aren't in the Atlanta area, either (which actually makes it even cooler to me). This is great - and keep these emails coming, especially if you have ideas.