In case you missed it, the Falcons hit the airwaves Wednesday morning.
Falcons owner Arthur Blank, team president and chief executive officer Rich McKay and AMB Group chief executive officer Steve Cannon joined coach Dan Quinn and general manager Thomas Dimitroff for a media tour in New York and Connecticut.
Quinn and Dimitroff appeared on NFL Network's "Good Morning Football" set before Quinn spent the day making appearances on three different ESPN programs in Bristol, Conn.
The pair was asked countless times about the crushing Super Bowl LI loss to the Patriots and the aftermath that came from it — like they have all offseason long. They certainly didn't dodge any questions and acknowledged they've tried to learn from the loss. "There are some lessons to be learned there," Quinn said on "Good Morning Football." "Now we won't know how we've learned them until we get back into the season and see how you apply them."
Here are the five biggest takeaways from the media blitz:
1. Falcons accustomed to expecting the spectacular from Julio Jones
Julio Jones made one of the most impressive toe-tapping catches in Super Bowl history when he caught a pass from Matt Ryan on the sideline keeping his feet in bounds all the while securing the football.
A catch so spectacular that FOX color analyst Troy Aikman called it one that "only Julio Jones could make a play on."
And while the rest of the world couldn't believe Jones was able to make the play, his head coach wasn't surprised one bit.
"We've come to expect it [from him]," Quinn said of Jones. "He has the quickness and balance of a smaller guy, but the size of a big guy. He's a challenge it a lot of ways. It didn't surprise us, but nonetheless, amazing still."
2. The moment Quinn knew Steve Sarkisian was his guy
Following the season, Quinn gave his coaching staff two weeks off. But one coach chose not to take any time off, and that was new offensive coordinator Steve Sarkisian.
After accepting the job, Sarkisian asked for every one of Atlanta's games from the 2016 season to be downloaded onto his iPad.
That was the moment for Quinn – who was already aware of Sarkisian's work ethic – knew that he was going to be the right fit for the job.
3. Duke Riley is the rookie to keep an eye on
Trading up five spots to select UCLA defensive end Takkarist McKinley in the first round was largely viewed as a win for the Falcons in April's NFL Draft.
Coach Dan Quinn and GM Thomas Dimitroff wanted to take care of both their offensive and defensive needs and accomplished that much. Atlanta ended up adding three defensive players and three offensive players.
So, outside of McKinley, who are Dimitroff and Quinn viewing as a player who might be an "under appreciated storyline" and one to watch this year?
Third-round pick Duke Riley, a linebacker out of LSU.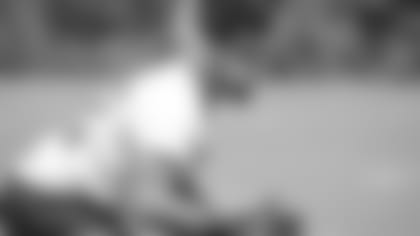 "I think being able to trade back into the third round and still get Duke Riley," Dimitroff said on NFL Network's "Good Morning Football."
"He was one of the guys we pinpointed as a guy who was going to add to our linebacker crew, he was going to add speed, add coverage ability, intelligence, passion and grit -- everything that Dan stands for." It's not just Riley's physical traits that gives Quinn confidence he'll be an impact player for his team, it's also his leadership skills.
"It's also the leader he is," Quinn said. "He has those kind of qualities, he so wants to be a part of it, he wants to prove himself. He's definitely someone you guys should have your eye on."
4. Falcons players given a 'point of attack' tape in offseason
Quinn supplied each one of his players a "point of attack" tape when they returned for the start of the offseason workout program.
"What we did for each player [was provide them with] a point of attack tape [and we said] here are some things you can do better, here are some things that are already really strong in your game, and we went after it that way," Quinn said on ESPN on Wednesday.
This tactic goes hand in hand with Atlanta's offseason mantra: Get one percent better every day.
5. Quinn: Rapper 2 Chainz and iconic wrestler Ric Flair in the Brotherhood
Ahead of the 2016 season, the Falcons hosted Ric Flair at training camp. Flair, a Julio Jones fanatic, has openly shown his support for Atlanta over the past year.
Flair's fiery personality and passion relates to the culture the Falcons have inside their building.
"He's a really cool guy, he can still bring the juice," Quinn said of Flair's affinity for the Falcons. "For us, he represented that swag that we like. Ric Flair is definitely part of the Brotherhood."
Quinn also shared that Flair isn't the only celebrity invited to join the Brotherhood.
Atlanta's coach is a big fan of hip-hop music, so when he had a chance to speak with 2 Chainz in the airport after their flight, the coach extended an invitation to join the Brotherhood.
"He is part of the brotherhood," Quinn said. "What a huge connection he's had being form Atlanta and his connection with Julio and some of the other guys on the team. [He's] a really cool guy."