FLOWERY BRANCH, Ga. -- You asked. I answered.
When my feature on Foye Oluokun ran last week there were a flood of questions that came into my inbox and direct messages on Twitter. It wasn't really about the feature itself, per se, it was about one specific quote from inside linebackers coach Frank Bush regarding Oluokun taking over the in-game huddle call responsibilities of the defense.
"We have one guy who makes the huddle call, and that guy is Foye now," Bush said. "He's running the show. He's the quarterback of the defense, whereas that used to be Deion's role. Now, we've flipped that and given it to Foye."
When did this happen? Why did it happen? And how is it working out for the Falcons? Those were the three prevailing questions I have been asked quite frequently over the last week since I ran the Oluokun feature. So, I did some digging, asked some questions, and I think I have a well-rounded answer for you.
When did this switch happen?
I asked Oluokun this question on Wednesday. I wanted to know what the conversation was like when Dean Pees approached him about taking on this added responsibility. Oluokun kind of shrugged.
"It wasn't really a conversation," Oluokun said. "He just said I got it."
And that was it. That's the story.
But of course, from Pees' perspective, he could go into a lot more detail...
Why did this switch happen?
Answer: Let's let Pees explain it
Pees said he changed up the linebacker duos on-field responsibilities not because he wanted to take the responsibility away from Jones, but because in his system it's the Mike linebacker who's the quarterback of the defense. Let's let Pees break it down in his own words:
"I felt like the decision was made because Foye is a bigger guy," Pees explained. "The Mike linebacker is usually a guy that plays in what we call the bubble, he's not protected. The Will linebacker is usually the guy who plays behind the three technique and he's kind of protected. Well, Deion can run, and so I wanted to put him in a position that he's protected so he can run and not have to worry about a lineman coming up on him all the time. The bigger guy has to be the one to take on the lineman."
"So, it's more on, 'OK. I think Foye is that guy and I think Deion is this guy.'"
It had nothing to do with who this staff thought could or couldn't handle the live huddle call. Jones could call the huddle, the defense. He's been that guy in year's past. For Pees, it was just his preference that it was Oluokun: "It was more based on the position than it was the person."
Will linebackers are usually the faster of the two, they are more free and can do more in coverage. The Mikes are bigger, players you try not to put into man coverage against backs as much. However, Pees said the Falcons are fortunate that they can do have Oluokun. He can handle coverage, Pees said, because he can run, too. He was a college safety after all.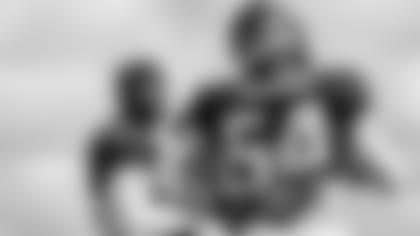 Answer: Quite well, actually, and for both Jones and Oluokun.
Bush said - quite frankly - Jones has "been more" for the Falcons than perhaps this staff originally thought. With Oluokun running the defense, it's actually freed Jones up to, as Bush put it, "be more Deion."
"He doesn't have to worry about making checks and all of these other things. Now, he can just be the guy who runs over there and makes a tackle," Bush said. "Taking something off his plate has added something to his play a little bit."
When asked about this, Jones agreed with Bush's assessment. Jones said there's something very specific that has come from the switch: a certain sense of freedom.
"You have a little more freedom to think a little more, be in your own head sometimes," he explained. "It's not as operational as it was play-to-play, getting the call and getting everyone lined up... You don't have the stress of getting people lined up."
Now, the "burden" that Bush talked about is on Oluokun, but he said when it comes to Oluokun's adjustment, "so far so good."
"I think Foye has fully embraced it," Jones said. "He's - how they say it - grabbed the bull by the horns? I am definitely there to help him along the way because I've been in that spot before and I know the stresses that come with it. But week by week he's just getting more and more comfortable. I love to see him fall into this role."
To wrap up my questions to Oluokun on Wednesday, I asked him if he thought this added responsibility almost adds to his resume as a linebacker in this league. He interestingly said that's not how he looks at it, nor does he think that's how coaches may look at it either.
"I think at the end of the day they really look at production, maybe they'll talk to other coaches about what you can do in the locker room or if the guys will rally around you," Oluokun said. "I try to be my best in everything. But within the play, I think that is what people look at most and then if guys can rally around you they look at that, too."
But for what it's worth, he's actively doing both: Having the production and the command. In fact, both Jones and Oluokun are doing quite well in the switch up as we reach the half way point of the 2021 season.
Our Team Store Pop-Up at Avalon is NOW OPEN! The new store is located at near the Apple store.
HOURS:
Monday – Saturday | 11AM – 7PM
Sunday | 12PM – 6PM
Address: 8150 Avalon Boulevard Alpharetta, GA 30009