Despite the limited in-person interaction Dante Fowler Jr. has been able to have with his new teammates and coaches, he's made quite the impression.
"He brings a lot of energy and a lot of enthusiasm," Deion Jones said of his new teammate. "I love his dog mentality."
When Atlanta Falcons general manager Thomas Dimitroff and coach Dan Quinn assessed their roster following the 2019 season, they knew they needed to bring in someone who played with an edge and could rush the passer. And that's why they felt comfortable signing Fowler to a three-year deal with a reported $48 million in March. Not only is the arrow pointing up in terms of Fowler's play on the field, his personality is infectious and exactly what Atlanta's defense needs.
The Falcons finished the 2019 season ranked No. 29 in the league in sacks with 28. For the last two seasons, Atlanta has struggled to consistently generate a pass rush and that's why Fowler's acquisition could be viewed as the most important one of the offseason.
Five years into his NFL career, it appears Fowler has found his footing in terms of the type of player and teammate he wants to be. Within the first few minutes of his Tuesday press conference, his confidence and excitement level was evident.
Success hasn't always come easy for Fowler by any means. It took being in the right place surrounded by the right people for him to finally become the player he always knew he could be.
Fowler credits "learning how to be a professional" as the biggest reason for his improved play in the 2019 season. In his second year with the Los Angeles Rams, Fowler recorded a career-best 11.5 sacks and tallied 58 tackles with 17.5 of them for a loss.
The former No. 3 overall pick in the 2015 NFL Draft had the benefit of watching and working with Aaron Donald – arguably the league's best defensive player – on a daily basis for the last two years. From the way he, Eric Weddle and Ndamukong Suh watched tape and approached meetings, Fowler took notes.
"I saw how they carried themselves as professionals and that's why they were All-Pro's and Pro Bowlers," Fowler said.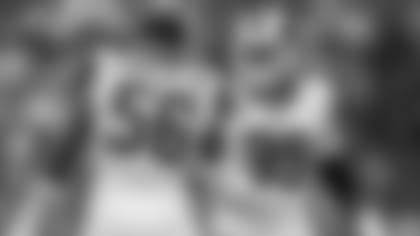 Starting with the moment he suffered a season-ending ACL injury during his first minicamp practice with the Jacksonville Jaguars to being traded to the Los Angeles Rams in late October of the 2018 season, Fowler has proven no matter what adversity he's faced with, he'll find a way to succeed.
Fowler doesn't shy away from expressing his personal expectations and what his definition of success looks like. The 26-year-old is aware his legacy will be defined by how many sacks he gets each season.
"In order to be the best edge rusher in the league, you have to put up double-digits [sacks] every year," Fowler said. "That's my job, that's my goal to be consistent every year. I want to have more than 11.5-12.5 [sacks] every year."
Fowler acknowledges how close he is to being a Pro Bowl-caliber player, and he also knows the opportunity he has now with the Falcons might be the best place for him to reach that level.
Falcons coach Dan Quinn is praised for the way he features his players and the roles he puts them in to succeed. It's a perfect pairing in a sense for many reasons. Fowler wants to put his hand in the dirt and stand up and rush the passer and that's exactly what Quinn needs him to do.
"I feel good … I know what my expectations are," Fowler said. "I know what I'm going to do, and I'm just ready to ride with my boys."
Falcons defensive tackle Grady Jarrett and safety Ricardo Allen – two of Atlanta's best players on defense – have been impressed with Fowler's approach.
"Being a teammate with him has been awesome and I look forward to him adding to our defense," Jarrett said. "I know he'll be able to do a great job for us and I'm ready to go wreck it up with him."
Allen also noted the way he's seen Fowler interact with his coaches speaks to his professionalism. "To be able to see someone listen and say, 'Yes sir,' after he talks to every coach and try to do the things he may not be comfortable with, I can play with someone like that," Allen said.
After months of uncertainty on all levels it appears one thing the Falcons will be able to count on is the best version of Fowler on a daily basis.
"I still have some more work to do, I'm going to keep sharpening my knife every day," Fowler said.
Keanu Neal and the defensive backs dug in on Day 2 of AT&T Atlanta Falcons Training Camp. Here are the best images from the day.