The Atlanta Falcons are set to begin training camp later this month and there are plenty of compelling storylines to track as the season slowly creeps closer. With football set to resume, AtlantaFalcons.com writers Matt Tabeek, Kelsey Conway and Will McFadden discuss the things they are most looking forward to watching and answer some key questions about the team.
Which position battle are you most interested in following?
Kelsey Conway: Can I put this in caps? Left guard. I am interested to see how this position shakes out and I hope it's set for the year. It seems like ever since Andy Levitre retired, the Falcons have not been able to nail this position and the offensive line play has suffered as a whole because of it. My guess is it'll either be Matt Hennessy or Matt Gono based off what he saw from James Carpenter and Jamon Brown last year. If someone runs away with the job early in camp, that'll help the unit so much in terms of cohesiveness. I'll be glued to the offensive line during training camp this season. 
Matt Tabeek: There are some obvious ones that are going to take place – cornerback, left guard and defensive tackle – come to mind, and I'm super-interested in all three of those (in that order, too). But another one I'm going to be watching closely is the battle behind Todd Gurley at running back. I don't know how many running backs the Falcons will keep on this roster (not yet, anyway) and I think Ito Smith, Brian Hill and Qadree Ollison will all be trying to make their case and fighting for attention behind Gurley. Each one of those guys brings a different skillset to the table and it'll be interesting to see which direction the Falcons go in. I love watching running backs – it's my favorite position, and I played it in high school – and I can't wait to see those four guys in action. The last few seasons here in Atlanta haven't been kind to running backs, and having capable depth there will be key. 
Will McFadden: I'm right there with both of you, and I think the competition for the No. 2 running back spot will be particularly compelling, but it's cornerback that I'll be watching. Not only will I be looking at the development of Isaiah Oliver and Kendall Sheffield, two guys who finished the 2019 season playing really well and figure to be key parts of Atlanta's defense in 2020, but I'm curious to see what the coaches have in mind for the newcomers. A.J. Terrell played in some of the biggest college football games of the past three years, and he shouldn't be afraid of any matchup - he'll face some difficult ones in camp with Julio Jones and Calvin Ridley. What does his learning curve look like? On the flip side, Darqueze Dennard adds more talent to the secondary, and he might be capable of pushing for the starting nickel role based on what he accomplished in Cincinnati. Atlanta hasn't had a ton of options at corner in recent seasons, but it does seem to have that right now.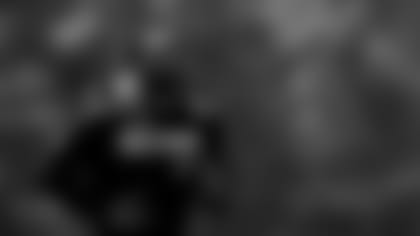 Of the new additions to the team, who are you most excited to watch during training camp?
Conway: Dante Fowler. I can't wait to see how the rest of Atlanta's defense feeds off the energy Fowler brings. From Deion Jones to Dan Quinn, the hype regarding Fowler's "juice" has been something we've heard a lot about. I want to see it in action and I am looking forward to seeing how he helps elevate the entire defensive line. I think Fowler will bring out the best in Takk McKinley and that's a very good thing for Atlanta's defense. If Fowler and McKinley are both playing at their best, the Falcons' defense will be set up for success in the upcoming season. 
Tabeek: Obviously I want to see all of the draft picks – A.J. Terrell, Marlon Davidson, Matt Hennessy, Mykal Walker, Jaylinn Hawkins and even that leg of punter Sterling Hofrichter – but the one guy at the very top of the list right now is recently signed cornerback Darqueze Dennard. I've been writing for months in "Straight from the Beek" that the Falcons need to add a proven veteran cornerback who could come right in and start or push for a starting job. Well, they went out and did just that, adding the No. 24 overall pick from the 2014 NFL Draft coming out of Michigan State. How much of an upgrade is Dennard? I'm assuming he'll win one of the starting spots, presumably opposite of Terrell, this year's first-round pick. Watching those cornerbacks battle it out is going to be fun. I'm thinking about changing my answer to the first question now.
McFadden: Come on, guys, this is an easy one! It's Todd Gurley. Just two seasons ago, Gurley was one of the most exciting players in the NFL. I know much of the discussion since then has been about his health, but that only adds to the intrigue as he begins his journey with the Falcons. I can't wait to see what he looks like as part of this offense, and I absolutely believe that there's still plenty left in the tank for Gurley to be an impact player in 2020. As someone who was lucky enough to be at Georgia for Gurley's college career, there's nothing I'm looking forward to more than once again getting an up-close look at one of the most dominant running backs of the last five years.
If you had to pick one position group that might change the most between now and Sept. 13, which one and why?
Conway: This is a really good question and one it took me a minute to think about. I'm going to go with cornerback and that's because I think the Falcons now have so much depth and competition at this position, we might not know who the starters are until right before Week 1. Will Darqueze Dennard push Isaiah Oliver out of his job? Will A.J. Terrell be ready to go? Will Kendall Sheffield start at nickel or outside? There's so many questions to be answered about this group at the moment. I'm looking forward to watching the one-on-one matchups during training camp and as Dan Quinn always says, you can never have enough cornerbacks on your roster. 
Tabeek: Without any preseason games to watch – and only scrimmages this year – I think there might more surprises than usual come roster cutdown day. That all said, all it takes is an injury or two to completely turn a position group upside down. Falcons fans know that all too well after watching the last couple of seasons. Injuries aside, I think there are two position groups who could look different heading into that home opener against the Seahawks – edge rusher and linebacker. I'll go with edge rusher for now. Depth is a concern behind Dante Fowler and Takk McKinley. Steven Means is coming off a season-ending injury and if Charles Harris doesn't pan out or make a dent (I wrote here that he's a wild card heading into camp), I could see the Falcons making another move there, shaking up that group.
McFadden: Off the top of my head, I don't envision many changes at the top of the depth chart, so my answer is going to be a little bit more below the surface. The Falcons have been grooming some pretty good receivers in recent seasons, and we saw players like Olamide Zaccheaus and Christian Blake get more playing time down the stretch last year. Right now, the assumption is that Laquon Treadwell and Russell Gage are the primary contenders for the slot receiver role, but I wouldn't be surprised if Zaccheaus and Blake make a push for a greater share of the playing time. Atlanta also has a trio of undrafted rookies in Juwan Green, Jalen McCleskey and Chris Rowland that I'm very interested in watching out on the field. This is a deep group and anybody could emerge behind Calvin Ridley and Julio Jones.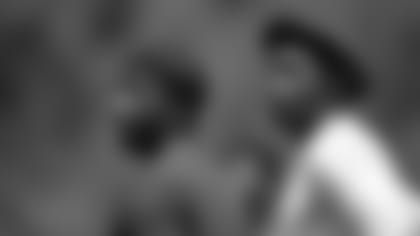 What is the Falcons' deepest position group heading into training camp?
Conway: Running backs. Between Todd Gurley, Brian Hill, Ito Smith and Qadree Ollison, it will be interesting to see if Quinn decides to keep all four on the roster. You could make a strong case for each one and why they deserve a spot. Regardless of how many running backs the Falcons enter the season with, they have more depth and talent here than last year and that's important. The Falcons need to run the ball better in 2020 and it'll be up to these guys to make sure that happens. 
Tabeek: Wow, it's nice to get some easy questions sometimes. Is there any doubt here? C'mon, it's receiver – and it's not even close. Julio Jones, Calvin Ridley, Russell Gage and Laquon Treadwell – three former first-round picks, including the best receiver in currently in the game and a budding superstar headline that group. And in no specific order, behind them you have Olamide Zaccheaus, Christian Blake, Devin Gray, Juwan Green, Jalen McCleskey, Brandon Powell and Chris Rowland. That, Falcons fans, is a deep position group.
McFadden: I whole-heartedly agree with both of your picks, so I'm going to throw out the defensive position I believe is deepest, and that's safety. Mostly by necessity due to injuries the past two years, the Falcons have really developed their depth at safety. I believe we're going to see a lot of packages that call for Keanu Neal, Ricardo Allen and Damontae Kazee to be on the field at the same time this fall, which is a testament to the talent at the top of that unit, but there's plenty of depth there as well. Jaylinn Hawkins figures to have a roll during his rookie season with the upside to develop into a starter and both Jamal Carter and Sharrod Neasman have the ability to step in as a spot-starter if needed.
Kaleb McGary is entering his second year with the Falcons and is working hard alongside the offensive line. Take a look at some of our best photos from Day 3 of AT&T Atlanta Falcons Training Camp.