FLOWERY BRANCH, Ga. -- Coach Dan Quinn met with the media on Monday afternoon, following the Falcons' pulse-pounding 30-26 win over the Lions.
Quinn and the team dedicate the Monday after games to self-evaluation before turning the page to the next opponent, meaning there was plenty of discussion about the Falcons' victory during his press conference.
Here are some of the important talking points:
Quinn's experience during the final tense moments of the victory
While those fans watching in the stands or on television may have had a good view of how the game's final play unfolded, Quinn and his staff did not.
Their view from the sideline was not very clear, which meant that Quinn did not initially know what was going on as the craziness began to ensue around him. He explained how he experienced the final play of the game and what occurred afterwards.
"I couldn't see from where I was at, at the start of it," Quinn said. "A couple guys had pointed to the ground – you know, 'not in' – and was that just hopeful or was it real? Then you saw the replay and you said, 'I think we've got a real shot at this thing.' And that's when I talked to the official, and he said, 'well, if you win it, then that would be it.' He was the one that kind of did the explanation to me, because I didn't know where we'd be on the time as it went.
"The emotions at the end, going from the dagger to the heart to the 'OK, that's a good win.' … It was definitely one of the most unusual endings to a game that I've been a part of."
Falcons need to improve in the turnover margin
Atlanta was fortunate to pull out a win after turning the ball over three times against Detroit and forcing no turnovers of their own, and Quinn says that will be a major area of emphasis moving forward.
"No doubt we've got to be better with the football," Quinn said. "You don't win many games in minus-3 (in the turnover margin)."
Generating turnovers is one of the key things he looks for in his defense. The Falcons often discuss the importance of protecting the ball on offense and taking it away on defense.
"Some days you don't like to have that kind of turnover margin," said Quinn. "We thought we maybe missed a few opportunities to get a few on defense where it could have been closer to 0-0 or plus-1, even though we turned it over three times. To get in the plus, you have to create some takeaways, and that was one where we felt like we missed a few (opportunities) there.
"We had a real sense this was going to be a really hard-fought game. And although we moved the ball well offensively, we felt like we allowed points on one turnover and on the second (gave up) three points when it was down in scoring range."
Sambrailo has shown improvement, particularly as a run blocker
Ty Sambrailo made his first start for the Falcons at right tackle against the Lions and although he struggled at times, Quinn was pleased with what he saw and where he's headed.
"I liked that there was urgency in the way that he would cut," Quinn said. "I thought that he improved from the performance before. And I think that the issues that came up on the sacks are things that we can clean up. Get our hands tighter, get a better punch. I thought in the run game, I really felt his presence and that was a big factor in this game.
"You can imagine being in another system and coming in and learning exactly how Chris (Morgan) wants it done. The communication that has to be taking place between him and Wes (Schweitzer) and him and (Austin Hooper and Levine Toilolo) at tight end. So, it's certainly improving for us. We do feel like any of the issues from a protection standpoint are definitely fixable and that's what kind of lights you up in a good way as a coach saying, 'We really feel like this player is ascending.'"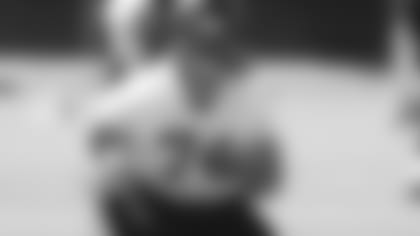 The Falcons ran for 151 yards against the Lions on Sunday, and they are currently second in the NFL in yards per carry when running at the right tackle position, averaging 7.1 yards.
The red zone defense was strong against the Lions
Coming into the game, Detroit had scored a touchdown on all four of its trips to the red zone this season. Atlanta, meanwhile, had given up a touchdown on four of its opponent's six trips inside of the 20-yard line.
Production in the red zone was something the Falcons worked on in practice leading up to Sunday, and it payed off. The Lions scored a touchdown on just one of their three red zone trips against the Falcons.
"I thought, number one, that was going to be one of the factors," Quinn said. "And it sure was, as it came down to it. It's the ability of Stafford to get out of the pocket and the concepts that they have. We were bummed that we allowed the one that we did to Golden (Tate) as he came back. We thought we could have played that play better, so that's what we talked about today – can we keep that execution getting better?
"But I was really pumped to see the guys stand up, especially in the red zone. We've put a lot of work into that part of our game from the offseason into training camp and then now into the season. What you emphasize is a lot of times what comes through, and we really emphasize our situational football. We've still got a ways to go, we feel we still want to improve upon third down offensively. But the red zone work that we put in is paying dividends for us."
Takk is impressing thus far in his rookie season
First-round pick Takkarist McKinley earned his first sack as a Falcon on Sunday, but to anyone who's watched him closely this season, he's been around the quarterback frequently. As he continues to work an improve, Quinn sees a lot of potential in the young pass-rusher.
"He was really excited yesterday to get his opportunity to have more extended play time, and you saw the disruptiveness that he can play with and the speed that he can play with," Quinn said. "That's what excited us early on about him and then, now, he's got some on-the-job training that's happening. And that happens with rookies and as you're learning new things, new topics, new ways to play. I'm very excited about where he's heading, I really am. The physical style that he plays with really suits how we want to play."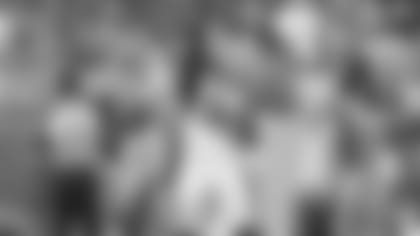 Quinn expects to see a 'hard-nosed' Buffalo team next week
When asked what he has seen out of the Buffalo Bills (2-1) in his preliminary scouting, Quinn saw some similarities on offense to the Falcons' prior opponents and a very specific defensive mentality.
"The way they're built, you can count on their run game being rock solid," Quinn said. "That starts with Shady (LeSean McCoy) and it goes through (Mike) Tolbert and Patrick (DiMarco) is there as a lead blocker. They've got a good offensive line, and oh, by the way, their quarterback can really run and is athletic. So, I guess this will be about three weeks in a row that we'll see a guy that can extend plays and get outside the pocket. Three weeks ago we saw it with Green Bay, last week with Detroit and now this week with Buffalo. And our division is a lot like that, you know with guys who can move and extend plays. We will work hard at that part of it, I promise you. Because we know that when the quarterback can extend plays, a second play just begins -- receivers now have routes to go to different spots. "And then defensively, I've known Sean (McDermott) for years. In fact, he was a player at William & Mary while I was coaching there. Professionally, I followed him through Philly and at Carolina and now in Buffalo, and he's always had a hard-nosed approach, they'll be really good tacklers. They've got a talented front and usually when you have that part, that's the first line of things that could make it difficult. As we go through our preparation, we'll certainly be ready, but we expect a really hard-nosed team coming down here to compete."