FLOWERY BRANCH, Ga. – It was hard to miss the ear-to-ear grin on Dan Quinn's face while he was recapping the first practice with his 2018 rookie class on Friday afternoon.
"Awesome first day," said Quinn, who gushed about the players' effort, enthusiasm and even the physical shape they were in following the first session of the two-day camp at the team's practice facilities. "It's an excellent rookie class. They're real serious about it, ready to go and a number of tryout players have caught our attention, too."
Falcons agree to terms with defensive tackle
Yet as much as Quinn liked what he saw from the Falcons' six draft picks, rookie free-agent signees and the dozens of tryout players, it was hardly a perfect practice. There were several dropped balls, overthrown passes and a fumble or two.
That's to be expected from players participating in their first-ever professional football practice while desperately trying to impress coaches at the same time. And Quinn, who has been coaching for 24 years and the head coach here in Atlanta since 2015, certainly knows that.
"I was really pleased with the guys' effort today," Quinn said. "When you came in, you saw a number (of players) who looked like they were in good shape. There weren't a lot of guys on the ground, there was real intent about how we went about it."
Minicamp – especially one filled with eager rookies – is a time Quinn genuinely relishes. It not only gets him back outside on the practice fields – he quipped that "a number of us feel like we're office guys" because of all the hours spent watching video and preparing for the draft – but it allows him to do what loves most: teaching.
"I really enjoy the role of teacher," Quinn said. "It's one of the things I enjoy most about coaching so, at this space, not only are we teaching them the scheme part off the field, but trying to provide some of our knowledge where we are as a group, where we are as a team, you know, some rules, how they fit it in.
"They're about to join in with 50 other guys here in a few days."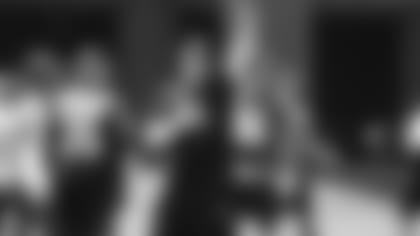 And one of those players Quinn talked about was first-round draft pick Calvin Ridley, a lightning-quick receiver out of Alabama known for his precision route running. Ridley not only showed off his smooth route running and speed during practice, he also made the kind of athletic catches that reinforced why he was the 26th-overall pick.
Yet even the team's top draft pick later admitted that he had to "shake off the nervousness" and not play overly fast.
"It's a lot, so I've got to take my time learning and play fast," Ridley said.
When asked about Ridley's comments, Quinn saw it as another teaching moment. And that's something he did a lot of on Friday, whether it was reminding running back Justin Crawford to tuck the ball in and cover the nose of the ball or first-bumping Luke McNitt after the fullback hustled down the field during a punt coverage drill.
"Mentally [Ridley] is really quick and like most of the guys, they want to do right so well – want more reps, more turns to get rolling," Quinn said. "It's a good lesson, you know, like stay in the moment of just this play. And that's not uncommon for any of them – I would say coaches, players, everybody – we're so amped to get our offseason underway and for these guys, to get their professional careers underway."
While rookie minicamp is all about teaching, emphasizing fundamentals and evaluating players, Quinn also sees it as an opportunity for a little experimentation.
"We're going to try and put guys in different places, even maybe in some different positions this weekend," Quinn said. "We tried [Russell] Gage at corner today; he's going to be a receiver tomorrow. This is kind of my time to experiment a little bit and see what a guy can do – same thing just a moment ago with returners so we'll continue with that tomorrow."
And Gage, a sixth-round draft pick who played both corner and receiver during his career at LSU, isn't the only player that Quinn and his staff are going to tinker with.
"My hope is by the time we're entering into training camp we have a better vision of what some of the guys can do, because we have this camp, the OTA's and then another minicamp," Quinn said. "So, I'm hopeful at the end of that time we get a better vision for each of the guys and the things they can do."
Even Ridley will be moved around some.
"First outside, but he definitely has the athletic ability and change of direction to play inside," Quinn said of his new receiver. "So it'll definitely be a part of what we do. As we get further along, we'll just kind of give him more and more as we go."
The second and final day of rookie minicamp will kick off at 12:45 p.m. ET on Saturday.