FLOWERY BRANCH, Ga. -- Nine times out of 10 when a Falcons player is asked a question about defensive coordinator Marquand Manuel, the word "energy" will be used at some point.
Manuel is constantly praised for the energetic style he brings to work on a daily basis and now all of Atlanta's defensive players – not just the secondary – will be privy to it. After two seasons as the Falcons' secondary coach, Manuel was promoted to defensive coordinator this offseason.
Not only does Manuel have the personality needed to command a defense, his eight years of NFL playing experience and his hands-on approach during practices helps him relate to his players on a different level. When he's not jumping or running around the field, he's having individual conversations with players.
And even though he's overseeing more positions with his new role, don't count on him changing his routine anytime soon.
"I wouldn't say it has been different as far as my routine as far as what I do when I go on the field because the grass is the grass," Manuel said. "You are going to coach."
However, what is different for Manuel is having to manage more situations, a responsibility he feels he's more than ready to take on. So, what's an example of a situation that Manuel has had to handle as a coordinator that he wouldn't have needed to previously?
At one point during the second day of training camp practice for the Falcons, Manuel didn't think the play of his defense was up to standard. And rather than taking the "It's early in camp, I'll let it slide" approach, Manuel did the opposite. He brought the defense together and reminded them they weren't upholding the standard they set for one another.
And back to work he and his players went.
Mediocrity isn't tolerated anywhere in Dan Quinn's program, and Manuel abides by that same philosophy.
"He's very involved, very intense, very detailed and demands the best out of his players," defensive lineman Grady Jarrett said.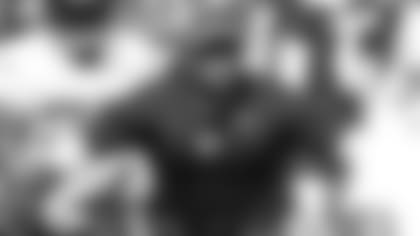 Manuel now has the opportunity to work with different groups during practice and in meetings, something he's getting a lot of enjoyment out of it. His involvement with each position group is something he takes personal.
How personal? Manuel says he makes sure to shake hands with each one of his players on the field when he's working with the different units.
And his level of involvement has been noted.
"He's so involved to the fact that he'll take days and actually do individual drills with certain groups," Jarrett said. "He'll go with the defensive backs and do individual drills, he'll go with the linebackers, he'll even come down to the defensive line and do some of our drills. It's real fun to play for him we just know he has high standards for us – rightfully so. He knows how good we can be and he demands that day in and day out."
Desmond Trufant met Manuel when he was 14 years old when his older brother, Marcus, was a teammate of Manuel's in Seattle. So if anyone knows the type of leader Manuel can be, it's Trufant.
And he has all the confidence in him and what Atlanta's defense can do in 2017.
"He has the same passion," Trufant said. "He's always had that leader mentality in our room so he just transitioned it to the whole defense now. I'm happy he's moving up and we have big things ahead."
With the progress Atlanta's secondary has made over the past two seasons, there's reason to believe that Falcons' defense can flourish under Manuel's leadership.
Following the Falcons bye in Week 10, Atlanta's defense began to hit their stride. The unit allowed 20.5 points per game, down a significant amount from the 28.3 points they were allowing in the first 10 games.
Manuel has shown that he's won't ever be one to back off from a challenge, and that mindset is something Quinn knows his entire defense can benefit from.
"His fire's lit, and it does not go out," Quinn said. "He's a really passionate guy. Honestly, it's just somebody that's always constantly challenging to see if it can get done a little bit better. And honestly, that's what the essence of a competitor is."