FLOWERY BRANCH, Ga. -- Falcons coach Dan Quinn spoke often last week about his team's commitment to sticking with the run. In their 25-20 win against the Jets, the commitment paid off.
"In the run game, we stayed with it and we thought we had some opportunities to even create a few more (big plays)," Quinn said during his Monday press conference. "It was good to see Tevin break a long one at the end. But, that part, we would say we could take our run game better than we did yesterday, and I think we have at times this year.
"The reason it's so important is the play-action and the keepers that go with that. That allows some of the play-action plays to step up, like the big play to Julio (Jones) when the linebacker or the safety have to step up because of that."
Against the Jets, the Falcons ran the ball 32 times for 140 yards. Tevin Coleman led the way with 14 carries for 82 yards, including a 52-yard run, while Devonta Freeman contributed 12 carries for 41 yards.
The run game was just one of the topics Quinn discussed during his weekly Monday press conference. There were a few more positives to discuss this week, as the Falcons (4-3) ended a three-game skid with their 25-20 win against the Jets, and Quinn touched on a variety of topics. All three units stepped up and supported each other vs. Jets
Quinn began his press conference by recognizing how each Falcons unit stepped up at times when they needed to. Whether it was the defense stopping New York's offense after a fumble, or the special teams making a big play to flip the field position, all three aspects of the team worked together at times to help earn the victory.
"As we get started, I thought maybe a few weeks ago I'd indicated we had a game where one side (misses a chance) the next side needs to step up and make a play; I thought there were some examples of that yesterday," Quinn said. "Fumbled exchange, a turnover and the defense goes out to either hold them to a field goal or stop. A play where it had to be made on special teams, and it was. The kicking, I thought, by (Matt) Bryant and the snapping by (Josh) Harris and the holding by (Matt) Bosher was really on point for some very good specialists in some very difficult weather. And then, offensively, we were able to move the ball, sustain some drives, get down into the red zone.
"I thought all three phases picked up and supported one another in the right ways. In that kind of weather, it's kind of 'do right longer' all the way to the end, and I thought our team did that."
Run defense was 'committed to doing it right'
The Falcons' defense had it's best outing against the run on Sunday, holding the Jets to just 43 yards on 22 carries. Atlanta's front seven made several plays behind the line of scrimmage and helped make New York one-dimensional on offense.
Entering the game, that was an area of emphasis for Quinn and his staff, and he said the defense really bought in to improving in that aspect.
"We were really committed to doing it right," Quinn said. "On Saturday, even Marquand (Manuel) had said we're going to go fit-by-fit, everybody owning their gap-by-gap and hit-by-hit. And so, that part of the game, it really felt familiar in terms of everybody just really (playing) assignment-sound, doing their job not trying to step out of their gap to go make a play. I thought the consistency of the run defense was what really jumped out. I thought they took a big step towards becoming the unit, especially in the run game, that they can be."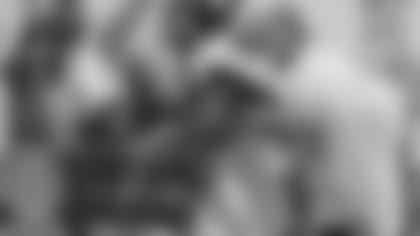 Defensive linemen having an impact
Atlanta's defensive linemen were active against the Jets, shutting down the run and generating pressure when quarterback Josh McCown dropped back to pass. Grady Jarrett finished with seven tackles, three tackles for a loss, a hit on the quarterback and a half-sack; Dontari Poe recorded four tackles, two quarterback hits and a half-sack and rookie Takkarist McKinley also turned in one of his best performances of the season.
"He's a pretty consistent player," Quinn said of Jarrett. "He's awfully tough to block, even when he's on the move. And I think on the third-down play, he crossed the center's face and was involved in that stop. He is really active because of his quickness."
"Great to see him have an impact," Quinn said about McKinley, the Falcons' newest first-round draft pick. "Not only as a pass-rusher, but yesterday I really felt (he was) really square and strong and knowing when to play certain plays. Part of that is learning to play in the NFL – Ok, this is a run, I've got to play it this way; this is a pass, I'm going to go do this technique… Now that he's gaining more experience, it was good to see him adapt to the situations we were in."
As for Poe, Quinn had this to say: "I thought Dontari Poe had one of his better games as a Falcon."
A few players could be limited this week
"We came through, health-wise, we came through well," he said. "We may have a few players limited to some extent on Wednesday, but at this point no one that will be out. We're encourage that the guys did a good job coming through from an injury standpoint."
Quinn pleased with third-down designs on offense
The Falcons spent extra time during practice last week working on their third-down and red-zone situations, and Quinn said he was pleased with some of the play designs the offense ran on third down against the Jets.
Although Atlanta converted just 36 percent of its third down attempts, there were a number of drops that forced the offense off the field.
"That goes into it," Quinn said of the drops on third down. "I thought from a design standpoint, from a third down area was good. I'm sure the weather certainly had some effect on it. I thought we really could have had a good solid day in that (area). But you've got to own those opportunities, too. There's no 'except fors' in our world, you've got to go make the play when it's there. But I thought – from a throw standpoint – the guys who had those drops would have considered them drops and say 'yeah, I'd like to have a shot at that again.'"