Jones Named All-NFL, All-NFC By PFWA
Following his best season to date, the awards haven't stopped coming to Julio Jones. So far, the wide receiver has been honored with the following awards: Pro Bowl, First-Team AP All-Pro, Shutdown Corner's NFL All-Pro, Sporting News All-Pro, PFF All-Pro, second runner-up for Offensive Player of the Year by Pro Football Focus, first runner-up for Best Receiver by ProFootballFocus and most recently All-NFL and All-NFC by the PFWA.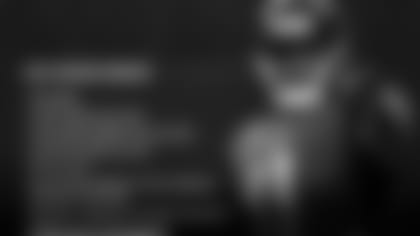 Jones was the only member of the Falcons to make the PFWA's All-NFL and All-NFC teams. He and wide receiver Antonio Brown of the Steelers were the two receiver picks for All-NFL. Wide receiver Odell Beckham Jr. of the New York Giants joined Jones as the two selections for All-NFC.
Hester Undergoes Toe Surgery, Three to Six Month Recovery Period Allotted
Wide receiver/return specialist Devin Hester injured his toe during XFINITY® Training Camp in August and was unable to overcome the injury prior to the start of the regular season, forcing the Falcons to place Hester on injured reserve-designated to return.
Hester returned to game action in Week 13 and he was able to play in the Falcons' final five games. His injury seemingly prohibited the veteran kick returner's production as he finished the season with a career-low in punt return yards.
East-West Shrine Game Offers First Glimpse of Draft Prospects
Tis the season for* *college All-Star games.
This week, all 32 clubs will have some sort of representation at the East-West Shrine Game on Friday in St. Petersburg, FL. Daily practices are conducted prior to the game where NFL scouts and coaches are given the chance to familiarize themselves with current prospects.
T Ryan Schraeder once delievered steaks to resaurants as a job
LT Jake Matthews earns recognition from ProFootballFocus
Vote for RB Devonta Freeman for the NFL's Fantasy Player of the Year