From the day he arrived in Flowery Branch in April, rookie linebacker De'Vondre Campbell hasn't stopped turning heads.
His imposing 6-foot-4, 232-pound physique certainly draws attention, but what will really catch your eye is his electric speed on the football field.
Picture this: Campbell is lined up behind the defensive line, waiting for the ball to be snapped during team drills on the first day of XFINITY® Training Camp. As the offensive play takes shape, here comes running back Tevin Coleman — one of the state of Illinois' best 100-meter sprinters during his track days in high school — out of the backfield and looking to streak down the field.
On this play, that's Campbell's man.
As Coleman tries to reach optimum speed to beat the huge linebacker, the second-year running back can't believe that Campbell's not eating his dust. Instead, with the ball in the air, Campbell's inside position on Coleman spelled the end of any hope that the offense would advance the ball: Incomplete pass.
"I didn't expect him to be that fast," Coleman said. "You have to set him up more. You have to stop, give him a head fake to freeze him to get by him. Otherwise, with a defender who is not as fast, you can just run by them."
Coleman knows about speed because of his track background, and perhaps surprisingly, it's a trait he shares with the large linebacker who was with him step-for-step on a play that proves big doesn't always equal slow.
Campbell's journey to the shocking speedster he is today started with his time running track at Cypress Lake High School in Fort Myers, Florida, where he was a specialist in the 4x100 and the 200-meter events.
"I've always been fast and it helps tremendously," Campbell said. "I've always been a bigger guy, but being able to run with smaller guys and have that coordination and athleticism; it's something I've always had."
To put into perspective just how fast Campbell is: He ran neck-and-neck with Buffalo Bills WR Sammy Watkins in the 200-meter race at the FHSAA Track and Field District 11 Championships. Down the stretch, Campbell was ahead of the sleeker, quicker Watkins, but the future Bills star eked out the win as the finish line approached.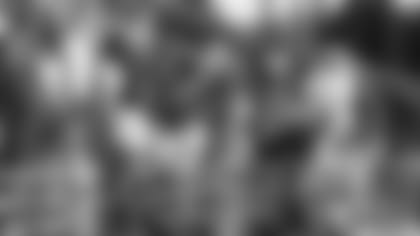 Campbell took home the silver that day, finishing the race in 22.44 seconds, just a half-second behind Watkins.
His background on the track has not only helped in perfecting his running mechanics, it also helped catch the eye of head coach Dan Quinn during the pre-draft evaluation process.
"In track, you are used to running fast and playing fast, so I like that in the background," Quinn said of Campbell. "You see it in his game, it's the long speed that you see. Not only can he close in a short area, but when it's time for him to go 35 or 40 yards, he can go."
The 23-year-old is quickly — pun intended — becoming one of the Falcons' most intriguing players because of how he's able to get from Point A to Point B, whether it's defending smaller and supposedly quicker running backs or barreling downfield on kickoff team.
With no track in sight and only the green grass of the Flowery Branch fields in front of him, Campbell leaning on his past to propel him into the future seems to be serving him well so far.
"I feel like I am here for a reason," he said.