FLOWERY BRANCH, Ga. -- Standing in front of a record-setting crowd of 6,396 fans in attendance for Military Day and the Falcons' last open training camp practice, coach Dan Quinn made a promise.
"On behalf of the 2017 Falcons, we dedicate this practice to (our military veterans). We are going to strain, battle and compete with exactly the same passion that you do for us."
The team upheld their coach's promise, as Sunday's practice had a high level of intensity and some great individual performances. With Atlanta's first preseason game against the Miami Dolphins quickly approaching (7 p.m. ET, Thursday), there are plenty of interesting storylines emerging.
Let's break down the main takeaways from the Falcons' final open practice.
1. Ryan discusses evolving relationship with Sarkisian
One of the major points of intrigue for fans this preseason will be how Steve Sarkisian's offense compares to Kyle Shanahan's. Ryan was asked about his relationship with the Falcons' offensive coordinator, and he explained it continues to evolve every day.
"I think our relationship was good from the start," he said. "I think the more time you spend with each other, the more you get on the same page. And I think that is probably what has happened throughout the spring and really throughout the first week-and-a-half of training camp, is that we've gotten a better feel for how he calls plays when we get into our team periods and we're moving the ball and just playing football.
"I've gotten a better feel for kind of his demeanor, how things come in. And also, I've been very vocal about the things that I like. So, I think we're further along than we were in the spring, but, again, with the games coming up, we still have a long way to go."
Having a veteran quarterback like Ryan, who is coming off of an MVP season, should help make the transition as smooth as possible for the offense. Ryan has complimented Sarkisian's intelligence, and he is sure to add a few creative wrinkles that maximize the Falcons' weapons.
2. Hall drawing praise, getting reps with first-team offense
Although the Falcons return the majority of their starters from last season's league-leading offense, there's still room for some of the young players at camp to earn a spot on the 53-man roster.
Marvin Hall, who spent the end of his rookie season on the Arizona Cardinals' practice squad, has really opened some eyes thus far in training camp. Hall is competing against a pair of talented rookie receivers in Josh Magee and Reggie Davis, and he's earned some important reps with the first-team.
"Marvin has gotten a lot of reps with the ones (first team) with some of the other guys just being limited on reps," Matt Ryan said after Sunday's practice. "He's done a great job. I think he's gotten a really good grasp of the offense pretty quickly."
After Friday's practice, Quinn explained that special teams could be a separating factor for the receivers, and the preseason games will reveal a good deal more about each player.
3. Ryan and Quinn explain approach to preseason games
Once preseason games get underway, many fans will want to see how the Falcons match up with whoever their playing. It's always nice to earn a victory, but that's not the only thing that Quinn and his staff will be focused on.
"We generally don't treat (preseason games) the same as in-season," Quinn said after practice. "We're in training camp mode … we want to really get evaluations on the players. That's critical in the preseason. We're trying to not only get your skills sharp but find out about a lot of new players and see where their skills are at, what versatility they have. We don't do the game planning part of it to get ready, it's really more about us."
For a player as experienced as Ryan, the preseason may seem to offer little value. However, even the reigning NFL MVP has a plan for how he wants to approach these exhibition games, and he knows the importance they can have for the entire team.
"For me, it's about going out there and trying to start fast," Ryan said. "Whenever you get this first preseason game -- you know, we're knocking the rust off when we first get into training camp -- but you're doing that same thing the first time you go out there and play. It's different when things are live. I want to see where we're at. I want to see where I'm at, from a timing and a feel perspective, so, with whatever opportunity we get out there on the field, however long (Quinn) has us go, I want to make the most of it."
To see all of Matt Ryan's post-practice press conference, click here.
4. Red zone defense a focus for the Falcons in training camp
The Falcons' young defense continually progressed throughout the 2016 season, but the team struggled to keep opponents from scoring once they reached the red zone. Atlanta ranked last among all NFL teams in giving up touchdowns in the red zone.  
Opposing teams scored a touchdown over 71 percent of the time they moved the ball within the Falcons' 20-yard line, according to teamrankings.com. Quinn has made red zone defense a priority for the team this season, and he likes the plan they've put in place to improve in that aspect.
"In the offseason, we said that was going to be a big emphasis for us; where we were going to spend more time down there, get more reps, both offensively and defensively," Quinn said. "I'm encouraged. It starts with the communication in the red zone to make sure routes that could come up, runs that could come up (are identified). We're not there yet, but we're putting the work in. I like the plan that we have laid out over this month of training camp to get extra time to really emphasis that."
5. Quinn's interesting method for getting Sarkisian and Manuel play-calling practice
One of the things that made Shanahan's offense so effective last season, was his ability to create late-game opportunities with his play-calling earlier on. Play-calling is one of the most important aspects of being a coordinator, and it will be interesting to see how the Falcons look with two new coaches in those roles.
In training camp, Quinn has taken a slightly different approach to practices that should help his coordinators get some experience calling plays in the flow of a game.
"It's been real intentional that we've had less scripted plays and more 'move the ball,'" Quinn said. "And I wanted both Sark and Marquand to be in the game-calling mode. So, it was really by design. We've done a few move-the-ball situations; you see us having the competition in the red zone, the last few days we've played a first quarter then a two-minute half, we've (also) played a third quarter. We're trying to create those environments for the guys.
"It'll take work to get there, (but) we'll get there. That type of communication, we need to go through the exercises and keep doing them."
To watch all of Dan Quinn's post-practice press conference, click here.
6. Crawford and Schraeder missed part of practice
It's a primary goal for every NFL team to exit the preseason with much of its roster intact. Defensive lineman Jack Crawford and right tackle Ryan Schraeder both left practice early, but there doesn't appear to be much cause for concern regarding the two veterans.
"No update yet," Quinn said of Crawford. "He had a strained groin … we were more precautionary to take him out."
Regarding Schraeder, Quinn had this to say; "He had a cut that needed to get cleaned up. So, he'll be back, hopefully, tomorrow."
7. Military Day an important one for Quinn and the team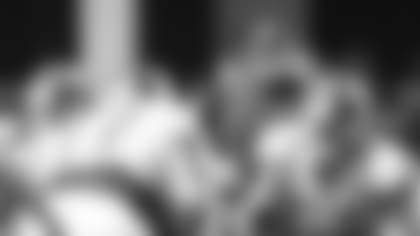 Since his arrival, Quinn has made it a priority to develop a connection with and show great appreciation for those serving in the military. On Sunday, the Falcons donned camouflage jerseys and hosted their annual Military Day. Quinn delivered a speech to the crowd prior to practice expressing his thanks for the veterans in attendance.
After practice concluded, Quinn started his press conference by explaining the importance of the day.
"So this Military Day, for us, it keeps increasing," he said. "Man, did we feel the energy from (the veterans) today. We wanted to dedicate this practice to them. So, for all their sacrifice, that was such an important thing. You saw the different colored jerseys out there today, so everything today was focused on them."
8. Highlights: Hall and Burton come up with big catches
During the one-on-one period, Hall and rookie receiver Deante Burton each made a catch that drew cheers from the on-looking fans.
Hall beat cornerback C.J. Goodwin on a fade route and hauled in a perfectly thrown pass that fell just over the out-stretched hand of his defender. (You can check out the play, here.)
Burton's reception came on a well-executed comeback route against cornerback Jalen Collins. The rookie gained good position on Collins and extended to high-point the football, showing incredible concentration to keep possession all the way to the ground. (Click this link to see Burton's catch.)