FLOWERY BRANCH, Ga. -- The pads were on for Saturday's practice, and the Falcons were flying around in front of the energized crowd that gathered to watch the defending NFC champions.
Could be Falcons' punt returner?
With the added protection came a greater physicality, which created a very fiery atmosphere at the Falcons' practice facilities. There are plenty of interesting takeaways to delve into, including some important injury news.
Let's get down to it. Here are the five biggest takeaways from Day 3 of the 2017 AT&T Atlanta Falcon Training Camp. 1. Julio Jones provides update on his foot, lost earring
Although he is technically listed as "limited," Jones has looked very comfortable moving around during training camp. He's participated in individual and offensive drills, but he has yet to go during full-team activities as he recovers from foot surgery.
After practice on Saturday, the All-Pro receiver gave some positive news regarding his health.
"My foot is great," Jones said. "You know, we're just being smart. I still get my conditioning in, I run routes, I do things, I'm in and out of the huddle, I'm in the scheme, just everything right now. Today was the first day of pads, I'll probably do a little more tomorrow. You know, we're just one day at a time with me. They know what I can do, we're not here to rush anything or anything like that. But the overall goal is, obviously, to be ready to go by the start of the season."
That Falcons can afford to take their time with Jones's rehab. One of the best players in the NFL, there's no reason for Jones to return before he's completely healthy and, most importantly, the situation calls for him to be on the field. In July, that isn't necessarily the case.
Once he and Taylor Gabriel return to the field in a full capacity, the Falcons will have one of the best receiving corps in the NFL. The Atlanta receivers aren't resting on last year's accomplishments, however, they are always working to get better.
"We've just got to keep working. Those guys can be the best receivers in the league at what they do," Julio said of his teammates. "(Mohamed Sanu) is already great at something, he's just got to work on other things now. Like being a deep threat, which he can do. You know, last year we didn't show a lot of that for him. Taylor Gabriel, he's another one. His thing is he's a deep-ball threat for us, and he can work on smaller, intermediate routes."
Jones might be onto something when he says Sanu can be a nice deep threat for the Falcons.
And finally, Jones shared his thoughts on what has become the biggest story in the NFL, if not the world, this week: His $100,000 earring that sunk to the bottom of a lake.
"I didn't hire anyone, like a dive team, I did not do that. It was insured," Jones said. "I was fine. I didn't get thrown off of anything; I jumped off the jet ski. So, that's cleared up."
If you'd like to watch all of Julio's post-practice interview, click here. 2. Devin Fuller out for the season with torn ACL
Fuller limped off of the practice field Friday afternoon, and Dan Quinn confirmed after Saturday's practice that the second-year receiver has torn his ACL.
"A bit of bad news," Quinn said. "Devin Fuller was injured yesterday, and, unfortunately, he'll be out. So he has a torn ACL, and we're bummed for him. He had worked so hard to recover from last year's injury so definitely bummed and sad for him."
This is a tough blow for Fuller, who missed the entire regular season as a rookie in 2016 with a shoulder injury. The wide receiver out of UCLA was expected to be a primary contender to handle punt and kickoff return duties, but he's been unable to stay healthy.
For the full team injury report after Day 3, click here. 3. De'Vondre Campbell worked with Chuck Smith this offseason
Former Falcons All-Pro defensive end Chuck Smith has emerged as one of the most highly regarded pass-rushing coaches in the country. Vic Beasley spent time working with Smith last offseason prior to registering an NFL-high 15.5 sacks in 2016.
Campbell became the latest Falcons defender to spend time over the offseason learning from Smith. He is transitioning to the SAM linebacker position this season after spending his rookie year on the weak side of the field. As a result of the switch, Campbell will be in more pass-rushing situations, and he is focused on improving that skill.
"Chuck Smith's amazing. I worked with him last year, pre-draft," Campbell said. "Once I got here, I found out that I wouldn't really be doing much on-the-line-of-scrimmage stuff so I kind of stopped working with him a little bit. But this past offseason, once I found out that I was playing SAM again, I started back working with Chuck. It's been amazing man."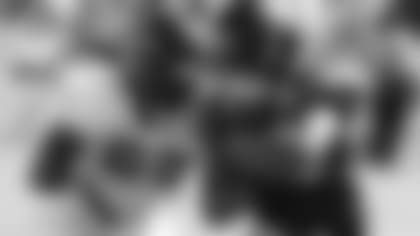 The 6-foot-3, 234-pound linebacker is part of a young, exciting linebacker corps and has a lot of untapped potential. Now entering his second season, Campbell is one player who could make a leap in his development. Especially if he's been working with Smith.
Campbell's entire post-practice interview can be found here. 4. Robert Alford has been an early standout in camp
When starting cornerback Desmond Trufant went down with a season-ending injury last year, Alford stepped into the No. 1 role and his game rose to that level. Through the first three days of training camp, he's kept it there.
"He is really fit," Quinn said of his cornerback. "His weight's up, he's stronger than he's been in a while. So, he's using that strength at the line of scrimmage. You can feel that; that confidence sometimes that comes with just a little extra strength, a little extra weight with the same speed. He's always had really good ball skills and towards the middle of last year we challenged him (to) use this good speed without having to grab. He's done a good job with that."
Alford recorded 61 tackles and two interceptions in 2016, his fifth season in the NFL. He's shown a knack for getting to the ball in camp and has two picks thus far. If he keeps up this pace, the Falcons' secondary will be no joke. 5. HIGHLIGHTS: Keanu Neal and Mohamed Sanu stand out on Day 3
The pads came on, and the intensity level spiked on Saturday afternoon. Neal was one such player who seemed to relish the opportunity to hit someone. He laid the boom on Pro Bowl running back and drew cheers and gasps from the 4,000-plus fans in attendance.
He wasn't the only player making highlight-reel plays. Sanu has been a standout player on offense so far, and he found pay dirt after an impressive catch and run during one of the team periods. The seventh-year receiver then celebrated his long touchdown with the help of a surprise guest.