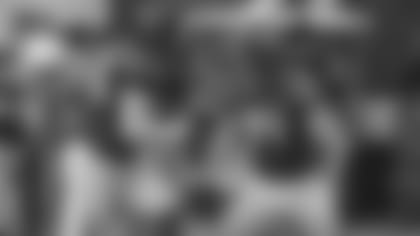 Statistically speaking, Kroy Biermann didn't have one of his best days Sunday against the Cardinals, but he was central to the win in more ways than one.
On a day when the Falcons offense couldn't find any rhythm at all, Atlanta's defense stepped up to the plate and got a lot done towards helping get the Falcons' ninth win of the season. Biermann didn't get a lot of credit in what is easily the most important play of the game prior to Atlanta's first touchdown on offense, but he was in the mix and helping out.
The first touchdown for the Falcons came in the second quarter on a third-and-3 situation from the Cardinals 21-yard line. The Falcons sent six players to blitz rookie QB Ryan Lindley and Biermann and John Abraham got to him at nearly the same time. Abraham was credited with the sack and the forced fumble, knocking the ball out of Lindley's hand, but a close look at the replay showed Biermann was right there, with a hand on Lindley's arm preventing him from following through on his pass.
After a moment of confusion on the field and no whistles from the referees blowing the play dead, Jonathan Babineaux picked up the fumble and ran it in 15 yards for the touchdown. Biermann threw the only block needed to spring Babineaux into the end zone.
"I think they probably gave it to Abe," Biermann said with a laugh after the game. "I'm going to maybe have to take half credit for that because I don't know if it would have come out if I hadn't hit it, but we hit it and got it out. I made a block for Babs and got him in. That's a game-changer right there."
In his five seasons in the NFL, an adjective used to describe Biermann's play has always been "high-motor." The touchdown play was vintage Biermann as he and his teammates played to the whistle, a sound that never came until Babineaux crossed the goal line. Despite the uncertainty of the play, those closest to the ball, specifically Biermann and Babineaux, continued to play.
"It was definitely a little bit on that edge where it could be an incomplete pass or a fumble," he said. "They chose to rule it a fumble, which is great for us. Babs picked it up and kept it going."
Biermann also continues to be a jack-of-all-trades player on defense and special teams. He played 38 snaps on defense and added 19 more on special teams coverages. Head coach Mike Smith said Biermann's athletic ability provides the defense with a versatility not often found from traditional players that line up in the front four. Additionally, with an injury to starting linebacker Sean Weatherspoon in recent weeks, Biermann's served as a backup linebacker.
"Some of the stuff that he does now and we ask him to do are more of the skillset that a linebacker does than a defensive end," Smith said on Monday. "It gives us a lot of flexibility, especially on third down. ... Kroy is a guy in (defensive coordinator Mike Nolan's) scheme, in what we're asking him to do, it's a hybrid position. We're asking him to rush the passer, we're asking him to cover backs, we're asking him to cover tight ends, we're asking him to close the middle of the field. You just don't know where he's going to be."
Not knowing where he's going to be is becoming a trademark of Biermann's game.