I got 26 mailbag submissions between the end of the Falcons' 25-15 loss to the Carolina Panthers on Thursday night and Friday at 1:15 p.m., when I sat down to write this Bair Mail installment.
A whopping 23 of them were about Marcus Mariota, Desmond Ridder or both. I mean, wow. Fans apparently have one position on their minds after that loss. And understand why you want to talk quarterbacks. The Falcons passing game wasn't good against the Panthers, not as good and efficient as it has been at times this season.
The Falcons are best when they run and then use a defensive emphasis on run defense to score big plays. Lately, however, the Falcons aren't making opponents pay with shots down the field.
While I had hoped to talk about I wide variety of topics here today, uncle. We'll talk QBs and the other questions in the mailbag right…now:
Joshua Mayo from Oklahoma City, Okla./Savannah, Ga.
What is going on man? We can't possibly thing that we are putting the best team on the field right now. What is Arthur Smith's thought process on keeping Mariota in the game, other teams are letting their rooks play! I would much rather lose with a rook than lose with a vet!
Bair: I'll let Joshua's question, which was shortened a bit, speak to everyone's pressing topic du jour. I feel like we've addressed it from every angle both on Falcons Final Whistle and two stories written by Tori McElhaney, which you can find here and here.
It's clear that there's a group of fans who want to see Desmond Ridder who, just as a reminder, was the No. 74 overall pick and the third quarterback drafted. The volume increases after every game where Marcus Mariota doesn't perform well. It quiets a bit when his skill set helps win a Falcons game. Since the Falcons have lost two in a row and three of four.
We can go round and round here, but Arthur Smith and the Falcons decision makers have given zero indication that they would be making a switch at starting quarterback. Smith didn't do that on Thursday night. He didn't do it during his Monday press conference.
Did the Falcons consider making a quarterback change during Thursday's game? Smith said no.
As you read above, he isn't playing into the Mariota/Ridder conversation. Smith has guided this team well during his time here – I'll debate anyone, anytime, anywhere on that point – and he's not going to fuel the debate. Probably a smart move as he tries to get his team back on the winning track. Whether he makes a change in near or distant future is ultimately uncertain, though there's nothing to indicate one is coming down the pike.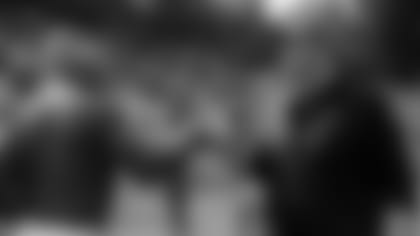 Bill Whitten from Killen, Ala.
Scotty, if you were asked if the Falcons are headed in the right direction and answered yes how would you defend your answer given they have a run first coach, a quarterback who isn't a reliable passer and their last two first round picks were receivers? This makes no sense to me.
Bair: Yes, Bill, I am going to say with full confidence that the Falcons are headed in the right direction. They're getting right with the salary cap and will be next offseason. They're building a roster through draft and development, and we've seen dividends from those picks in recent seasons.
This process takes time, and, with extra cash, the Falcons could make a grand talent leap next offseason. Don't forget the Falcons are getting by this season with $79 million in dead cap – that means the Falcons have $79 million they can't add in roster talent.
And, also, the Falcons are very well coached. The play callers rank high among their greatest assets. And there's nothing wrong with being a run-first coach. A better way to think about Arthur Smith's offense is that if morphs to fit its talent.
To you point about drafting pass catchers the last two rounds, it's about adding top tier talent when you can get it. Both Kyle Pitts and Drake London are productive NFL talents. The Falcons will keep working to develop or find a quarterback, whether he's currently on this roster or not.
Camereon Williams from Lithonia, Ga.
Hey Bair. I just have to ask. Do you think the falcons have regressed over the past few weeks? Between injuries and teams figuring out that we want to run the ball all the time, they quadruple dare Mariota to beat them with his arm. The team is one dimensional offensively and it's becoming more and more of a glaring issue as each week passes. I just think you are only as strong as your weakest link. The passing game is one of the weakest links and so is the pass coverage on defense with the injured corners. Is it getting late early Bair? Or do you think the Falcons still have a chance?
Bair: Have the Falcons regressed recently? They're 1-3 in their last four, and a converted, makable field goal away from 0-4. I'm not sure they're regressed, but I think the injury issues in the defensive backfield and at left guard have taken a toll.
The Falcons have been a bit less consistent taking the ball away and throwing the football. They don't have to throw it a lot, but they must be efficient when they do. You can objectively say the Falcons have missed some big-time chances in recent weeks that could've reversed an outcome or two.
Is it getting early late, as you put it? Not yet. There are still seven games left, so no. But, as Tori and I discussed on the Falcons Final Whistle podcast, it's time for fans to focus on stacking wins over standings. The Falcons are two games under .500. While the NFC South is having a down year, it'll take a decent win total to advance out of the division.
Call for questions
Submit your questions right here for inclusion in Monday's edition of Bair Mail.