Julio Jones is too good to draw single coverageFirst of all, that's who Julio Jones is. He's the best receiver in the game. His size, speed, athleticism and his ability to catch the ball in traffic. And against this coverage, you knew he was going to have some opportunities to be singled up on the outside.
Even though a lot of teams have tried to double Julio Jones this year, or shade the safety toward him, Atlanta was going to be able to use formations against this defense to get single coverage against Julio. And Julio got single coverage a ton today. You can't just single this guy. I give Falcons offensive coordinator Steve Sarkisian a a ton of credit, knowing what Buccaneers defensive coordinator Mike Smith was going to do defensively with that cover 4 look.
Sark knew he was going to be able to put other receivers to Julio's side and be able to get him singled up, whether it was against the interior guy (the safety), which is who he drew when he caught the touchdown from Mohamed Sanu, or on the corner one-on-one because you have the slot receiver take the safety away. It was taking advantage of what Tampa is defensively. And he's the kind of guy you just need to get the ball to.
Sanu made the perfect throw, and Julio hit the acceleratorSanu was showing a play-fake to Tevin Coleman, and he hit the ball on Coleman's hip, which caused the ball to pop into the air and forced Sanu to re-establish control of the ball. Because of the delay caused by the bobble, Sanu is going to get hit in the mouth as he lets it go. So Sanu, who played quarterback in high school, stands in there and throws it with perfect trajectory down the pipe. He couldn't throw that ball on a line because he needed to put Julio up to bat to give him a chance to make that catch.
The run action in the backfield froze the intermediate defenders for Tampa, and Julio is so fast he's up the field and on the safety. And with that coverage, if you've got a guy outside of him that's going to eat the corner up, and Taylor Gabriel did just that. So now Julio has one-on-one with the safety from the slot. It was the rookie safety (Justin Evans). Julio stepped on the accelerator and started to run by him before locating the football. And yeah, all the good receivers know how to apply that little separation bump at the end.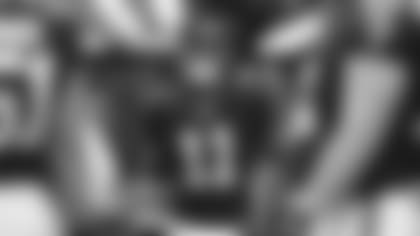 Julio's impact goes beyond just the highlight-reel plays everyone remembersIt wasn't just the flash plays like the ball from Sanu, it was slant passes, or a curl route in tight coverage and catches of the 9-yard variety that kept drives alive. He runs tough when he catches the ball. There was one play where Matt Ryan checked to a slant route and Julio knew the safety was going to hit him. He took a hard shot to his thigh, but he makes the catch and picks up the first down.
He's just a tough guy. He caught 12 passes today, and the Falcons went 11-of-14 on third down today, and he caught four of those. He had more impact on the game than just the long, or flashy plays.
Steve Sarkisian and Matt Ryan are winning third downs, on second downThe Falcons have converted over 50 percent of their third downs for three consecutive weeks, including 11-of-14 in this game. Part of it is Sark and Ryan understanding that if they don't get a positive play on first down, it's important to get enough on second down that it's third and medium. And they had some negative first down plays in this game. But those two guys have an understanding that whatever the defensive gives them, they're in the right play call to get to third and short-or-medium.
They had a couple of penalties too, that put them in second and long, and Ryan made quick throws to guys like Hooper and Sanu that got them back to third and six or seven. And now your entire playbook is available. You can run it, you can throw it, you can sprint out, everything is available.
When you're in third and 15, teams typically convert less than 10 percent of those, typically because there are not a lot of things you can call there. I think Sark and Ryan have helped this team win on third down by winning on second down.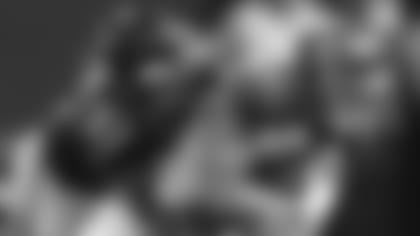 Ricardo Allen may have made the play of the game on 3rd and two in the 4th quarterMost people will probably remember Atlanta's stop on 4th and 1 in the fourth quarter. But the play before that was just as big, if not bigger.
At this point in the game, CJ Goodwin is your starting cornerback, you've brought Demontae Kazee in to play safety, and you have your starting free safety, Ricardo Allen, playing nickel. Tampa Bay goes with a bunch look, and Adam Humphries, who is as good as there is at finding those little creases in your coverage, runs inside and then pivots back outside.
And who is all over him? The guy that knows everyone's position on defense: Ricardo Allen. I don't know that I've ever talked to a guy that is more prepared to play not just his position, he's ready to play your position, this guy's position and so on. And it paid dividends today. He was forced to play nickel, and he was all over the play. He had seen it, and he knew exactly what was coming, including the little pivot inside-out. That play went nowhere because Ricardo Allen was right there. And that forced them to go for the fourth down that becomes one of the big plays in Atlanta's win.
Dontari Poe shows impeccable timingDontari Poe picked the best time he possibly could to win the one-on-one matchup: Fourth and one with Tampa driving for the potential tying score in the fourth quarter.
The Buccaneers tried to single Poe on the inside, but he threw the guard off of him and was able to get in Fitzpatrick's face. The pressure was the key to the play.
Buccaneers tight end Cameron Brate was going down the middle, and Keanu Neal was in good position. But because Fitzpatrick had the pressure in his face, he couldn't step up and wait a count for Brate to try to get some separation. It became a rushed throw.
The pressure, plus the tight coverage created the knock down when Keanu Neal reached over with right arm and batted it away. And that play set the Falcons offense up to put the game away.
Atlanta's defense wasn't perfect, but they won on third downsAtlanta struggled on defense for parts of this game, largely because Tampa was able to get good yardage on first downs. We talked on 'Game Preview' about the fact that Fitzpatrick was not going to throw the ball downfield the way that Jameis Winston wants to. He threw the ball short, and kept the Buccaneers in manageable situations.
I thought the one thing the Falcons defense was able to do on third downs was play tight coverage. They did a nice job of contesting the throws, which is what you have to do. There's no magic pill. It's just the understanding that 'the money down is our chance to get off the field', and then contesting catches.
And the Falcons defense did a nice job of that. That was no easy thing to accomplish, especially as they started to lose those cornerbacks to injury.
Resilient effort by a defense that was hurting at cornerbackThe Falcons had gone as far as they could down the roster at cornerback. At one point you had safety Sharrod Neasman playing nickel corner, you had free safety Ricardo Allen playing corner, and you had Demontae Kazee in the game at one of the safety positions. So they had gone as deep as they could on the depth chart.
You can't say enough about defensive coordinator Marquand Manuel having all of those guys ready to play. And not only having them ready, but making calls that they were comfortable in. What is one of the most basic things that Dan Quinn talks about? 'We're going to put you in positions to be successful'. They want to find out what their guys do well, and then do that. And that's what they did today.
They realized that they had three guys on the field that weren't in positions they typically play. So they made calls that those guys would be comfortable playing. And ultimately, they were in the right place at the right time.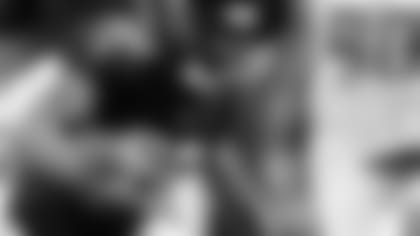 Good to see Terron Ward help ice the game after a tough momentCoaches will talk about the importance of the four-minute offense when a team has a lead. Well, today the Falcons went into their four-minute offense with over seven minutes left in the game. They took the field with 7:05 remaining, and needed to bleed off as much of the clock as possible and get at least three points. Well, they did a lot better than that.
And let's talk about Terron Ward. Terron had made the mistake with the fumble on the previous drive. It was a play that, had he not fumbled, would have nearly iced the game. So, there wasn't a guy that was hurting more than Terron Ward after that fumble. The trust that the offensive coaches have to put him right back on the field on the following drive says a lot.
Well, he ends up converting that final third down play with a 14-yard run that all-but-ended the game before Tevin Coleman officially iced it. Ward was really running the ball hard on that drive, running through people, with people grabbing at the ball, he pushed it down the field.
And there was a cool moment. There was a time out, and Terron was coming off the field and the first guy to meet him was Tevin. Coleman patted him on the helmet, he realized how big that was for Terron to be able to regroup mentally and be able to back in there and show his resiliency.
Falcons double teams limited Gerald McCoy's impact in the gameBuccaneers defensive tackle Gerald McCoy is an elite player in this league. To limit his impact in a game, you have to 'choke his motor' to some degree. And when he's facing double team, double team, double team, that can tend to take the stinger away from a from a guy. It can become frustrating and tough to keep your energy level up.
Now, if you're taking on a double team and a linebacker like Kwon Alexander or Lavonte David is making the big play, you're going to be ok with that. But I thought Atlanta did a nice job of getting two hats on McCoy, getting some push there, then sliding to the next level.
Getting two guys on McCoy like that, that's respect for who he is as a player. But it can also affect a player's ability to play at the highest level as a game goes on.