Falcons Defense set the tone early by ending Jets golden opportunities**
The two lost snaps put the Falcons defense in two tough situations. It's called a sudden-change defense. Just about every team practices this, but the worst is when you're backed up in your own territory in a short field situation. That was the case here with both fumbles in the first half.
There's a mindset that a defense has to come in with that their backs are against the wall, and their goal at that point is to hold the team to three points. And they were actually able to do better than that.
I thought that the mentality that the defense had there really set the tone for how they ended up playing the entire game. Not only did they have sudden change situation there, it felt like they were playing on a half of a field for most of the day, and they rose up nearly every time to get stops. And the entire team feeds off that. The other two phases of the game feed off of the energy that the defense generates with those stops.
Atlanta's front seven completely controlled the Jets rushing attack
I thought that was as good of a run defense I've seen since Dan Quinn arrived here. They just completely snuffed the run out. The run was just not an option for the Jets today.
The front four, regardless of who was in the game at a given time, played with an energy for a full game like we hadn't seen yet this year. And I thought the linebackers matched that energy.
Atlanta's defense did some of the things up front that we thought they might do. They were aggressive with their linebackers. They force-fed the linebackers into the gaps, and as soon as the linebackers read run action, they were coming downhill.
Give linebackers coach Jeff Ulbrich, head coach Dan Quinn and Marquand Manuel credit for really delivering the run keys. They had the linebackers' eyes looking at the right places, and not in the backfield where they could have been fooled. But if you're seeing a guard step a certain way based on what is on tape, that's run. So I'm going to commit right away. The linebackers did a really nice job getting ready for this game, with the help of those coaches. They played at a really high level.
The emergence of Grady Jarrett takes another step
Grady Jarrett is emerging as a leader on this defense. It's not that he's a 'rah-rah guy'. He's a guy that is going to pack his lunch pail and he's going to go to work. And when he goes to work, he's not blockable. He will eat two guys up, and if you're going to block him with two, someone is going to run free. But if you single him up, you can't block him when he's playing at that level. I thought he brought his lunch pail this game, I thought was going to work every snap he was on the field.
Having spoken to Grady on Monday, I know that he and the guys around him took offense to what happened in New England with the Patriots running for over 160 yards. That was like a slap in the face to them. And subsequently, you had a front seven on Sunday that were willing to go to war against the Jets.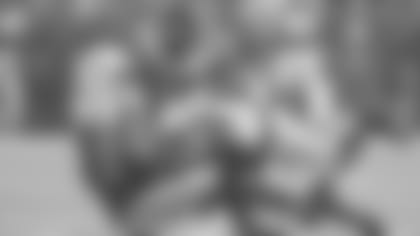 The 'Tiger Sandwich' changed the energy in the game
This was a game with some ebbs and flows, but the constant was the weather. Both offenses were struggling with the weather at times, and so whichever team got up by that extra score was going to put the other team into a bind. The Jets started the fourth quarter with a one-point lead and the ball at the Atlanta 23-yard line facing a third down. A score there from the Jets would have been a big deal.
Atlanta needed a pressure play there. They needed something from their front four. The Tigers stood up there. The Memphis Tiger (Dontari Poe) and the two Clemson Tigers (Grady Jarrett and Vic Beasley) went to eat on that play and provided a big spark at a key time in the game. The three combined for a pressure that turned into a Grady/Poe sack.
That caused a more difficult kick for Chandler Catanzaro, which turned into a missed field goal. And all of a sudden a more energized offense comes out and 'Boom', they hit their first big running play of the day on Tevin Coleman's 52-yard run.
Tevin's ferocity provided a spark
I thought Tevin Coleman showed us a new level of ferocity on Sunday. On that 52-yard run in particular, he started on the front side, but got all the way to the back side and broke three Jets tackles to get through. That was obviously his signature play of the game, but I thought he ran with a lot of downhill ferocity, which matched what we were seeing on the defensive front.
Mohamed Sanu made big plays at home
Mohamed Sanu is a Jersey guy. He played his college ball at Rutgers. He was back on familiar ground, and people he knows are there. So that probably kindled some emotion from him that helped him.
He had an uncharacteristic drop in the first half on a third down play. It's a bad weather game, and you had other guys that also made big drops. But Sanu has played in that weather, and he knew that his team needed some guys to step up. I just think he's a mentally tough guy that has an uncanny understanding of when his team needs him.
On the touchdown, it was just a nice job by a veteran player, with his quarterback in trouble. Matt Ryan did an amazing job buying time and Sanu mirrors him along the back of the end zone and made a great grab.
And I thought that Sanu was that constant go-to guy throughout the game. And I don't think there's anybody better in the league in the slot. He's a big receiver that has that quick-twitch ability to make people miss. He ends up with a huge conversion on third down in the fourth quarter when the Falcons were trying to bleed clock. He's a cerebral guy, you almost expect to see that from him and he has great poise.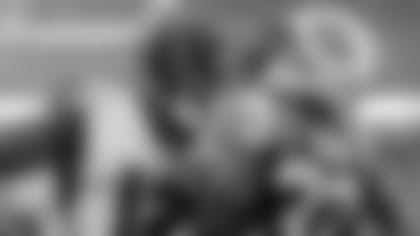 Both quarterbacks had solid days passing despite the weather
You had two veteran quarterbacks that understand the types of throws you take in that weather, and some of the throws not to take. And both quarterbacks were victimized by drops as well, even though the numbers were pretty good.
But it's two veteran quarterbacks. You had a 10-year guy and a 15-year guy. You're not going to fool those guys, they've seen just about every type of weather condition you can play in, so it wasn't a surprise that we got good, veteran quarterback play.
Bosher led the special teams turnaround
First of all, on the punt that Jeremy Kerley fumbles, the wind was swirling in the stadium, and Matt Bosher hammered that one. He hit it deep and made Kerley have to try to make an over-the-shoulder catch in that swirling wind, so it was a really difficult ball to handle, and it led to field goal that extended the Falcons lead.
And then one that was downed at the three, that was a Matt Bosher wedge. He hit a 120-yard wedge shot that had a little spin, and he set it down perfectly. That was a great punt by him. The Falcons had put the Jets in good field position all day, partly due to some special teams miscues earlier in the game. But Bosher's last two punts resulted in Kerley's fumble that was recovered by Kemal Ishmael, and the punt that forced the Jets to start their final drive from their own 4 yard line. Those two kicks had a big impact on the final minutes of the game.
And it was both kickers. I don't think you can give Matt Bryant enough credit. That was brutal weather, and to go out there and judge the wind, plant your foot, and make good kicks and pump it through the pipes the way he did? Four field goals in that weather? Matt Ryan said that's the worst weather he's ever played in, so for a kicker to come in cold from the bench and go out and make impactful kicks the way he did, I thought that was great. Both kicker played extremely well.
That said, the Falcons have some room for improvement on special teams with their return units. They are making some decisions as to whether to the field the ball or not field the ball that they need talk through. Andre Roberts had a really good return in the game, but I thought he made a miscue on the play where he let the ball hit at the 15 yard line and roll all the way to the one. Gotta catch the ball there. But I get it, he might have felt that ball was like the one Kerley muffed with the wind swirling and blowing 40 miles per hour. But to me, if you look at all of the special teams, the return units have the most opportunity for improvement that could dramatically improve the team. Andre Roberts is a touchdown waiting to happen given the right opportunity.