Offense may be pressing, trying to make plays
Obviously, after these past two games, everyone wants to talk about the offense. Mostly because they set the bar so high last year. Everything seemed to work for this offense last year. If they used play action, there would be a guy open and they would get him the ball. They ran the ball with effectiveness. Defenses really struggled against this offense. Because things aren't coming as easy to this offense right now, I sense that there's a little bit more of a pressing situation.
Matt Ryan, for instance, is making great decisions in where to go with the ball, but I think he would be the first to tell you that he's being too fine with his throws. I think if he had some of those throws to do again, when you've got two big receivers like Julio Jones and Mohamed Sanu, he might even have considered underthrowing them some. You know, just put them up to bat.
Matt is such a good, accurate passer, and he anticipates his throws, and that's another part of it. When you're an anticipation thrower, that means you throw a guy open. Sometimes with receivers like those two guys, you just throw it right at them, you don't even try to throw them open you just throw it right at them.
It is a collective thing, and I think we've been talking about this for a couple of weeks. Whether it's a receiver that drops a football, or someone else just doesn't make a play that is there, I think it falls into that category that maybe they are trying to press a little too much. Tevin had a play where he's coming inside, he sees a defender come at him and he just takes his eyes off the ball and dropped it.
Unfortunately, that's not what the fan wants to hear. The fans want a magic pill that we can take, and all of a sudden the Falcons are the offense they were last year. Really, it has to get back to doing the fundamental things. Relax, understand that you are a really good team, and you are a really good player, and use your natural abilities. Last year, they were one of the best offenses of all time and that didn't just all of a sudden evaporate. Relax, let the plays come to you, trust your training, and let it happen.
Roughing the passer call on Adrian Clayborn was a tough call
If there was a turning point in the game, it was the roughing the passer call that wiped out the Robert Alford interception. I didn't like the call. It's a fine line. I think Gene Steratore is one of the best officials, if not the best official in the NFL. I don't know if he thought it was a crown of the helmet that came down, but I didn't see any head-to-head contact. It was a bang-bang play.
Grady Jarrett told me a story one time that he got a sack on Drew Brees, and thought that Drew had already thrown the ball. He started looking around, and he thought 'Oh no, I'm going to get a roughing the passer call', and Brees still had the ball, he had just pump-faked.
That's quandary you're in as a defensive player because they are protecting the quarterbacks so hard. Defensive linemen still have to get to the quarterback. And so, what do you do as a defensive lineman, and you're 300 pounds and you're coming downhill at a guy, and you're one step away, and you hit him in the target zone, and they still flag it?
I thought the Clayborn hit should not have been penalized. We're talking about milliseconds here, but the bigger issue is, if you're defensive line coach Bryant Young, what are you teaching your guys? How do I teach them to get after the quarterback and stay aggressive, yet we've had interceptions taken off the board in consecutive weeks because we hit the quarterback?
Don't discount what New England did on the goal line sequence
On the third down play, I thought Matt was a tad behind Julio with the throw, which allowed Malcolm Butler to get there. It was a play where Matt rolled hard to his right, so he was rolling into the throw, not against his arm, so it was the right way to go. He got a good play fake. But Malcolm Butler made a play. At some point, you've got to give credit to the other guy. Malcolm Butler is one of the best in the league for a reason. He got in there and got at that right hand and knocked it away.
On the fourth down play, the Falcons had a no-back set, so the Patriots are probably thinking it's either a quarterback sneak, or they're going to throw it. So New England was going to be aggressive and come after it. They manned up on the outside, and the Falcons brought Taylor Gabriel in motion and their linebacker Kyle Van Noy saw that immediately and adjusted to come off the edge at the snap of the ball. It was a good call and good awareness by New England to snuff that play out.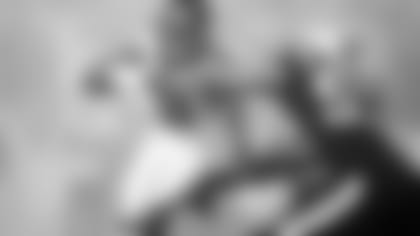 De'Vondre Campbell's versatility sets him apart
I think De'Vondre Campbell's versatility continues to surface. The area that I was excited to potentially see was his ability as an edge rusher, and we got to see that in the game where came untouched and blows Tom Brady up early in the game. I thought that was a big play early that started to set a positive tone for Atlanta's defense in the early stages. The first quarter of that game was the first time all year that New England was blanked in the opening quarter, and I thought that play was indicative of a defense that was getting after Brady. I thought they were making him very uncomfortable, and that was something we had talked about last week that had to happen.
But Campbell's versatility to be able to do that, and then cover Gronkowski down the field is not something that is easy to do. He continues to blossom as a guy that people need to pay attention to as maybe one of the most versatile guys in the league. And he's going to have to continue to play big as the Falcons defense tries to solve the puzzle of the run game. He's a bigger-body linebacker that I think Atlanta is going to have to lean on to plug some of these holes in the run game and make some plays along the line of scrimmage.
Watch for Devonta Freeman to get more involved in the passing game
I felt that the Falcons had an opportunity to get Devonta Freeman the ball more out in space. I thought he was open a few times. Now, Atlanta was trying to Julio the ball, which they did and it was great to see Julio more involved in the game. That obviously created problems for New England, and they were very conscious of Julio. But with that, once you get that part of the passing game going, now all of a sudden Devonta becomes a viable option for you as well. I think that will continue to blossom, and hopefully we'll get to see Devonta as a pass receiver more.
Running the ball is one thing. I think everyone wants to see the run game more. The thing that you need to take into consideration is you have how they're playing you defensively. Late in the game, Devonta began to really get on a roll running the ball. Well at that point in the game, New England was willing to play softer, and they're willing to allow you to run the ball because you're eating clock for them. And if you look at those last couple of drives, Atlanta was moving the ball, and getting some chunks in the run game, getting 8, 9 yards a pop. But those were eating up the clock.
And New England was playing two high safeties. If you're a fan watching at home, and you see two deep safety look, meaning they're playing two safeties 12-to-15 yards off the ball, you have to be able to run against that look. And the Falcons did, they ran with a lot of effectiveness there. But Atlanta was playing catch up there, and New England was willing to let them run ball. They weren't going to bring a safety down in the box because that would single up the corners on the outside, and the Patriots didn't want Mohamed and Julio singled on the outside.
Remember how this team got rolling in the back half of last year
For the fan, I think it's important to know that there's not a person in the building at Flowery Branch that's not trying to turn over something, trying to find something to get things back on the right track. But I will remind everybody that this was a team that was 4-3 a year ago, and got a huge win against Green Bay in game 8 that got the ball rolling in the back half of the season. But even at that, this team was 6-4 at one point, and they were 7-5 at one point until this team really hit their stride and started rolling.
I think everything is still in front of the Falcons. They've lost three out of conference, out of division games in a row. And yeah, it stings. But it has not touched them as far as their division and the NFC.