Falcons-Seahawks rivalry is starting to develop 'that feel'
These are two teams that have been in the playoffs, and have been factors on the NFC side. So a little bit of tradition now has developed between these two teams.
I was talking to Rich McKay about it during pregame, and I was trying to think about two teams that aren't division rivals that have had a significant rivalry. And I went back to the Raiders and Steelers in the 70s. Those teams were at the top of their divisions most of the time, and ended up playing each other in the regular season and the playoffs most years. And those games had a special feel about them. Even in the regular season they felt like a playoff game. And that's what I thought this Atlanta-Seattle game had a little bit of.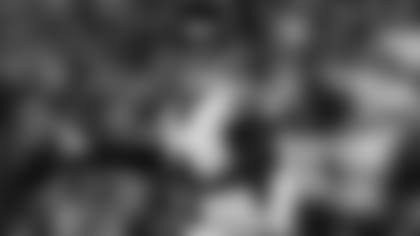 The two quarterbacks are very comfortable in this spotlight
You've got two teams that mirror each other defensively. The two quarterbacks were familiar, to a certain extent, with what they were going to see from a schematic standpoint. And there was a playoff-level feel to the game, as I mentioned. Obviously, neither team was going to get eliminated in a Week 10 game, but there were playoff implications, and the players know that. So it didn't surprise me that these two veteran quarterbacks, that are at the top of the game, put on a good show on this stage.
They do different things to defenses. Matt Ryan is so good at the line of scrimmage changing plays and trying to figure out what the defense is trying to do. And I thought he did that brilliantly against Seattle, certainly in the fourth quarter. And then there's Russell Wilson's ability to create when things break down. He and Aaron Rodgers are probably the best in the at creating once things start to deteriorate. And he was good again in this one too. It was fun to watch these two quarterbacks in a game like that.
Atlanta's great night on 3rd downs started on 2nd down
Steve Sarkisian did a really good job of steering around negative plays. Atlanta really struggled on first down for much of the night, in the run game especially.
There were a number of 2nd and 10-plus yardage situations. And I think Sark did a really nice job of keeping the Falcons in manageable third downs. It's hard to convert third and long in the NFL. To convert 9-of-14 third downs against one of the better defenses in the NFL, that was a tremendous effort.
Obviously, the players had a big part in that. But I thought Sark did a nice job following negative plays on first down to sprinkle in runs and passes on second down that put them into manageable third downs.
Julio Jones' body control sets him apart
Julio Jones's 16-yard reception on the sideline during Atlanta's second possession shows why he is different. The body control to go that high to make the catch, squeeze it, make sure it doesn't move, toe tap, and then fall to the ground without the ball moving again, is just spectacular.
That's why he is who he is. No offense to Antonio Brown, but he's not making that catch. Brown is a smaller receiver, and you have to keep the ball down for him. He's a great player, and I'm not taking anything away from him. But only Julio can make that catch, and that's why Julio is the best player in the game at his position.
He can do everything. He can make the contested catches, he can go way up the ladder with his 6'3" frame, and then he has the body control. That's why he can turn a play like that into a work of art.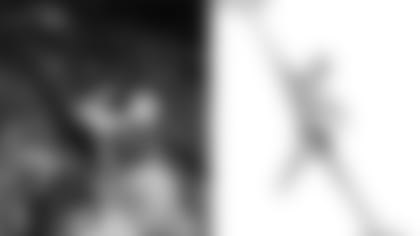 On Mohamed Sanu's one-handed touchdown catch
Essentially, it was a rub play down on the goal line. Mohamed Sanu was lined up in the slot and he ran a little baby wheel route. As it turned out, the defender did a pretty good job of staying in Mohamed's hip pocket, and really pinned his left arm to his body.
Ryan throws it where only Mo can get it. So Mohamed reaches up with his arm, and he has tremendously long arms. It's almost like he's Stretch Armstrong. Remember the old toy kids used to have where you could stretch his arms out? That's like Mohamed's arms, there's no limit to how far he can go. And he's got gigantic hands.
It was a super catch, and a big-time grab, but Ryan expects Mohamed to make those types of plays, and Mo expects to make them himself. That's why Ryan threw him that ball. And Don Cornelius probably had a little smile on his face up in heaven as they did the Soul Train celebration in the end zone.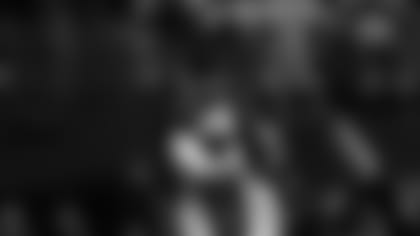 On the 29-yard fade to Julio in the 4th quarter
It's bump and run coverage, it's 1-on-1 on the outside. Ryan has an opportunity before the snap on that play to survey the landscape and pick his best matchup because he knows he's got man coverage. It was really one of the only times that they didn't shade the safety toward Julio. To that point, whenever they came up and played bump against Atlanta's receivers, the high safety was shading the side that Julio was on. But this time he stayed more toward the middle of the field. Ryan saw that. And Julio did a really good job on the route.
When you run a fade route, you've got to get vertical immediately, and not allow the defender to push you toward the sideline, otherwise you're not giving the quarterback room to throw you the ball. When Julio releases off the line of scrimmage, he gets on top of the cornerback where he's running straight down the field, forcing the corner to play against Julio breaking over the middle, going vertical or breaking to the sideline. It also saves that 4-to-5 yards to the sideline that gives Ryan room to throw the ball into a bigger window that we call "the box".
Ryan drops the ball right down the chimney chute, and Julio, because he had saved the room to the outside, was able to adjust to where Ryan put the ball and get his feet down in bounds for the first down. The execution on that one was the key.
Sarkisian designed the perfect play for third and long against Seattle's defense
Tevin Coleman's conversion of the third and 14 right before the two minute warning in the first half was a big play. It kept a drive alive that turned into a Falcons field goal.
That play was designed by Steve Sarkisian for just this kind of situation. Seattle plays third down defense like Atlanta does. If it's third and long, both teams tend to 'picket line' where the first down is. So they put their defenders right at the line to gain, and if they throw it short they are going to rally and tackle.
On this play, Atlanta put Austin Hooper in the backfield, which made it look like he was in for pass protection. But he was a decoy. Seattle fell off in their deep zone, and Hooper immediately released. His job was to block KJ Wright, Seattle's linebacker who was going to be right in the area where Tevin Coleman was going to be coming on that little over route.
Both Coleman and Hooper had a free release. Hooper went out to the left side to get in position to make a block, and Tevin came out on the right side, got up about six yards and broke across the middle of the field. And because it was a deep zone coverage there was nobody there, and Ryan got him the ball immediately. As soon as Coleman caught the ball, Hooper was in perfect position to pin KJ Wright to the inside with the block and Coleman comes right off his rear end for a first down.
That was a pure, designed play by Steve Sarkisian for that exact type of a moment, third and long, to get that underneath defender blocked so Coleman could catch and run for a first down.
Seattle should have gone for the two-for-one instead of the fake field goal
Pete Carroll is a tremendously successful, Super Bowl-winning coach. He's a guy that has a helluva team and knows how to coach. I thought that was a bad call. I said it on the radio broadcast. I think you have to take three points there because you have a chance to get a two-for-one. If they knock that kick through there, it's a 24-20 game and they get the ball back to start the second half. If they get two scores, that's a huge swing right there.
Atlanta had jumped out to a 14-0 lead early, and here you are with a chance to cut it to 24-20, and get the ball to start the third quarter. I just thought that was the wrong decision for that reason. You have to take points there. There's no way that Luke Wilson, a good tight end, is running 17 yards for a touchdown on a fake field goal against Atlanta. That's not going to happen.
On the Takk McKinley sack that ended with Adrian Clayborn in the end zone
It was an excellent get off by Takk McKinley. He beat the tackle Germain Ifedi off the jump. Ifedi was in trouble right from the start. Takk used a bit of a bull rush at the start, then used his speed to blow by him on the outside. Russell sensed the pressure immediately, and began floating to his left, but he was cut off when he saw Courtney Upshaw and Adrian Clayborn were there. He starts to spin back to McKinley, and McKinley had him dead-to-rights and wraps him up.
Atlanta's defense didn't allow Russell Wilson to have any escape hatch on that play, and that was something they needed. It was good team defense by those three guys, and it was a big touchdown in a close game.
Deion Jones showcased rare athleticism on stop of Mike DavisMike Davis' 21-yard catch and run at the start of the third quarter was a big play. It could have been bigger.
It was a good call by Seattle. They had run bootleg to the field with a fake to back 4-to-5 times in the first half. So they show the same action to start the second half. And as he comes off the fake to the back and begins to boot, they've got what they call a three-count screen back to the running back they had shown the fake to. They had shown the boot look previously, but not the screen on the backside of it.
Deion Jones had the running back Mike Davis in coverage. When Russell Wilson began to boot off of the fake, showing the same look they had shown in the first half, Jones got caught up in the run action and made a one-count mistake and starts to flow with Wilson on the bootleg action. Realizing he's wrong, and what they now have set up, Deion shows you why the Falcons drafted him.
He undercuts the block of the tackle, and then has the ability, strength and speed to close and get a hand on Davis' hip and knock him to the ground. He was in trouble, he made a mistake, but his athleticism saved him, and really saved the Falcons because I'm not sure anyone else is going to be able to tackle Davis if he gets away from that.
Jones flashed that athleticism again later, and may have saved the game
Atlanta had gone to a three man pass rush on that play. Deion was actually spying Wilson. But he got involved in the pass rush too early. He was supposed to be sitting back and waiting to see if Russell was going to take off. But when Russell started to get hurried by the three man pass rush, Deion decides he's going to come in and make the play. He gets pushed to Wilson's left and got caught up in the traffic, and Wilson escapes.
So once again, Jones has to step on the accelerator and he uses his athleticism to make an incredible play to slap Wilson's legs out from behind to limit it to a 10-yard play. It could have been a lot more. And when that field goal fell short at the end of the game, you had to think about the play that Deion made.