Falcons relentless effort made Cam Newton uncomfortable
First of all, the defense came in knowing they had to stop the run if they could. The featured part of Carolina's run game is Cam Newton. So how do you persuade Cam not to be as involved in the run game as he normally wants to be? You've got to hit him, and you've got to make him uncomfortable. I thought they hit Cam when they could, and they completely squelched the run game.
That's the Panthers life blood, the run game. And they forced Newton to throw the ball, most of the time from the pocket. The key was to keep him from escaping, that's what he wants to do. If you keep him in the pocket, the next thing you know, he's throwing the ball off his back foot.
Takk McKinley, Vic Beasley, Adrian Clayborn, Grady Jarrett, all of them were coming after Cam. That's part of Atlanta's playoff-level effort today. Whoever is on the field is giving maximum effort and when they can't go anymore they bring someone else in who does. I thought that relentless attitude got in Cam's head. I really think at some point he said 'You know what? That's a little more than I'm willing to expend today'. And I think you have to force him to that moment, and Atlanta's defense did that.
Atlanta's defense contested everything
Cam Newton would have had a higher passer rating if he spiked the ball into the ground on every pass attempt. The passer rating for throwing incomplete passes is 39.6. Newton's three 14-for-34, three interception performance earned a 31.6 passer rating. Credit Atlanta's aggressive play in the secondary.
This is a defense that plays zone, wants you to string plays together, and make you move the ball down the field. That's really Carolina's game on offense. So to get them off their game, you've got to contest catches. You have to come up and be in guys' faces. It started with being in the face of the quarterback, and then when the ball arrived, Atlanta's defenders were there.
Against that Panthers team, the two guys Atlanta wanted to take away today were Greg Olsen and Christian McCaffrey. Greg Olsen was given no room to breathe during the game. When McCaffrey caught the ball today, Deion Jones was standing there, Keanu Neal was standing there. When Olsen was up the field, Brian Poole was in his hip pocket, or Keanu Neal was all over him. They didn't let those guys breathe, and I thought that was key to really getting Carolina off their game.
The Falcons did have a couple of blown coverages, including the 3rd and 23. Poole came up on an underneath route when he needed to stay deep. But he'll learn from that and it's always better to have a learning moment during a win than during a loss.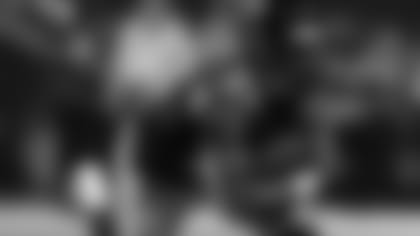 Ricardo Allen was right where he was supposed to be
Cam has a tendency to have the ball sail on him because of his mechanics. He keeps his shoulder high, and with pressure in his face he has a tendency to not transfer his weight. If you don't transfer your weight to your front foot, the ball is going to stay high.
On Ricardo Allen's interception, Atlanta was playing deep zone coverage. So really, Rico was just where he was supposed to be. There's the old adage 'just do your job'. Pre-snap, Rico was directing traffic, getting everyone where they were supposed to be. Then he settles back to the middle of the field where he was supposed to be and he was in the perfect position. The ball was high, tipped and Rico is there to make the interception.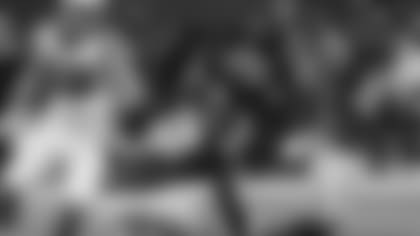 Keanu Neal was in the right spot, and made the play that effectively ended the game
Again, the key is Keanu was in perfect position. The Falcons were playing two-high safeties in that situation. They were making sure nothing got behind them. Newton ends up trying to force the ball to Olsen, and it was a bad throw. Olsen tried to get a hand on the ball and Deion Jones was in his hip pocket, it was really tight coverage, the ball was off line and Keanu was right where he was supposed to be.
That's part of the Falcons zone coverage. And maybe this is turning the faucet on, because they've kind of been waiting for these moments. Keanu was in the perfect spot, but now he's got to catch it. It was not an easy catch, it was a shin-high catch and he had to come up and catch the football and tuck it away. It's one thing to be in position, it's another to make the play.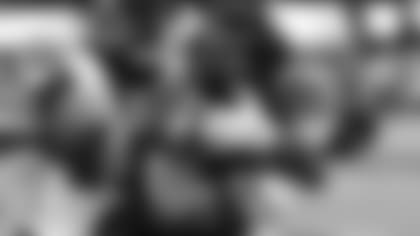 Robert Alford's interception capped an outstanding performance
Robert Alford's play sealed the game, and he played it perfectly. He had the end zone as the extra defender. Funchess was running the go route on that side and they were trying to throw to the back shoulder. Well, Rob realized he didn't have to lose any more ground, he had the back line and sideline to protect him as extra defenders, so he squatted on the route, and positioned himself perfectly.
Really, it was an outstanding catch because Funchess was all over him, and at that point Funchess was the defender trying to rake the ball out. Alford, who's had some of the better hands as a defender since he's been here makes another big play on the outside.
Robert Alford arguably had his best game of the season, he was all over in coverage. Alford played extremely well. And overall, Atlanta's effort to contest catches was a key part of the Falcons win.
Atlanta's offense turned in a gritty performance against a tough Panthers defense
It was going to be an all-day fight for the offense. Carolina has a really good defense. Their front seven is arguably as good as there is in the entire league. I'm not sure you find a better tandem of linebackers than Luke Kuechly and Thomas Davis. They rotate eight guys up front, they stay fresh and they get after you. All of them can rush the passer, all of them are good against the run.
And the Falcons came in wounded on the offensive line. Alex Mack came in with an injured calf, you thought you could go with Andy Levitre and he got hurt on the opening drive, so Garland goes back in the game and Schweitzer had been banged up the week before so he's playing a little wounded.
I thought Atlanta's offense showed a lot of grit and toughness. It was going to be tough to run the ball against them. This was going to be a game about pass protection. Against a group like that, I thought the pass protection was outstanding. And I can't say enough about Matt Ryan's ability to slide in the pocket and find places where he could get the ball out.
The identity may not be what everyone thought it would be going into the year
This potentially could be the transition of what this Falcons team has become. We had a preconceived idea because this team was so explosive a year ago. Well, this defense has begun to realize who they are and how good they could eventually be. And I think we've only scratched the tip of the iceberg with these guys. I think this is a defense that could get even better.
And as you begin to see the defense develop and play well, offensively you know you can be explosive, but if I'm the quarterback and I know my defense is playing at a high level, I'm not going to put the ball into harm's way. I'm not going to force that ball into tight coverage on 3rd and 8 or nine, I might take a sack or dump the ball off and punt the football knowing the level my defense is playing at.
I still think this is a very dangerous team to get into the playoffs because you're playing really good on defense and you're kind of a sleeping giant on offense with the explosiveness of the different receivers and backs. But yes, I think that Matt Ryan and the coaching staff knows that the defense is playing at a high level defensively, and if they just take the points when they're there, all of a sudden you look up at the scoreboard and you've got 22, 24 points. With Atlanta's defense right now, that wins a lot of games.
Matt Bryant is 'Matty Ice 2.0'
Matt Bryant is an ageless wonder. He now has eight field goals over 50-yards, which leads the league. He's 8-of-9 from 50-plus yards, including the 56-yarder this week. You can't say enough about the guy. He's kicked all of the big ones, and he has ice water in his veins. We call Matt Ryan 'Matty Ice'. Well, Matt Bryant is 'Matty Ice 2.0'.
His ability to focus on the mechanics in the big moments is special. I talked to him after this game, and I said 'You realize, if you missed that 56-yarder they were going to get the ball back at the 46-yard line down just 16-10'. He said, 'Well I don't think about that, I just come in and concentrate on where my feet are supposed to be, what kind of line I'm going to take, focus and kick the football'. That's really a special human being that can get lost in his own moment, and it's not the moment that all of us are experiencing as spectators or even what his teammates are experiencing. It's his own moment about applying the technique that he's worked to perfect throughout his career. That's a pretty special guy that can go block everything out and do that.