Adrian Clayborn got in a rhythm, and had bad intentions in mindI think a lot like a running back that gets into a rhythm, I think Adrian Clayborn got into a rhythm. I think he could feel the snap count, I think he had a pretty good idea of what the guy in front of him was going to do, and he was coming off the ball with a purpose. He had bad intentions in his mind, and Dak Prescott felt it.
He used speed for probably three or four of the sacks, but he had a bull rush where he drove the guy right back into Dak Prescott and literally was being held as he wrapped his arms around Prescott on the play. And then he had the spin move to the inside. He showed a lot tonight.
I got a chance to see Adrian Clayborn before kickoff, and he had this look on his face. Having been a former quarterback, you don't like to see that look in a defensive lineman's eyes.
The front seven did more than sack Dak Prescott, they shut down the run tooYou talk about them against the pass, but how about their efforts against the run game? This is one of the best run lines in the NFL. And I know Tyron Smith wasn't in there, but the other guys were still in there, and they could not run the ball on this defense.
It was about the defensive front eating up blocks, and De'Vondre Campbell and the linebackers running down field. I saw a number of times Zack Martin, the two-time Pro Bowler, trying to cut off De'Vondre Campbell and couldn't get to him, De'Vondre was too fast.
They've always had the technique and the talent, but can they put that together with the resolve? When they do, you get a team that can shut people out. And if not for a turnover in their own end of the field, the Falcons probably get a shutout in this one.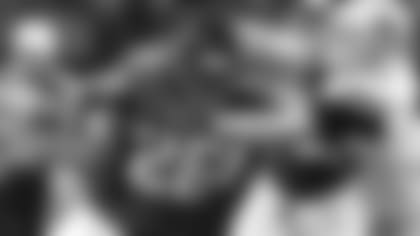 Falcons run game feeds off the passI know people want the Falcons to stay committed to the run. And they will run it. But this is a team that is going to run it off of the pass. They are a team that is going to throw the football. That's what they did against Dallas. They threw the ball early in the game, and it caused some problems for them.
The throws can eat clock too. That's what people forget. Even though you're only picking up 5-6 yards, wouldn't you take a 5-yard run on first down? I think you would.
Well, that's eating clock and their defensive line is on the field and they're having to run to make that tackle on the outside. And now all of a sudden you get into the third and fourth quarters and now they're running the ball downhill at you. Are you going to be able to stop Tevin Coleman and Terron Ward coming at you with the offensive line coming off the ball? Dallas didn't have an answer for that.
Atlanta's opening drive of the third quarter was a tipping point
That was not an easy drive because there were a number of times where you had something go against you, whether it was a negative run play, or a penalty. And they overcame all of those. It was a very impressive drive. Arguably, you could say that was one of the best drives they've had all year long.
Normally when you hear coaches talk, you'll hear them talk about the first three or four minutes of each half setting the tone. There it was. The Falcons just set the tone for the entire second half by shoving it right down Dallas' throat.
Third downs were a group effort
The Falcons looked about as good as they have all season on third down against Dallas, converting seven of their first 10 attempts. That was huge in this game.
Execution is probably the easiest way to say it. You saw guys make some contested catches and I thought there were a number of times Atlanta's receivers were interfered with. Julio makes a catch on a slant route where a guy is wrapped around him and still makes the catch. Well, if they're not calling it you're going to have to make the plays, and they did.
Falcons offensive coordinator Steve Sarkisian did a nice job of getting everyone involved. It wasn't just Julio Jones, it was Sanu, it was Hooper, it was Gabriel, Levine Toilolo makes a big catch. He used a lot of weapons. Some of the credit goes to Sark, and a lot of it goes to Matt Ryan. He was really good tonight.
Alford and Trufant frustrated Cowboys receivers
I think the two guys that Atlanta has at cornerback are really mentally tough guys. They have to have a gunslinger mentality because the Falcons play a lot of man coverage. And when you're a gunslinger, you're going to win some and you're going to lose some. Well, how does that affect you mentally?
They're still going to come up and press you and get in your face. And that's what you have to have from really good corners. That's what happened today. I thought they frustrated Terrence Williams because he couldn't get away clean from the coverage, and he's the speed guy. Dez Bryant can run, but he's more of the strength guy and he'll push you off the jam. I thought that he got frustrated a little bit too.
When you get those guys frustrated and thinking about you, then they're not really doing their job. The corners really handled their business well.
Falcons feed off of Taylor Gabriel's big playsHe's a guy that is so explosive. You start talking about those guys that the team feeds off of, he's so explosive that it makes guys get out of their seats to see what he's going to do because he has great speed and can put it in the end zone just like that. You know, we talk about the speed stuff like the screens and the jet sweeps. Well, what about the tough catches in traffic? He's not the biggest guy in the world, but he made some big catches on third downs and other key situations.