FLOWERY BRANCH, Ga. -- In his very first press conference of the week, Arthur Smith said the loss to Carolina came down to the Falcons losing the line of scrimmage on both sides of the ball. As we've already hit on the offensive inefficiencies in that game, let's now switch gears to take a look at the defense, particularly playing the run.
Smith said on Monday there were no secrets in knowing Carolina had an acute desire to run the ball. The same can be said for New Orleans, especially now that Jameis Winston is done for the year with a torn ACL.
"We better fix it in a hurry because we're going down to a hornet's nest in New Orleans," Smith said, "and I could probably take a good, educated guess what their game plan is going to be."
That game plan heavily features Alvin Kamara and Mark Ingram, and after giving up 200-plus yards on the ground to Carolina last Sunday, the run defense is looking for a little redemption.
But how do you game plan for a guy like Kamara and Ingram, specifically? For starters, Dean Pees said Ingram is your one-cut, downhill power runner.
"I think Ingram is a little more than he was even when we played him a couple different times (in the past)," Pees said. "He's a hard runner. He's going to run over you if he gets a chance."
As for Kamara, Pees said his skillset is what makes him dangerous, and special as a player in this league. You have to try to "control" him more than anything. And when asked about Kamara's abilities, Pees actually compared him to Tom Brady: a player you don't shut down, you "handle."
"It's hard to stop him, just like it's hard to stop Tom," Pees said. "'Handle' is probably a good word. Just don't let the guy get loose on you and take you for 30 yards or 40 yards. Is (Kamara) going to get open against probably anybody you put on him? Yeah, but we have to be there to tackle him and not give up a big play. There are just guys like that. We've gotta control him."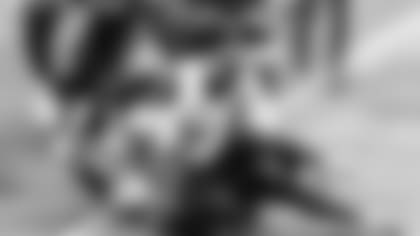 Control. Handle. Contain. Those are the words this defense will try to live by as they travel to New Orleans this weekend.
And even though we've spent a lot of time discussing the Saints running backs, Pees actually pointed out in his press conference that it's not just about containing the backs when it comes to the narrative of run defense. Containing the pocket is where he most wants to see this defense improve this week, even in a week's prep that holds a lot of unknowns regarding what the Saints are going to do offensively without Winston.
When it comes to the Falcons run defense, Pees said he was less disappointed in the way the Falcons have played a designed run play this year than he is when a quarterback leaks out of the pocket. He went as far to say it was a "disheartening" pattern seen in two specific Falcons losses: Washington and Carolina.
"We are giving up yards in the run game - which looks terrible - but it's more on third downs and those loose plays by the quarterback getting it out than it actually is running plays in a game," Pees said. "We have to play the running game better, for sure, but it's not that as much as it's dang loose plays that are just killing us."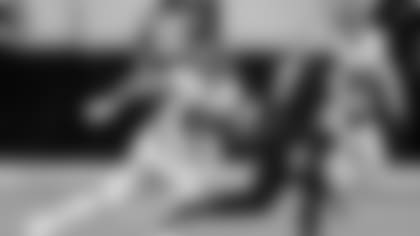 Pees said the Falcons are preparing to face both quarterback options the Saints may present on Sunday: Taysom Hill and Trevor Siemian. Hill is expected to clear concussion protocol this week, per reports. The Falcons saw Hill last year when he took over the starting quarterback job for Drew Brees after he suffered a rib injury. The first time the Falcons saw Hill in 2020 he ran for 49 yards and two touchdowns. The second time, he nearly doubled his rushing yards, going up to 83 yards on 14 carries. He averaged 5.9 yards a carry that game. So, when it comes to potentially seeing Hill, the Falcons know what he can do to them if left unchecked.
"I am not worried about (Siemian) running over us, but No. 7 can run over you," Pees said of Hill. "That's kind of the player he is."
But the Falcons still don't know who they'll get on Sunday. Regardless of who it is, though, they know they have their work cut out for them when attempting to stop the run. And even if it's not Hill who they see on Sunday, they still have to account for Kamara and Ingram, and that's no easy feat. Falcons Final Whistle | A Postgame Podcast
Break down the hottest topics surrounding the Atlanta Falcons and how they can impact the team's success with Atlanta Falcons Insiders Scott Bair, Tori McElhaney and Kris Rhim. Like and subscribe to join us for the lively debate on Falcons Final Whistle.
Welcome to Falcons Final Whistle – an Atlanta Falcons football postgame podcast during the season that shifts gears in the offseason to answer a pressing question about the team's future each week through free agency, the NFL Draft and the offseason program.