ATLANTA – Tyler Allgeier entered the final game of his rookie campaign with one goal top of mind: win.
Anything other than getting a team win to cap off the 2022 season was essentially irrelevant. But, the rookie running back would go on to reach a milestone of his own that would cement his name in the Falcons' franchise record books.
Late in the third quarter of the Falcons' 30-17 win over the Tampa Bay Buccaneers, Allgeier surpassed 1,000 rushing yards on the season, becoming the second rookie since William Andrews in 1979 to do so.
Allgeier finished the game with 135 yards, on 24 carries, averaging 5.6 yards a clip. The BYU product now holds the record for the most rushing yards (1,035) by a rookie running back in franchise history.
"All glory to God," Allgeier said after the game. "I can't do it without him, and then my friends, family, and teammates, and their support behind me."
Head coach Arthur Smith said the offensive line was excited about Allgeier reaching 1,000 yards. Veteran Guard Chris Lindstrom echoed that same sentiment and knew Allgeier would ultimately reach this feat.
"He runs hard. You guys can see that," Lindstrom said. "Something that you really appreciate for Tyler as an offensive lineman is the tracks and the one-cuts that he does. That's really an art and skill, and he's excellent."
From starting the season inactive to finishing as the Falcons' leading rusher is a testament to the confidence Allgeier had in himself all year.
"You always got to have the mindset of being a starter," Allgeier said. "It's always just progression, like I said, just progressing every day and being coachable."
When Cordarrelle Patterson suffered a knee injury earlier in the season that caused him to miss four games, Smith had all the confidence in Allgeier knowing he would step in and be productive.
"There's a reason we drafted him," Smith said. "I was pretty pleased with the way he was trending and then some of it was opportunities happen. I don't know if anybody was running the ball better than CP was earlier in the year around the league and unfortunately, he missed some time, and it was an opportunity where I thought Allgeier stepped in and did a nice job. So, did Caleb Huntley. And I think he really took off so, some of it is by circumstance, but we had a lot of confidence when we took him out of BYU."
Allgeier felt good about how things went his first year in the NFL but said there's still a lot of learning to do to reach his ultimate goal of being an all-around running back.
"I think everything will fall into place at the end," Allgeier said. "As long as you have a goal in mind, I think that pushes you and just knowing your why."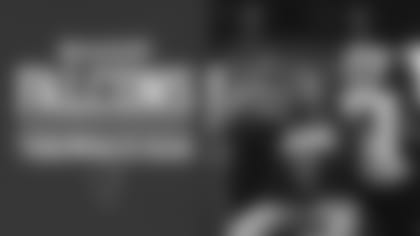 Swaggin' Since 1966
Takin' it back to 1966! Shop the Red Helmet Collection today online or in-store at Atlantic Station.