FLOWERY BRANCH, Ga. -- The Buffalo Bills have the best scoring defense in the NFL.
First-year Bills head coach Sean McDermott built one of the league's best defenses in Carolina, so it's no surprise that Buffalo is having success. What is a little surprising, however, is that the Bills have had so much defensive success so quickly.
In 2016, Buffalo was No. 16 in scoring defense and No. 19 in total defense, allowing an average of 23.3 points and 357 yards per game, respectively. Three games are admittedly a small sample size, but this season the Bills are giving up just 12.3 points per game and 278.3 yards per game, which rank No. 1 and No. 6 in the NFL, respectively.
In the seven seasons McDermott was in Charlotte, the Panthers were 5-8 against the Falcons. While the last two meetings in 2016 were lopsided games in Atlanta's favor (more on that later), that wasn't always the case. In a six-game span during the 2012 to 2015 seasons the Panthers won five of six matchups, including back-to-back games where Carolina outscored the Falcons 72-3.
McDermott's approach to defense isn't too far off from what Dan Quinn believes, in that he doesn't overburden his players with schemes and assignments. He prefers to keep things simpler for the players and allow them to maximize their athleticism.
"I'm of the opinion and philosophy suited with 'less is more,'" McDermott told Buffalobills.com after being hired. "Giving the players very clear lines to play. Giving them a set of rules, putting them in a position to be successful, working to their strengths – and when things break down in a game, which they often will, they have rules to fall back on. I just believe that clear expectations, clear lines and letting the players go play and have fun."
Because of the six years he spent in Carolina, McDermott has plenty of experience facing the Falcons. While that experience will help in his preparation, each game is different and he's got new players at his disposal.
In today's After Further Review, we'll look at the similarities and differences in McDermott's defenses with the Panthers and the Bills, and how he's played the Falcons in recent years.
Buffalo hasn't played exactly the NFL's best offenses over the first three weeks – Jets, Panthers and Broncos – but it has been dominant up to this point. The Bills have allowed just two touchdowns so far, both rushing, and teams have scored a touchdown on only 28.57 percent of their trips to the red zone against them, the second-lowest percentage in the league.
McDermott runs a standard 4-3 base defense, which is the same as the one he ran in Carolina. As was the case with the Panthers, the Bills' front-seven is a strength and has good versatility.
"Our front-seven has been playing well," McDermott said during a conference call on Wednesday. "That's where great defenses begin. That, and an attitude of playing great team defense, committing to the team and playing team defense. Those guys have been great, their leadership is very much appreciated and certainly a big help to me."
Although the Bills play a 4-3 defense, which typically relies on defensive ends to provide the bulk of the pass rush, they aren't afraid to blitz with linebackers or safeties. Veteran linebacker Lorenzo Alexander is coming off a career year where he recorded 12.5 sacks, and he already has two sacks this season. Tied with Alexander for the team lead in sacks are defensive ends Shaq Lawson and Jerry Hughes and safety Jordan Poyer.
This mixing and matching of blitzers that the Bills do inside of the box was apparent from the very first series in their win over the Broncos. On the first play of the game, shown below, Alexander is lined up in a wide-9 technique as a blitzer coming off the right side of the defense.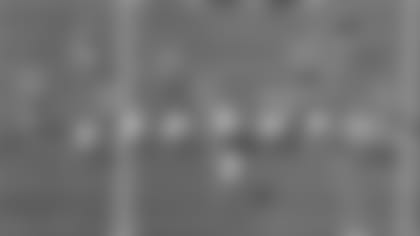 Denver runs a play-action pass against this look, and quarterback Trevor Siemian is immediately under pressure after faking the hand-off. He has just enough time to dump the pass off to tight end Virgil Green for a modest 2-yard gain.
On the second play, the Broncos come out in a three-receiver formation and split Green out wide. The Bills counter with their nickel package, but they still show blitz at the line of scrimmage.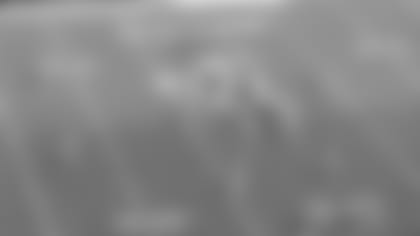 Linebacker Ramon Humber is covering the running back on this play and drops back after feigning as a rusher. The Broncos have short routes called, but Siemian, perhaps anticipating a blitz, immediately turns after the snap and throws to C.J. Anderson coming out of the backfield. Humber sniffs this out quickly and tackles Anderson for another 2-yard gain.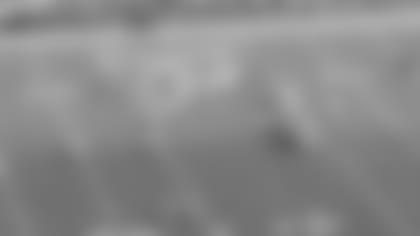 A penalty forces Denver into a third-and-long situation, and the Bills dare the Broncos to beat them with a pass. By the time the ball is snapped, Buffalo has 10 players within 3 yards of the line of scrimmage and, again, brings a blitz.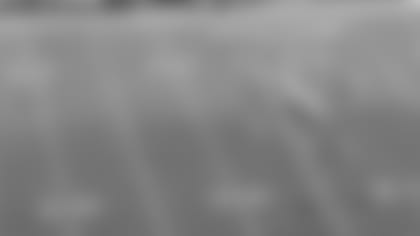 The Broncos try to counter this with a draw play, but starting safety Jordan Poyer (No. 8 above) blitzes the run gap and drops Anderson for no gain.
A disciple of the late Jim Johnson, a long-time defensive coordinator for the Philadelphia Eagles, McDermott wants to generate pressure on the quarterback and will use a variety of blitzes at times to make that happen. In 2016, the Panthers were seventh in generating pressure on the quarterback and first in the league when sending five or more players, pressuring quarterbacks 46.5 percent of the time, according to Football Outsiders.
"To me, it starts with their defensive line," Quinn said when evaluating Buffalo's defense. "They're big, they've got movement, and they can penetrate. That part of the game really jumps out. Past that, they'll bring the corner blitzes, a safety blitz, and a nickel blitz. That aggressive style really comes through. Like most teams, it's going to start up front. They've got some guys who can really push it up front, and I've been impressed by that."
The combination of players Buffalo has in its front-seven, as well as McDermott's willingness to send more than four guys has proven disruptive for opposing backfields.
The secondary has been a strength
Of course, the Bills' secondary has also gotten off to a great start.
Buffalo allows just over 200 passing yards per game, the ninth-fewest in the league, and it has four interceptions so far, tied for the third most. Last year, the Bills were 21st in yards surrendered per pass play, allowing 6.51 yards. Thus far, it is giving up just 5.03 yards per pass play, the fourth-least in the NFL.
It's a relatively young secondary – the average combined years of NFL experience among the four starters is 3.5 – but every member has an interception so far. The main standouts of the group have been Poyer and cornerbacks E.J. Gaines and Tre'Davious White, the team's first-round draft pick out of LSU.
"They've done a nice job," McDermott said of Gaines and White. "Obviously two different players in terms of their skillset and also one being a rookie and one being a veteran player that we were able to get towards the middle-to-end of training camp. Both have acclimated themselves and continue to acclimate themselves well to our system and get more and more comfortable as the days move on."
Poyer is currently Pro Football Focus' No. 1-graded safety, earning a score of 89.6. White is 10th among cornerbacks with a grade of 84.1, while Gaines is 15th at 83.2. The Bills have yet to surrender a touchdown pass this season, and their two interceptions against the Broncos reflect how strong pressure and sound coverage can lead to big plays on defense.
Hyde's interception against Denver – Buffalo's first of the game – is a perfect example of this. The Bills' defensive line is split with no man covering the center and defenders at varying levels behind them.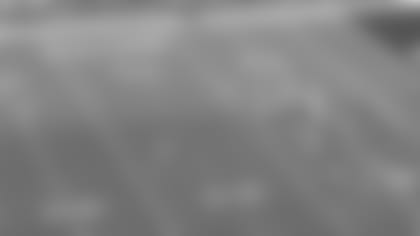 The Broncos call another play-action pass, and the Bills generate pressure from the left side of the line as Siemian is attempting to roll out of the pocket in that direction, forcing him back to his left and causing the initial play to break down.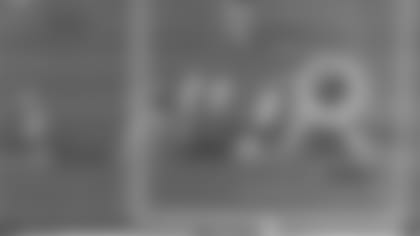 As Siemian scrambles to his left, the Bills' defensive backs do a good job of maintaining their zone and locking onto any receiver nearby.
With no open receiver to throw to, Siemian tries to fit the ball into a tight window downfield. As a right-handed quarterback rolling to his left, Siemian has to reset his feet before making the throw. He's unable to fully step into the pass, and it's easily intercepted by safety Micah Hyde.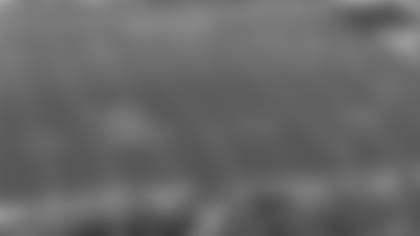 This play is set up at the beginning by the pass rush forcing Siemian away from his initial plan and causing him to adlib. It's finished by the secondary maintaining their coverage throughout the entirety of the play, putting Hyde in position to force a turnover.
It's that type of sound, complementary football that Buffalo's defense has been playing so far this season.
How the Falcons have fared recently against McDermott's defenses
Over the past three seasons, the Falcons went 4-2 against the Panthers but aside from last year's offensive explosion in Week 4, it hasn't been entirely smooth sailing for Atlanta.
McDermott's defenses were twice able to hold the Falcons under 300 total yards over the past three years, and Atlanta has averaged just 20.5 points against his unit during that time frame.
"I think as far as the scheme, there are some similarities to what we saw against Carolina in the past," Ryan said of the Bills' defense. "Obviously, with their head coach having been the defensive coordinator in Carolina, we would expect to see some similarities there.
"They're aggressive. A very aggressive front-four. They've got good players, they're linebackers are very good against the run. That's something that we've seen from Carolina, they've got some of the best in the league; I think that carried over, it's the same. I think in the secondary, a lot of quarters-type coverage, which they do a great job with. They have a ton of different pressures, they give you a lot of different looks and they put a lot of stress on your pass protection."
Of course, recent memory is much more favorable for the Falcons, who swept the Panthers last season and averaged 40.5 points, including a 48-point explosion in which Julio Jones gained a record 300 yards and Matt Ryan also threw for a record 503 yards.
Just the year prior, however, the Falcons' offense was shutout on the road by McDermott's defense and gained only 230 yards. In 2015, the Panthers were ranked fifth in scoring defense and sixth in total defense, and it showed in their victory over Atlanta.
On the play below, we see the same style of defense that McDermott has brought to Buffalo. The one the Falcons will see again on Sunday. Facing third-and-4, the Falcons come out in 11 personnel with Ryan in shotgun. The Panthers counter by having nine guys near or at the line of scrimmage and showing blitz. Once the ball is snapped, however, the defenders drop into zone coverage with five guys rushing Ryan.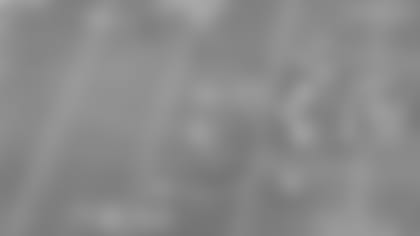 The Falcons run crossing routes with Jones and Justin Hardy, while Jacob Tamme runs out into the flat and Roddy White runs a middle curl route. It looks as though the play is designed to have White come open as the linebackers track the crossing route, and that is who Ryan appears to be eyeing as he drops back.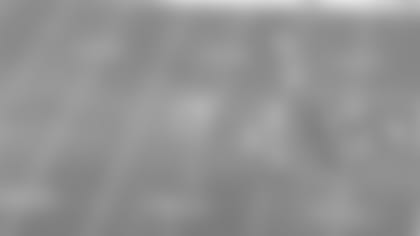 It looks like the Falcons have a couple of options to pick up the 4 yards needed for a first down on this play as it develops, but Ryan never has the chance to get the ball off. The fifth blitzer that Carolina brings – linebacker Thomas Davis – beats Devonta Freeman's block and sacks Ryan to force a punt.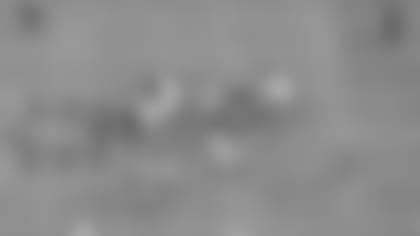 The only game that matters is the next one
There is a lot of familiarity between McDermott and the Falcons, but past performances make for poor predictors in this case. Now with a new team, McDermott has an entirely different set of players who possess new and unique skillsets.
While his philosophy and scheme have largely remained the same in Buffalo, McDermott has new ways to implement different looks and tactics against the Falcons.
Atlanta, on the other hand, returns a majority of its pieces from an offense that tends to keep opposing defensive coordinators around the league up at night. McDermott is well aware of the challenge ahead. "I think they've picked up where they left off last year," McDermott said. "This is a strong team, a well-coached team. Coach Quinn does a great job and the weapons that they have across the board, particularly on the offensive side of the ball with Matt Ryan, Julio and the cast and crew that they've got, including Alex Mack up front, it's an impressive group."