FLOWERY BRANCH, Ga. -- The Falcons' defense has continued to make the big strides they showed in the second half of 2016, but their next opponent has shown a similar improvement on defense as well.
A relentless pass rush, and a ball-hawking mentality have become key traits of Dan Quinn's defense in Atlanta, but they are also the same qualities that have helped the Detroit Lions jump out to a 2-0 start this season.
On Sunday, the Falcons' offense will face the best defense they've seen this season.
The Lions are currently seventh in the NFL in yards allowed per game, giving up 289 yards through the first two weeks. They allow just 53.5 rushing yards per game, which is the fourth-fewest in the league, and they have six sacks thus far, including a five-sack performance against the New York Giants in Week 2.
Detroit's secondary is a testament to how increased experience playing together can translate to on-field success. The Lions are tied for first with 17 passes defended this season and rank second with four interceptions.
While there may not be many household names on Detroit's defense, this is a group that has played very solid football so far in 2017.
"Over the two games this year that I've seen, I've really seen their secondary tackling well," Quinn said of the Lions' defense. "That part really, it seems to me, has gotten stronger. More time in the system together as players, but the nickel has done a good job; the safeties can tackle well; they added Davis at linebacker, who I think is a good tackler. That part feels like they're really playing fundamentally sound, defensively."
There is one play, however, whose name should be known around the league: Ziggy Ansah. The Lions' star pass-rusher has 35 sacks throughout his five years in the league, and he is coming off a three-sack performance against the Giants.
He will be a player to watch on Sunday, and he is the subject of this week's After Further Review.
Detroit runs a base 4-3 defense, and through the first two weeks of the season, Ansah has played a majority of his snaps on the right side of the Lions' formations. Of the 62 snaps he's played this year, 56 have come on the right side of the defense, including the three that resulted in a sack against the Giants.
Assuming this usage ratio holds true against the Falcons, Ansah will primarily line up against left tackle Jake Matthews rather than Ty Sambrailo or Ryan Schraeder, if he's passed through the league's concussion protocol before Sunday's game.
Matthews has faced Ansah once before in his career, when the Falcons and Lions played in London in 2014, and he's familiar with what Detroit's pass-rusher brings to the table.
"He's very long and athletic," Matthews said. "He's not one-dimensional with his rushes. He's got power moves; he's got hand moves; he can beat you around the edge. He mixes it up really well, but we're going to prepare and I feel confident going into it."
Ansah is 6-foot-5 and 275 pounds, but it's his arm length that really stands out on film. According to his NFL Combine measurements, Ansah's arm length is just over 35 inches. For the sake of comparison, Vic Beasley's arm length is 32.5 inches.
When asked what he first noticed about Ansah, Quinn immediately mentioned that length.
"I'd say the first thing is the length," Quinn said. "He's a taller guy, but he has speed. So, he's got really long arms where he can keep a tackle at bay. We've also seen him, you know he plays on both sides, he's got an excellent motor and he can play – although he's a bigger guy – he plays speed-wise like a smaller guy. Like a 240- or 50-pounder, but he's quite a bit bigger than that. The speed and length, the arm length, are what jump out to me. He's really a quick rusher." Ansah's length was a factor in his first matchup against Matthews. In the play shown below, Ansah initially engages Matthews, but he's still able to able to keep him at a slight distance with his arms.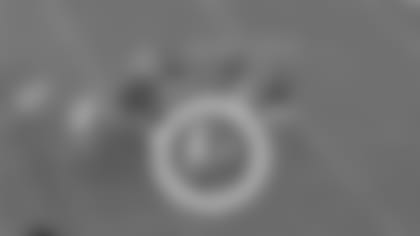 The next two pictures are captured within just a split second of each other, demonstrating how quickly Ansah is able to use his length to keep an offensive lineman off-balance. Because of his long arms, Ansah makes offensive linemen shift their weight forward slightly to engage him. Once he's ready to shed a block, he uses that shift against his opponent and can disengage in the blink of an eye.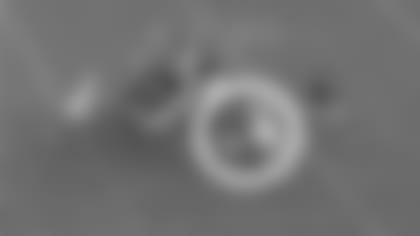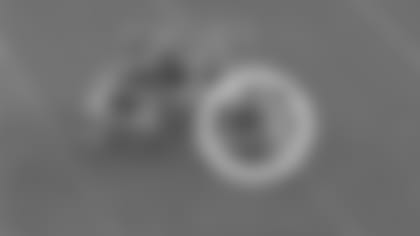 Notice how it appears Matthews is lunging in that final picture. By coming straight at Matthews, Ansah forces him to apply equal pressure to stave off the bull rush. Once Matthew's applies that pressure, Ansah sheds the block and sacks Matt Ryan.
"With a pass rush, you've just got to know who the tackle is and how he sets," Ansah said following the Lions' win on Monday night. "You've just got to set him up, and I was able to do one or two things that made me get to the quarterback."
Ansah has great speed as well
It can be very difficult to block a pass-rusher who possesses great length and the speed to match. Beating a tackle to the edge and keeping him at a distance with long arms is a nice strategy when trying to get to the quarterback, and it's one that Ansah employed effectively against the Giants on Monday.
On the play below, Ansah is able to use his speed and a savvy rip move to get past the opposing tackle.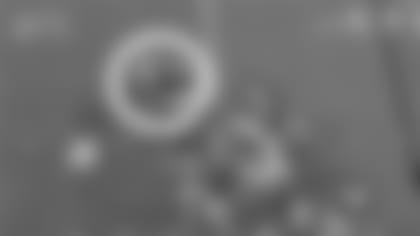 By the time Eli Manning finishes dropping back, Ansah has covered 5 yards and has the offensive tackle in a compromised position. From here, he shows good flexibility to bend around and take Manning to the ground.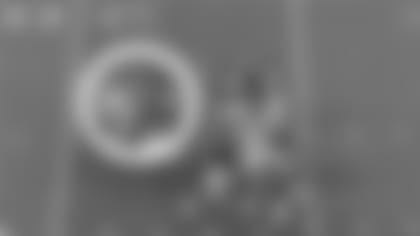 Ansah's speed-length combination is what makes him so dangerous, but it's also a combination that increases the effectiveness of his powerful bull rush.
How Ansah can translate length and speed to power
When facing a player who can get around the edge as effectively as Ansah, it can cause a tackle to focus on beating his defender to the angle of attack. In doing so, a lineman's weight may shift backwards as he kicks and slides out to that angle.
Because of this, when Ansah charges directly at an offensive lineman instead of around him, he can catch his opponent off-balance and gain the leverage needed to drive him back into the quarterback.
Ansah demonstrated this move against the Giants in the play below. As the tackle is kick-sliding to prevent Ansah from gaining the edge, his legs are no longer in a very stable position and his center of gravity is off.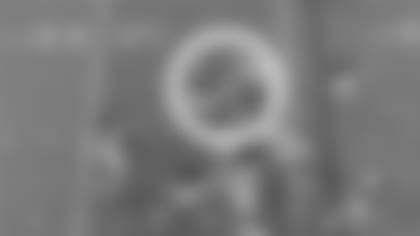 Ansah sees this and engages with the left tackle, transitioning his speed into power.
He then drives the offensive tackle backwards and towards Manning. As he approaches the quarterback, Ansah pushes the lineman off of him and takes Manning to the ground. As if to punctuate how strong Ansah can be, the Giants' tackle continues to stumble backwards for several yards after he's pushed away.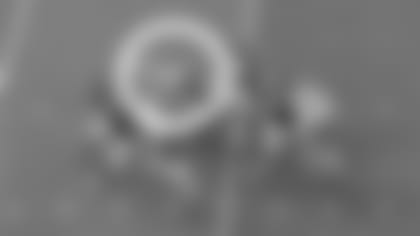 This speed, length and power triple-threat that Ansah possesses makes him a complete pass-rusher who is capable of the three-sack performance we saw on Monday night.
Both Falcons tackles must be ready
Although he's primarily played on the right side of the formation, everyone on the Falcons' offensive line has to be prepared for Ansah, especially the tackles.
If Schraeder doesn't progress through the league's concussion protocol in time for Sunday's game, Sambrailo will make his first start for Atlanta. It's not crazy to think the Lions would want to put their best pass-rusher up against a second-string tackle.
Sambrailo is confident that the Falcons' style of practice will have him ready if he's called upon on Sunday, however.
"The way we practice here is full-speed game reps every rep," Sambrailo said. "So, going into last week, I knew if I had to go in, I was ready. Unfortunately, Ryan (Schraeder) got knocked out, and I had to step up and going in and play and I felt confident and ready just because of the way we prepare and the way we practice."
While Matthews gave up one sack in his lone matchup against Ansah, he's no longer the rookie he was in 2014. Come game time, he says the entire offensive line will be ready for whatever Detroit brings. "They're a good team. They've got a lot of depth, too," Matthews said. "We're going to be prepared. They're obviously going to bring it, they're playing at their place and we know it's going to be loud. But, we'll be ready to go."