Editor's note: After Further Review will appear every Thursday on AtlantaFalcons.com during the regular season except during Week 14, when it will run Wed., Dec. 6.*
FLOWERY BRANCH, Ga. -- Since 2012, only two running backs have rushed for more than 1,300 yards in their rookie seasons. The first was Cowboys' star Ezekiel Elliott, who led the league with 1,631 yards in 2016.
That would be Bears' running back Jordan Howard, who finished second behind Elliott with 1,313 rushing yards and six touchdowns last season, despite starting in just 13 games. Now entering his second season in the NFL, Chicago's 6-foot-1, 225-pound running back presents a formidable opening challenge for the Falcons in Week 1.
"He can really run downhill," Falcons coach Dan Quinn said of Howard. "In some ways, (Chicago's scheme) is similar to our zone scheme, where you can press the line of scrimmage, make one cut and then really get downhill."
Howard's ability to find a crease in the defense was one of his biggest strengths coming out of college. A  north-south runner, Howard can put his foot in the ground and drive up-field when an opportunity presents itself. Even when there isn't an obvious hole, Howard has shown that he can find the smallest gap and make something out of nothing.
Howard's NFL.com draft profile noted his vision and feel for a defense as one of his best skills coming out of Indiana University, saying: 
"Natural runner who combines tempo with a special feel for spacial relationships. Pro­-ready vision gives him outstanding feel for run lane developments at the line of scrimmage and onto the second level. Consistently chooses best angles and creases for optimal yardage."
In the play below, that "outstanding feel for run lane developments" is on display. The play sets up like a normal outside zone or stretch run, with Howard angling towards the edge while his offensive linemen flow in front of him.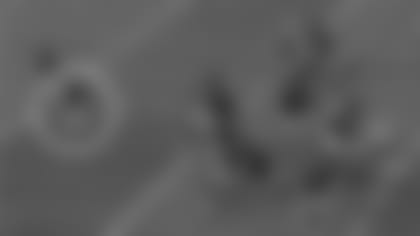 Washington's defensive linemen fight to cut off Howard's outside angle, but he identifies a seam in the defense.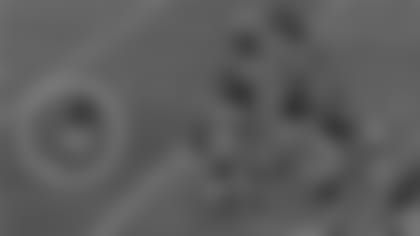 After cutting up-field, Howard accelerates through the parted Redskins defenders and gains 13 yards before being dragged down from behind and drawing a horse-collar penalty.
Howard's vision allowed him to have 19 carries of 15 yards or more last season. According to Pro Football Focus, Howard's breakaway percentage – the percentage of a runner's total yards that are earned on runs of 15 yards or longer – of 36.9 percent was ninth-best in the league. 485 of Howard's 1,313 yards came on such runs, meaning he can gain yards in bunches.
"They had just as many explosive plays in the run game as we did," defensive coordinator Marquand Manuel noted when asked about Chicago's offense. "(Howard is) a very talented runner. A lot of people don't understand that this league is built on running. I know we're pass-happy, but it's built on running."
The Falcons had 15 runs of 20 yards or longer last season, which was the fourth-most in the NFL, one spot ahead of the Bears, who had 13 such runs.
After his sophomore year of college, Howard transferred from the University of Alabama-Birmingham to Indiana. As the Hoosiers' new star running back, Howard had some big shoes to fill. Those of Tevin Coleman, who ran for 2,036 yards and 15 touchdowns the year prior.
Coleman has since become part of the NFL's best running back tandem, and although he was never college teammates with Howard, the two have forged a relationship over the past couple of years.
"Just finishing runs," Coleman said when asked what makes Howard special. "Getting that extra yard, running hard, that's basically his game. He's a big dude, so just running hard and getting those extra yards after contact.
"He's a great back, he runs tough, he runs hard and he's a pretty good player."
How to slow down Howard: It starts up front
Stopping a player who can identify small gaps in an everchanging landscape requires discipline and penetration by the defense.
"It starts up front," safety Kemal Ishmael said. "So, getting that vertical penetration first and then getting off of blocks. Keeping soft eyes, watching crossfires and guards pull. But using your hands and getting off blocks is key, because you don't ever want to go one-for-one where this guy grabs ahold of you and you're out of the play. You have to fight it. You're in the trenches, so you have to use your hands – shedding blocks and making plays."
Atlanta's defense recorded 64 tackles for a loss in 2016, good for 24th in the NFL. The addition of Dontari Poe and Jack Crawford along the defensive line this offseason gives the Falcons two versatile interior defenders who should help improve that total.
Even successfully cutting off a running lane isn't a surefire way to stop a player like Howard. With his vision and ability to jump-cut and change direction, Howard can turn a loss into a small gain, which can be the difference in a first-down or a fourth-down for the offense.
Sound tackling will be paramount
The play below is a great example of just how quickly Howard can turn a negative play into a positive one, and why sound tackling will be paramount for the Falcons.
After the left side of Washington's defensive line cuts off Howard's advance, he quickly plants his outside foot and finds a small bit of cut-back room behind the center and dives for a first down.
"The first game, tackling is the issue – for every team in the league, almost," Manuel said. "And playing a back like him, it's really going to be detrimental to everything that we do from that standpoint. It's going to take more than one guy; we've got to be fundamentalists when we're talking about it. And that's, get the guy on the ground – every technique that we talk about is from that standpoint – effort and finish."
Advantages of facing Freeman, Coleman
Fortunately, Atlanta's defenders have the opportunity to practice against two of the NFL's best running backs in Devonta Freeman and Coleman.
There are similarities in the run schemes that the Falcons and Bears use, and Freeman and Coleman possess different but effective skill sets to execute that scheme.
Freeman's ability to cut and change direction without losing any momentum illustrates the importance of maintaining balance and squaring up a tackle, while appropriate angles are necessary to track Coleman down once he starts accelerating.
For a linebacker like Deion Jones, practicing against the Falcons' two running backs is a great way to prepare for a game.
"We always talk about how iron sharpens iron, and I feel like going against T-Cole (Tevin Coleman) and Freeman, they're really good backs to have on your side as far as getting yourself ready for game situations," Jones said. "Those guys bring it every practice, and tracking and getting good angles and shots on those guys in practice can really prepare you for a game.
"Especially when it comes to covering them, because they're real fast and shifty, and also the way they slash and run the ball. I feel like having those guys makes it a little bit easier."
An early test for the Falcons defense
Playing against Howard will be a good initial test for a young Falcons defense that many expect to take the next step in its development. Quinn has spoken frequently this preseason about his belief that one of the biggest jumps a player can make in his NFL career comes between Year 1 and Year 2, and Atlanta has several defenders heading into their second year.
Howard is also entering his second season in the league, and it's possible that he hasn't shown what he's fully capable of. As someone who plays the same position, Coleman understands what changes can occur for a running back in his second season.
"The speed of the game goes down, because you're more comfortable back there," Coleman said. "You know defenses better; you know your plays better; you know the offense better, so it just slows down. You can go back there and play fast and play comfortable."
There are still plenty of aspects of his game for Howard to improve. Howard worked on improving his straight-line speed this offseason, and he has plenty of room for growth as a receiver. He was targeted as a receiver 50 times last season, the same number of times as Taylor Gabriel, yet he caught only 29 passes. According to Pro Football Focus, Howard's eight drops were the most in the NFL at his position.
In his first season, Howard looked like one of the most promising offensive players to come out of the 2016 NFL Draft. While there are still some areas where he can improve, Howard is still a dynamic runner and will provide a challenge for the Falcons in their first game.
"He's really getting the grasp of being a running back and trying to maximize his potential by the way he plays," Jones said. "He plays hard and he plays fast. Just as an overall player, I respect him."