FLOWERY BRANCH, Ga. -- No quarterback in the NFL has built a reputation for making the seemingly impossible happen quite like Aaron Rodgers.
Of course, Falcons certainly don't need a reminder of what Rodgers can do. Since the divisional round playoff game during the 2010-11 season when Rodgers completed an astonishing 86.1 percent of his passes for 366 yards and four total touchdowns, he's been considered by many fans to be among the most notorious of Falcons' opponents.
Although Atlanta defeated Green Bay twice last season, including in the NFC Championship Game, containing Rodgers remains a difficult task.
"He's fantastic on the move with the way he can improvise and get out of the pocket," Falcons coach Dan Quinn said. " When you can extend plays, that makes it difficult because now the coverage definitely turns in. We use the term "plaster" where, when a quarterback breaks contain, how do you match up on the player when he breaks contain where zone plays can turn into man-to-man? And by the way, he can also run for some first downs when he needs to. They have a really unique style that they play." 
Rodgers usually wins in open space
Rodgers uses his mobility in a different way than others around the league. His movements are often made to extend the play and buy time for receivers to get open rather than to scramble and gain yardage.
Once he's outside of the pocket, Rodgers doesn't start taking off down the field – although that can happen as well – he often rolls out to one side and looks to make a bigger play with his arm.
An example of this can be seen in the play below from the NFC Championship Game. With no strong pressure generated from the left side of the defense, Rodgers has space to step up and roll out to his right and extend the play.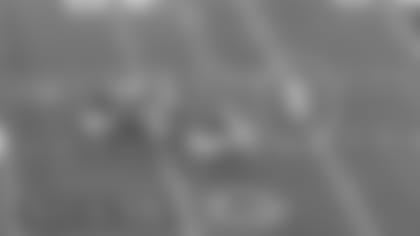 As he rolls out to his right, Rodgers has over 10 yards of separation between him and the nearest downfield defender. Instead of taking off and running, however, Rodgers continues to scan the field and look for an open receiver.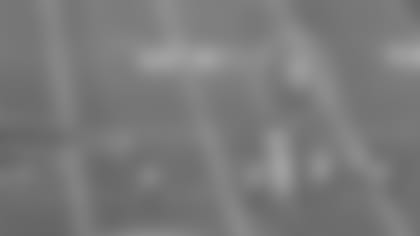 The Falcons defense moves to cover tight end Jared Cook (No. 89), but Rodgers finds receiver Randall Cobb coming open behind him and completes the pass for a 22-yard gain.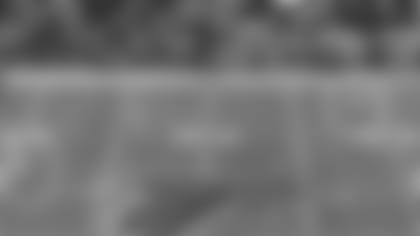 Rodgers is masterful at finding space in an opposing pass rush and making small moves to either buy more time for himself in the pocket or get outside of the pocket completely.
So how do you stop or even limit Rodgers?
Step 1: Stay in your lane
Because of his mobility, maintaining integrity with their rush lanes will be important for the Falcons' defenders. They have to communicate and stay within their gaps or Rodgers will exploit the space that is created.
"Just focusing on the rush lanes, that's really important," defensive end J'Terius Jones said of defending an athletic quarterback. "Making sure we're exact, and we're communicating amongst the D-line, trying to flush him the right way we want to flush him. Rush lanes are really important against this guy, because he can extend plays and get out of the pocket and make stuff happen.
"It's all about communication. Just knowing what the guy next to you is doing and how he's going to play and where he's lined up. If you've got a nose (tackle) next to you, and you rush all the way up-field that creates a wider gap than if you had a 3-technique next to you."
Step 2: Control the pocket
Defenses have had success getting to Rodgers when they can maintain the integrity of the pocket and close it in around him.
In the Falcons' first victory over the Packers last season, the defense demonstrated how effective that approach can be in getting Rodgers to the ground. In the play shown below, the Falcons blitz both Deion Jones and De'Vondre Campbell, meaning the Packers had to block each pass rusher man-to-man.
Green Bay runs a slower-developing crossing route on this play and the pressure caused by Dwight Freeney off the right edge, combined with Brooks Reed getting enough of a push on the left side, forces Rodgers to step into the pocket rather than rolling out of it.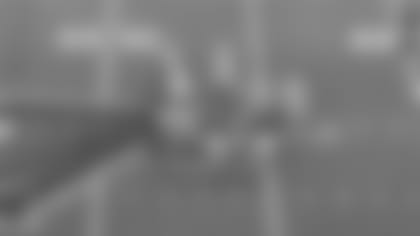 Once he steps up into the pocket, the Falcons' defensive ends close it behind him. The positioning and leverage that Jones (circled below) has on this play is important because it keeps Rodgers from moving up and to his left out of the pocket.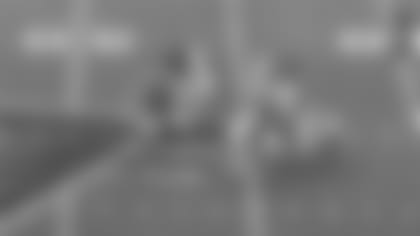 Step 3: Collapse the pocket
Fully encircled, Rodgers can't make any significant moves. At this point, Adrian Clayborn comes free from his blocker and takes the quarterback to the ground.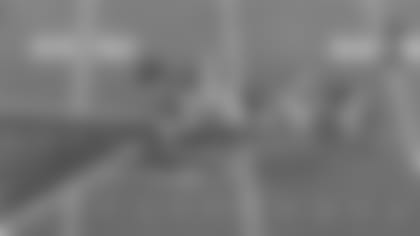 In their Week 1 loss to the Packers, the Seattle Seahawks also provided an example of how combining edge pressure with an interior push can be effective in sacking Rodgers. Defensive end Cliff Avril comes around the left side aggressively, and while there appears to be space to Rodgers' right, linebacker Bobby Wagner has his outside arm free and is fighting to close that gap.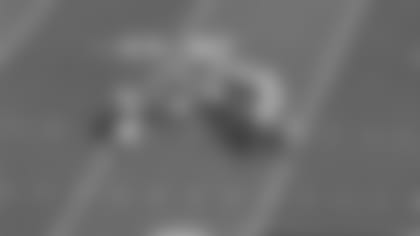 Rodgers, sensing the pressure from Avril, instinctively steps forward but he is run into by his own offensive linemen. Seattle's defensive line effectively moves the Packers' offensive line 7 yards behind the initial line of scrimmage. This prevents Rodgers from moving up and allows Avril to finish the job.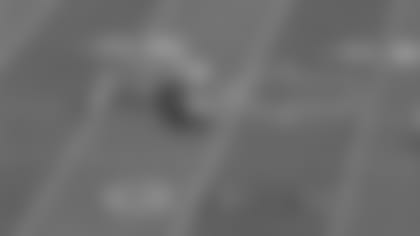 Now, saying that generating pressure from both the interior and off the edge is an ideal pass-rush strategy might seem obvious. But against a player as efficient and precise in his movements as Rodgers, it's almost a necessity.
The Falcons have a strong mixture of interior defensive linemen that includes Grady Jarrett, Dontari Poe, Jack Crawford and Courtney Upshaw. Their play on Sunday will be important, and they know they can't afford to give up until the play is over.
"He's a guy that can extend plays for a long time," Jarrett said. "So, it's important for us as rushers to be able to stay on him and keep pressure on him and not let him have all day to throw the ball."
Clayborn, who sacked Rodgers twice in their first meeting last year, put it a little more succinctly:
"You've got to go until either he releases the ball, or we get him down on the ground or until the play is over."
Step 4: Plaster the receivers
While pass rushers are busy attempting to get Rodgers onto the ground, members of the secondary have to find the nearest Packers receiver and stick to him. This is what Quinn and the defense refer to as "plastering" a receiver.
One storyline that came out during last year's playoffs was that Green Bay spends time in practice working on what to do when a play breaks down and Rodgers is out of the pocket. It's become part of the Packers' identity, which means opposing defenses must also have a plan in place.
"Yeah, we talk about it and practice it," safety Keanu Neal said. "It's going to happen in a game, that's expected. Just being ready for it, that's the biggest thing.
"It makes you work hard. He does a great job of extending plays. And, on the back end, when the play is extended you've got to plaster. You've got to find a guy and link onto him. In man-to-man its easy, but when you're in zone you've got to find a guy to link onto."
In describing what makes playing against Rodgers such a challenge, starting linebacker Deion Jones said he makes everyone have to understand every detail of a situation and execute for a longer period of time without making a mistake.
Step 5: Defend until the whistle blows
Part of what makes Rodgers so dangerous is that there's no telling how long a play will take while he's on the field. The average NFL play takes around six seconds, but Rodgers can extend plays to double that time.
These added seconds can strain a defense and allow Rodgers to take advantage. In these moments, it's vital that every defender on the field knows his role.
"That's one of the things that you have to understand," said Falcons defensive coordinator Marquand Manuel. "Because he extends plays – normal plays average maybe four to five seconds, if that – he makes plays last six or seven. So, it's plays within plays. You have to understand that until the whistle blows, it's not over."
Note: There are no guarantees
Essentially, playing against Rodgers makes a defense's margin for error practically zero.
Fortunately, the Falcons defense contains the speed and athleticism to cover for long periods of time. Up front, they've worked to develop both an interior and exterior pass rush, which should help close the pocket around Rodgers instead of leaving him room to escape and improvise. Combined, that ability to match up downfield and collapse the pocket has proven to be effective against Green Bay's game-breaking quarterback.
Of course, with Rodgers, there's no such thing as a guarantee. As Manuel puts it: "He's the ultimate competitor. When you understand and know Aaron, he's the ultimate competitor. It's not a quit; it's not a die; it's not a stop. He's going to continue battling until the last second on the clock."