FLOWERY BRANCH, Ga. -- One of the major storylines for the Atlanta Falcons entering the 2017 season was whether a defense that showed much improvement towards the end of last year would continue to make strides. Although the focus has shifted to Atlanta's offense in recent weeks, the defense has looked very much improved over the early portion of the season, compared to this time last year.
While the Falcons (3-3) aren't generating as many turnovers on the defensive side of the ball as they would like, the numbers indicate improvement nearly across the board.
Let's compare some stats from the first six games of last season to the first six games of this season for the Falcons' defense to further illustrate their growth:
Aside from a slight uptick in third-down conversions and fewer turnovers forced, the stats point to strong improvement.
Throughout training camp, Falcons coach Dan Quinn discussed his belief that a player's most significant growth happens between his first and second year, as well as between his second and third year. With four rookies starting on last year's defense, their growth has coincided with the growth we've seen from the defense, overall.
Pro Football Focus, which helps quantify a player's performance on the field with individual grades has seen similar growth. Cornerback Brian Poole currently has a grade of 81.6, tying him with Minnesota's Xavier Rhodes for the 26th-best grade at his position. Safety Keanu Neal has an 81.1 grade, placing him 24th among all NFL safeties. Linebacker Deion Jones has a grade of 79.3, the 18th-best mark at his position.
The player who has quite possibly made the biggest jump, however, is De'Vondre Campbell. With a grade of 83.6, Campbell is the 10th-best linebacker according to Pro Football Focus. He finished his rookie season with a 46.2 overall grade, meaning, in PFF's eyes, his improvement has been immense.
"We like the versatility that De'Vondre has," Quinn said. "He feels, coming into this season, like a guy who was on a mission, not only from a pass-rush standpoint, improving his coverage skills and we'll lean on him for that versatility."
In today's After Further Review, we will look at the versatility Campbell possesses and why that makes him such an asset to the Falcons' defense.
Give credit to Quinn and his staff for identifying that Campbell's skillset was better suited at the strongside linebacker position that the weakside position he played as a rookie. Over the offseason, the staff worked with Campbell on the position change, just as they had done one year prior with Vic Beasley after his rookie season.
The two photos presented below, in which the offenses are using similar formations, illustrate the move Campbell has made. The first picture came in the Falcons' game against San Diego in 2016. The second, came in Week 6 against Miami.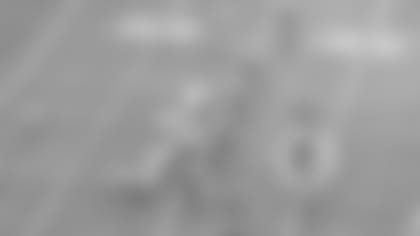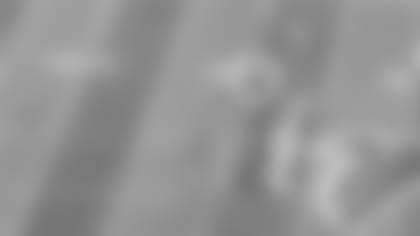 In the first picture, Campbell is lined up as one of the two inside linebackers directly behind the defensive line. In the second, he is lined up around to the side of the defensive line in order to better help set the edge.
Because of his versatility, Campbell has also stayed in for the Falcons at times in their nickel package. In that package, teams will substitute their strongside linebacker for another defensive back to better guard against the pass. Campbell is an asset against both the pass and the run, thus Atlanta keeps him on the field in these situations.
So far, Campbell is thriving in his new role. As a rookie, Campbell finished with 48 combined tackles, seven passes defended, five tackles for a loss, an interception and a forced fumble. It's worth noting, however, that he missed five games last year with an ankle injury.
Through the first six games this season, Campbell has amassed 34 combined tackles, four hits on the quarterback, four passes defended, two tackles for a loss, two sacks and a forced fumble. Projecting those numbers over a 16-game season, Campbell is on pace for 91 combined tackles, 11 hits on the quarterback, 11 passes defended, five tackles for a loss, five sacks and three forced fumbles.
Becoming a threat off the edge
The biggest difference we've seen from Campbell this year is his usage rate as a pass-rusher. After the first five weeks of the season, Pro Football Focus charted each team's blitz percentage, and while the Falcons were among the least-blitzing teams in the league, sending an extra man just 20 percent of the time, Campbell was by far the person they sent after the quarterback the most, leading the way with 22 blitzes.
"They extended his role a little bit more, so they've given him the opportunity to go make some big plays," safety Ricardo Allen said of Campbell. "I think every opportunity he's gotten, he's shown how versatile he is and he's made the play. He's gotten sacks; he's gotten pressure; he's gotten hits on quarterbacks; he's covering tight ends. And the thing is, he's not just doing it, he's doing it at a high level."
With two sacks already this season, Campbell is one behind Brooks Reed and Beasley for the team lead. He earned one of those sacks against Tom Brady and the New England Patriots on Sunday night, coming free off the edge and laying a big hit on the quarterback.
In the picture below, we can see that the Falcons lined up in their base package, with Campbell on the right side of the defense and Duke Riley over on the left. Atlanta walks Neal down to act as an extra interior player at the second level next to Jones and overtop of tight end Rob Gronkowski.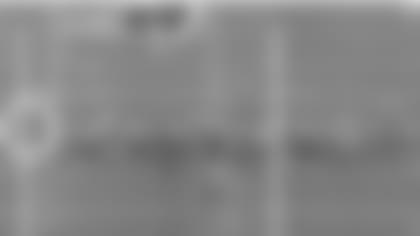 Although New England motioned Gronkowski over to the left side of their formation prior to the snap, the Patriots run a play-action pass in which he goes out on a route. When Gronkowski runs his route, the Patriots are unable to account for the three Falcons pass-rushers coming off that side.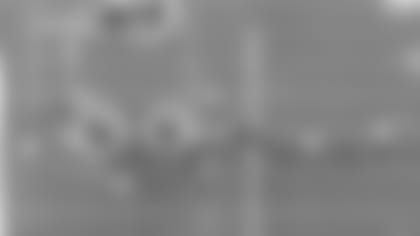 Only New England knows for sure, but this play looks to be a busted one with Campbell coming completely free off the edge. The result is a crushing hit that Brady never sees coming.
Campbell has one idea for why the Patriots didn't account for him as a blitzer.
"I actually thought that they were going to turn out on me," he said. "But, I'm assuming, because of what happened in the Super Bowl – a package we had then – they didn't expect me to blitz. Because in the Super Bowl, I didn't blitz out of that package. So, maybe they thought it was the same thing and turned the protection away. I didn't expect to come free, but I did."
While his sack of Brady came against very little resistance, Campbell's length allows him to beat blocks and become a legitimate threat in the pass rush for Atlanta.
Against Green Bay, the Falcons lined up in a similar defensive alignment – the key difference being that they were in the nickel package and Riley was off the field – and Campbell was once again coming off of the edge. In the play below, he demonstrates how he can keep blockers off of his body with his long arms while bending around the pocket to get to the quarterback.
The Packers ran a play-action pass, and the Falcons send five defenders after Aaron Rodgers. Green Bay's fullback crosses the formation to seal Takkarist McKinley on the other side, leaving Campbell one-on-one with the right tackle.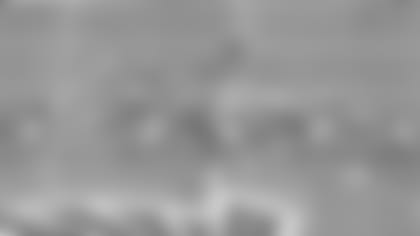 What Campbell does really well on this play is engage the offensive tackle with his hands, before the Packers' offensive lineman has the chance to do so first. This allows Campbell to have better control of the tackle, instead of the tackle controlling him.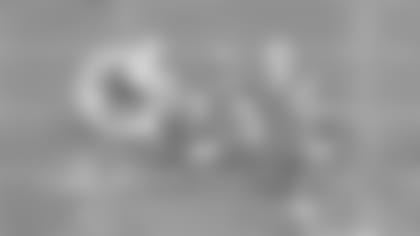 Once he is at the top of his rush, Campbell transitions his speed into power and extends his arms to free himself from the offensive tackle. Gaining control initially enabled Campbell to have the leverage needed to do this.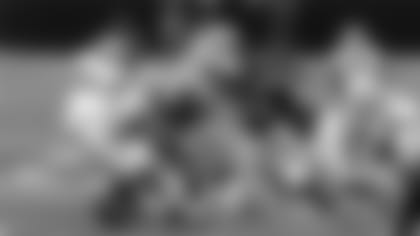 The crushing, blind-side hits, like the one on Brady, are undoubtedly fun, but they aren't going to happen very often. The most promising aspect of Campbell's development as a pass-rusher is that he understands how to use his length to his advantage in an effective manner.
This length also makes Campbell a strong player in coverage, who has helped sure up some of the Falcons' previous troubles in the intermediate passing game against tight ends.
Versatility in pass coverage and run defense
"One thing he does really well is he understands his size," said Falcons tight end Austin Hooper, a player who has matched up with Campbell plenty of times in practice. "Not just that he's tall and fast or can run, all of those things you can see, but the way he uses his length. He can keep pace with you because his arms are so long. No matter where you are, he can always stay within a 2-, 3-foot radius of you where he can use his long arms to make a play."
What Hooper said about Campbell's length is verified by the game film. While opposing tight ends can sometimes get a step or two on Campbell, his 33-and-five-eighths-inch-long arms prove very effective when this happens.
Atlanta's game against Green Bay also provides a good example of how Campbell uses his length to his advantage in coverage. Lined up against Pro-Bowl tight end Martellus Bennett, Campbell initially looks to have given up too much space and an easy completion.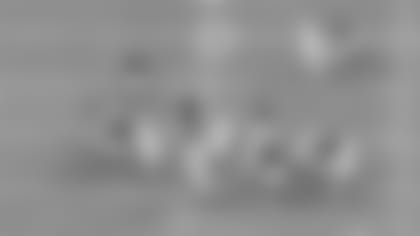 Rodgers' pass isn't fully out in front of Bennett, however, which allows Campbell to cover the extra space and knock the ball away from the tight end at the last second. Because of his length, anything less than a pristine throw from Rodgers would have given Campbell a chance to make the play.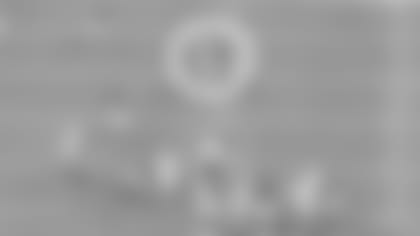 "Being able to play slow and play what you see, and not play too fast," Campbell says is one of the ways in which he's improved as a coverage defender. Against the Packers, he did just that, timing his hands perfectly to make contact just as the ball arrived.
One of the first moments where Campbell really shined in coverage this year came in the Falcons' season-opener against the Chicago Bears. Campbell begins the play lined up in the middle of the Falcons' nickel defense, and he ends up against the speedy rookie running back, Tarik Cohen, who is split out wide on the play.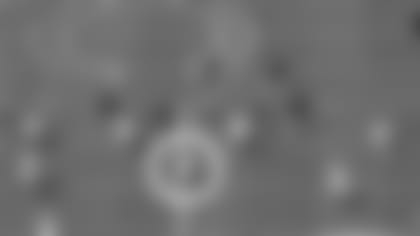 The Falcons' defense drops into zone coverage on the play, and Campbell picks up Cohen's route as the running back sprints across the deep, middle portion of the field. With Campbell underneath Cohen and Neal overtop, Mike Glennon would have needed a great throw to fit that ball in between the defenders.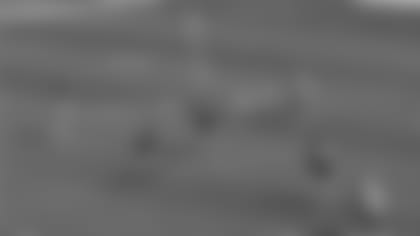 Glennon puts the ball right where it needs to be for Cohen to make a play. The rookie back had a step on both Campbell and Neal by the time he reaches the end zone, but he has to delay for a split-second to wait for the ball to arrive. That time is all Campbell needs to recover the lost ground, and, once again, he uses his length to knock the ball away just as it arrives.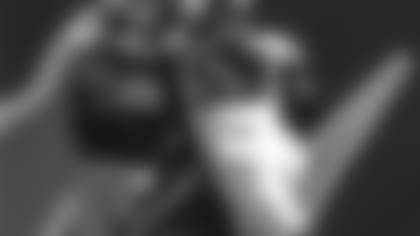 It's easy to grasp how Campbell's length can be an asset in coverage, but it's also a great tool against the run. Just as he understands how to use his arms to keep blockers away from his body while rushing the passer, so too does he know how to employ the same tactic in run defense.
Against the Patriots, Campbell demonstrated this well. Although the play shown below ended up gaining nine yards for New England, running through the run gap Campbell looks to be responsible for, it's still a good example of how he can shed blocks effectively.
The Patriots run a draw play, which freezes Campbell long enough to allow a hole to develop for running back Rex Burkhead and for Gronkowski to get to the second level and block him.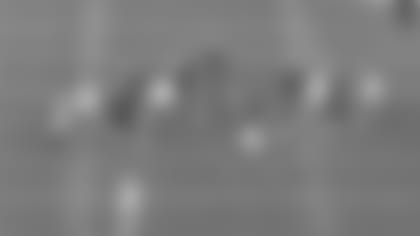 Although Gronkowski reaches Campbell, he never allows the Patriots' tight end to latch on and drive him down the field. Instead, he fights him off using his arms and separates to make the tackle.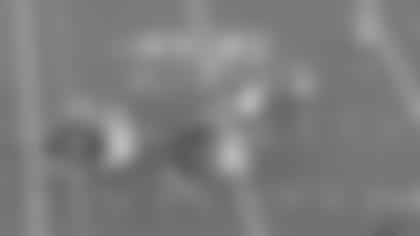 'I don't think I have (a ceiling)'
When the Falcons drafted Campbell in the fourth round of the 2016 NFL Draft, he was largely seen as a player with immense athleticism and potential, but one who would need time to develop and learn how to fit into a scheme.
Here's what the NFL.com draft profile on the former Minnesota Golden Gopher read:
"Campbell has an Academic All-­Big Ten under his belt, but the classroom smarts don't always translate into on­field instincts for the linebacker. While Campbell has terrific size and NFL-­caliber athleticism, his inability to consistently perform his assignments as a second level linebacker could make him a project."
It appears the Falcons turned in this project early, as Campbell's ascension has been impossible to miss. The athleticism has always been there, but in his second year with Quinn and the Falcons, Campbell is truly beginning to believe in his ability and understand the game at a deeper level. "As far as a ceiling, I don't think I have one," Campbell said. "I've played multiple positions, and I just feel like I can be as good at them as I want to be. I've just got to continue to trust the process and keep doing what I've been doing."