The Atlanta Falcons' selection of former Clemson cornerback A.J. Terrell at pick No. 16 came as a surprise to many, but in retrospect, it shouldn't have.
Since coach Dan Quinn's arrival in 2015, the Falcons have had a blueprint for the type of players they like to have on their roster, particularly on the defensive side of the ball. That's no great secret. Atlanta covets speed, versatility, length, a competitive attitude and players who have a ball-hawking mindset.
Well, Terrell combines all of those elements and he cut his teeth playing in some of the biggest games in college football over the last three seasons. If the Falcons are looking for a player who can quickly fill the starting role that Desmond Trufant left behind, Terrell makes a lot of sense.
Much of the conversation about Terrell centers around his performance against LSU receiver Ja'Marr Chase in the national title game. Chase caught nine passes for 221 yards and two touchdowns in that game, which is undoubtedly a tough look for Terrell. But, it's also important to note that Chase was the best receiver in college football last season, catching 84 passes for 1,780 yards and 20 touchdowns – the latter two stats were the most in the country. This NFL Draft features a crop of receiver talent that might be the best ever, and Chase was better than all of them.
The point is that the outcome of that game was not in Terrell's favor – not by a longshot – but it's far from indicative of the type of player he is. Upon closer inspection, Terrell actually fared better against Chase than those numbers would indicate.
So, what does the 6-foot-1, 195-pound cornerback bring to the Falcons? Well, the first thing that leaps out when watching film is that Terrell is a fiery competitor who seems to revel in dominating his opponent. The type of demeanor that leads him to take an extra second to stand over and stare at a receiver after he's deflected a pass before striding away.
"I feel like at the end of the day, competition is what it all comes down to, just imposing your will each play and just winning each rep," Terrell said. "I know you're not going to win each rep but you should win more than your opponent, so that's the mindset and having short-term memory."
That type of competitive demeanor will be welcome in Atlanta, and he'll need it to hang with Julio Jones and Calvin Ridley in practice.
From an athletic standpoint, Terrell again checks all of the boxes. He ran the 40-yard dash in 4.42 seconds, and that speed translates to the field. Terrell also pairs his long speed with exceptional short-area acceleration, allowing him to break on the ball and get in position to knock it away at the catch point.
"I think it's the speed and the length," Quinn said when asked why Terrell is a fit in Atlanta. "And the reason being is when you're playing outside at corner, you want to be able to control a receiver vertically down the field, especially when you play a lot of man-to-man and three-deep."
While at Clemson, Terrell was asked to play both press and off coverage, something he will also be asked to do in Atlanta. This experience will again allow for a quick transition to the Falcons' defensive scheme and given the expectation of a return trip to the postseason, that's a big positive.
Perhaps the biggest concern with Terrell entering the NFL is his tendency to lower his head and lead with his shoulder while tackling, particularly in the open field. This caused him some problems against LSU, but it's also something that can be coached and might be the product of what was emphasized at Clemson.
"What we can do first is like we do with all the players here," Quinn said of going about improving aspects of Terrell's game. "We'll start with them just like we do with the veterans, that 'Here's where we think you're at,' and we really want to start targeting some things for them to work on when they do their on-the-field work without us."
What's more important is whether or not Terrell can cover, and he certainly can do that. He has upside to create turnovers, as he showed stickier hands on film than his six career interceptions would indicate.
The Falcons went into the first round of the draft with a clear need in their mind – finding another starting cornerback on the outside. Terrell might not have been the consensus pick, but he's the pick Atlanta believes is the right one.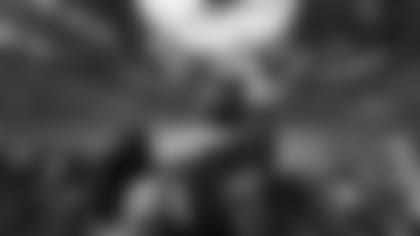 2020 Falcons Tickets
See the Falcons battle divisional foes along with the Bears, Lions, Broncos, Raiders and Seahawks at the best venue in sports.