Coaching in the NFL is not only about schemes and player development. A large part of the profession centers around relationships, and the Falcons have a pair of coaches on their staff in position to show just how beneficial a strong bond can be.
Atlanta hired former Cleveland Browns defensive line coach Tosh Lupoi to act as the team's run game coordinator and coach the Falcons' defensive ends. In that role, Lupoi will work in tandem with Jess Simpson, who will focus on coaching the team's defensive tackles.
Improving the play along the defensive line, most notably its ability to affect the quarterback, is of paramount important for Atlanta in 2020. Therefore, the partnership between Simpson and Lupoi has to be seamless. That bond isn't one they will need to spend time developing, however; they have a friendship that dates back to well before Lupoi arrived in Atlanta.
"Tosh and I go way back," Simpson explained. "Tosh and I have probably gotten together and talked football for the last five or six years. I've always respected him as a coach. We see things the same, when [Dan Quinn] was able to bring him on I was really fired up. We'd really always talked about working together. Sometimes you go, 'Man, did this really just work out?' It was one of those things."
Hearing Simpson's reaction to Lupoi joining him in Atlanta brings to mind a classic moment from the movie "Step Brothers." In the movie, Brennan Huff, played by Will Ferrell, and Dale Doback, played by John C. Reilly, discover that they actually have plenty in common after engaging in a lengthy and bitter rivalry. In their revelatory moment, Huff asks, "Did we just become best friends?" To which Doback cheers, "Yep."
The men in charge of improving Atlanta's defensive line play already have that level of friendship, and they didn't have to spend any of their time with the Falcons swinging a baseball bat or golf club at one another's heads to get there.
Bringing individual success to the partnership
Defensively line play is actually more co-dependent than a casual observer might think. Executing twists or stunts relies on multiple linemen having correct timing and angles to make it all come together. If a player rushes through the wrong gap, the offense may be able to block two players with one lineman. Should every player accomplish his role precisely once the ball is snapped, a team's best pass rusher may find himself one-on-one against a blocker, significantly increasing the chances of pressuring the quarterback.
It may seem counterintuitive to have two coaches separately coaching members of a unit who need to be in lockstep on every single play, but that's why the friendship between Simpson and Lupoi could prove so beneficial.
"Jess and I are really unified and on the same page and supporting exactly what we're both trying to accomplish here," Lupoi said. "That's only going to happen with us working together and making sure all of those details are ironed out. That's, again, where it's just awesome how we've really established a solid relationship both on and off the field."
While cultivating their relationship, Simpson and Lupoi were each building their own reputations as great coaches.
Prior to joining the Falcons in 2017, Simpson was one of the most successful high school head coaches in Georgia history. During his 12 seasons at Buford High School, Simpson led his team to seven state titles and reached the state championship game in each of his final 10 years with the school. Simpson compiled a staggering 164-12 record as a head coach.
It's no surprise then that Lupoi jokingly refers to Simpson as "the mayor of Buford."
For his own part, Lupoi has also been successful while climbing up the coaching ranks. After spending time coaching on the West Coast for the University of California and University of Washington, during which he first became acquainted with Dan Quinn, Lupoi joined Nick Saban's staff as a defensive assistant at Alabama in 2014.
In 2015, Lupoi was tasked with coaching the Crimson Tide's outside linebackers, players who operated as primary pass rushers in the team's 3-4 schemes. The 53 sacks Alabama recorded in 2015 were the most during Saban's time with the program, and Lupoi was promoted to co-defensive coordinator for his hand in achieving that. After two seasons as co-defensive coordinator, Lupoi took on the job by himself for the 2018 season, during which he and Simpson nearly worked together for the first time.
"I tried to hire Jess when I was the defensive coordinator at Alabama," Lupoi said. "I tried to hire him as the D-line coach at Alabama. I've always thought really highly of him. I'm just fired up to join forces and work side by side with him."
Simpson, instead, joined Mark Richt's staff at the University of Miami in 2018, spending one season with the Hurricanes as a defensive line coach before coming back to Atlanta last season.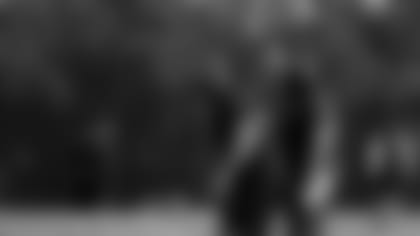 The two coaches are finally together in Atlanta and well aware of their need to help their unit produce more pressure on opposing quarterbacks. The Falcons recorded 28 sacks in 2019, which were tied for the second fewest among all 32 NFL teams.
To address this, Atlanta signed free agent Dante Fowler, who had a career-high 11.5 sacks in his first full season with the Los Angeles Rams. Fowler will replace Vic Beasley, who left as a free agent, and play opposite of Takk McKinley, who has considerably reshaped his body this offseason and arrived at camp with new-found perspective and focus.
On the inside, Simpson will lead a group that has Grady Jarrett coming off of his first Pro Bowl season. Jarrett is emerging as a true star after notching a career-high 7.5 sacks in 2019 and is undoubtedly the Falcons' most consistent defensive lineman. Atlanta also bolstered its interior in the draft, selecting former Auburn pass-rusher Marlon Davidson, who has versatility and plenty of confidence.
Fittingly, Davidson also has a previous connection with both Simpson, who, himself, played at Auburn and Lupoi, who coached against him in one of college football's most competitive rivalries.
"Me and Tosh, we have this love-hate relationship because you know he went to 'Bama, and I don't bang with that," Davidson said. "I don't like Alabama at all. That's the only type of hate we have towards each other, though, is our schools. Coach Simpson, he's an Auburn guy. Me and coach Simpson, we talk every day. He's trying to teach me how to become better, what can I work to be better and just different things like that."
Cultivating relationships that mirror the one between Simpson and Lupoi will go a long way towards helping the Falcons' defensive line operate as a tight-knit unit. Simpson and Lupoi have a history off success, but they need to bring that to Atlanta this fall, and they need to do it together.
In an unprecedented offseason where coaches were unable to work with players directly on the field until midway through August, their ability to communicate the same message and have open, direct conversations with one another should have benefitted Simpson and Lupoi. They weren't having these discussions for the first time, just for the first time as co-workers.
If the Falcons are finally going to unlock the pass rush Quinn has always wanted, the type of bond between the two men tasked with accomplishing that is a good place to start.
"We're always competing in how we prepare and how we work together, that's a lot of fun," Simpson said. "We're not afraid to disagree with each other when we see something different, it's okay to do that. I think the other advantage is a division of labor. You've got two guys who are doing the exact same thing but at times can be totally separate and they can be really specific for certain positions, I think that can be an advantage as well."