Smith, 34, is a native of Powell, Tenn., a town with just over 13,000 people. In his 11th season in the NFL, Smith has established himself as one of the best blocking tight ends in the league. He has even given himself the moniker 'throwback dinosaur' because he believes his play-style is a dying breed.
And Pitts, on the other hand, is the living embodiment of the modern tight end.
At 21, Pitts is closer to the age of Smith's 13-year-old son than he is to Smith. A 6-foot-6 245-pound weapon, Pitts is quicker than many wide receivers and running backs with his 4.4 speed and physical like a typical tight end, earning him 'The Unicorn' moniker. Pitts grew up just outside of Philadelphia.
So other than the fact that they both have creature nicknames, it's safe to say that they couldn't be more different.
Yet, somehow, the two men: old and young, one representing a "dying breed," the other of the future, have formed an unlikely bond in Atlanta.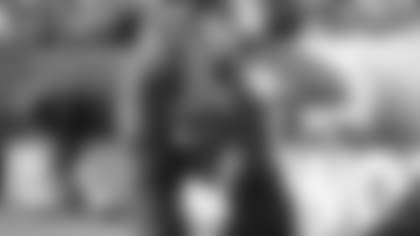 The Falcons' week 17 matchup with the Buffalo Bills was a coming-home party for Smith. He spent his first four seasons and previous two seasons with the Bills — there was time with the Raiders in between — before the Falcons traded for him last March.
Smith made lasting impacts and relationships with the players and the fans in Buffalo. Just days before the game, while out to dinner with his wife, Alisha, their bill was covered before they could pay. When they asked the name of the person that covered the bill, they were shocked to hear, "The Bills Mafia," per Smith's Instagram story.
Days later, when the game was heading into halftime, Falcons leading 15-14, Smith walked towards the tunnel to the locker room with Bills quarterback Josh Allen. Quickly Bills receiver Stefon Diggs jumped on Smith's back, and other Bills gave Smith pats on the back and showed their appreciation.
Those moments prove just how much of a lasting impact Smith leaves on his teammates, coaches, and even fans. It is one of the reasons Arthur Smith wanted Smith on the team: his reputation of being a great leader and teammate stretches across the league.
So while he and Pitts may be from seemingly two completely different worlds, it is not a shock to any of the Falcons' coaches that the two have quickly bonded. It's what they expected.
"As he's gone through his career, you can see and understand how he's affected locker rooms, brought guys together, regardless of background," offensive coordinator Dave Ragone said. "I think the reason why he's been playing as long as he has is not just the physical ability, he's got the ability off the field that you look for in a teammate and you look for to bring to your team."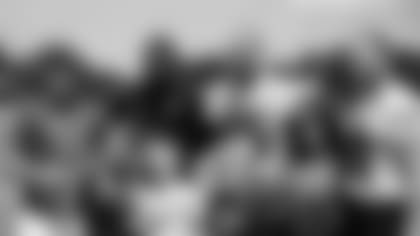 It was a Thursday at the Falcons headquarters in Flowery Branch. The Falcons were inside on this day due to the monsoon-like downpour outside. Media was awaiting Kyle Pitts for post-practice player availability – but he was busy.
Most players had left the field, but Pitts, Smith, and Hayden Hurst were throwing a football from midfield on one end of the indoor facility, trying to hit the bottom horizontal goal post. At one point, they moved to the out-of-bounds line in the endzone, ensuring their feet were behind the pylon, and tried to hit the vertical yellow post.
"Ahh!" "Ohh," Pitts, Smith, and Hurst made animated noises and laughed with each throw.
That's just one instance of the antics between Smith, Pitts, and Hurst at the facility. There are times when Pitts and Smith are chasing each other around, racing, or making ridiculous faces when posing for a pic at practice.
When the Falcons traded for Smith, he did his "homework" to ensure that this organization was one that he wanted to play for nearing the end of his career. Since he's been here, people like Arthur Smith, Matt Ryan, and others have proven him right.
Building a bond with Pitts, who he calls a "freak-show-avatar," has been the proverbial cherry on top.
"I've been doing this a long time, and sometimes you get around these top-10 picks and rookies, and you know they're just not willing to dive into it and truly be professionals until years down the line," Smith said. "This dude has been a true professional since day one, and all he wants to do is get better.
"It's been fun to be the old guy in the room and watch him grow," Smith said, "and hopefully, he thinks I've helped him get a little better, and if he thinks that, I'll sleep better at night."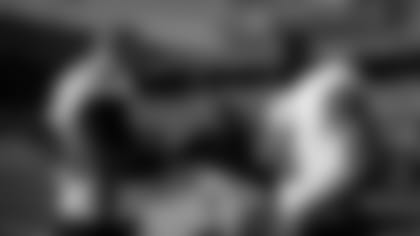 The other aspect of their friendship comes in the form of mentorship.
Pitts described Smith back in August as "that old head that tells you about life, football, and everything…He tells me how the NFL works and has really shown me the ropes."
And Smith gives advice to most players; it is why he is so revered around the league. Still, Pitts has impressed Smith because of his eagerness to listen and learn.
"He has impressed me as much as any rookie I've ever seen," Smith said. "He doesn't walk around here like he's arrived because he went to the Pro Bowl. ... He's the same innocent, goofy rookie he was in minicamp before he caught a pass in this league."
The mentorship is a two-way street, too.
Pitts keeps Smith young by holding him up to date with the latest slang, though Smith says he does not understand what Pitts is saying half the time when he uses words such as "cap" and others in conversation.
"He's pretty hip," Pitts said with a smile. "Don't let him fool you." Falcons Final Whistle | A Postgame Podcast
Break down the hottest topics surrounding the Atlanta Falcons and how they can impact the team's success with Falcons Insiders Scott Bair, Tori McElhaney and Terrin Waack. Like and subscribe to join us for the lively debate on Falcons Final Whistle.
Welcome to Falcons Final Whistle – an Atlanta Falcons football postgame podcast during the season that shifts gears in the offseason to answer a pressing question about the team's future each week through free agency, the NFL Draft and the offseason program.