FLOWERY BRANCH, Ga. — Ryan Nielsen will push the button.
However, that's just a formality.
The assignment of defensive play-caller had to be and can only be tasked to one individual. So, the Falcons defensive coordinator has been chosen to execute the in-game responsibility.
What leads up to that exact moment, though, is a collaborative effort that began back in late January when Nielsen joined the organization and continued all the way through training camp, which concluded in late August.
"We've talked about — as a staff — down and distances," Nielsen said. "How do we want to call things? (What are) the calls in situations? I feel like hey, look, the game's been played. We know what we're going to call situationally. We know what we're going to call whether it be first down or whatever it is. There's a menu of calls that you go through. But just listening to everybody, that's how it'll all be called on Sunday."
Everybody. Because Nielsen is far from alone. He's directly paired with Jerry Gray, who was named assistant head coach/defense this offseason.
And then, of course, there's head coach Arthur Smith and five other defensive assistant coaches.
"There are too many frail egos (in the league) that want to say, 'This is my offense. This is my defense.' It's the Falcons'," Smith said. "I'm not going to get quoted with some other line, but it is the Atlanta Falcons defense and Atlanta Falcons offense. It's our team. We've got a great staff. Ultimately, when you have different ideas, you put it together and you try to problem-solve and come out (with), 'this is the direction we're going.'"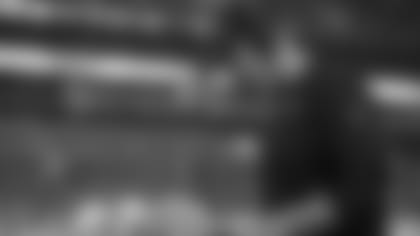 Nielsen said "it has been a while" since he last called plays, and it was not in a regular-season NFL game. He did in the preseason last year, with the New Orleans Saints, but that's it.
This is actually Nielsen's first full run at coordinator, too. Nielsen made his professional coaching debut in 2017 as the Saints defensive line coach. In 2021, he added assistant head coach to his title. And then, in 2022, he upgraded to co-defensive coordinator, sharing the same title with Kris Richard. But neither Nielsen, nor Richard called plays; Saints head coach Dennis Allen did.
The Falcons are basically helping Nielsen pen the next chapter of his coaching book.
"I love being here," Nielsen said. "The head coach, Art. The way we are. The culture. It's every day: get up and can't wait to get into the building."
Gray, meanwhile, came to Atlanta with 26 years of NFL coaching experience, including eight seasons as a defensive coordinator during his stints with the Buffalo Bills and Tennessee Titans. He'll assist Nielsen during games.
"I'm going to be that guy that's kind of like the little thing on (Nielsen's) shoulder," Gray said. "Like, 'Hey, hey, now we've ran this more than that, so what about this? Change up here.' There's just little things that I can kind of give him pointers on that he may not have been in, so now, it gives him a better chance of calling the game – a complete game – not just what I know."
Because in the end, there's one winner — and that winner is a team, not an individual.
And just like the play-calling decisions are a group effort, so is the execution. By the players. Who must receive the play call from Nielsen.
"I feel like he's been chosen as our defensive coordinator for a reason," Falcons defensive lineman Grady Jarrett said. "I'm excited to go out there and play for him."