FLOWERY BRANCH, Ga. — It sure sounds like Bijan Robinson is one of the most mature 21-year-olds.
The Atlanta Falcons rookie running back's maturity level has been referenced multiple times since he joined the team this offseason. That topic of conversation came up again Wednesday as Atlanta prepares to open its regular season on Sunday (1 p.m., FOX) against the Carolina Panthers inside Mercedes-Benz Stadium.
That game will surely double as Robinson's professional debut, too.
"It'll be the first big test, a real stressful environment," Falcons head coach Arthur Smith said Wednesday. "He's passed them all so far. He's exactly what I thought he was. In some ways, he's even more mature than I realized in handling expectations and pressure, because that's not easy. That gets harder and harder."
Robinson was the Falcons' No. 8 overall pick the 2023 NFL Draft. There's an automatic hype that surrounds a first-round pick, but especially one who posted the numbers Robinson did in college.
During his three seasons at Texas, Robinson totaled 539 carries, 3,410 yards and 33 touchdowns on the ground. He added an additional 60 receptions, 805 yards and eight touchdowns through the air. In his final year alone, Robinson had 258 carries for 1,580 yards and 18 touchdowns, along with 19 receptions for 314 yards and two touchdowns.
Anticipation to see what Robinson can do in the pros is building.
"That's what happens when you take somebody hot: There are great expectations," Smith said. "That's why you make those investments. You have to make sure it's the right person and you have the right plan."
Both boxes appear to have been checked.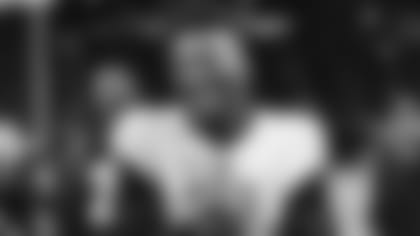 Robinson is listed as the starting running back on the Falcons' Week 1 depth chart. Granted, Cordarrelle Patterson – another running back – has been labeled with an unknown J position. So, suffice to say, the depth chart is not Gospel.
Nonetheless, Robinson took first-team reps during training camp and followed the same exhibition plan as the expected starters, only playing one series in the Falcons' second preseason game against the Cincinnati Bengals.
"I think back to when we spent time with him in Austin, Texas," Falcons general manager Terry Fontenot said in an exclusive with Tori McElhaney. "You saw a rare maturity. You've seen someone who has handled everything in stride. We fully expect him to handle things (in Atlanta) the same way.
"But he has an intensity about him, too. Everybody sees the nice smile, but he can lock in and go to that dark place. He can lock in to do whatever he has to do to get the job done."
He did just that against the Bengals.
Again, Robinson only played the one series, so the numbers can't be all that high.
In the 13-all tie, Robinson had four carries for 20 yards. His first touch went for 12 yards — the longest running play of the 10-play drive. Robinson also caught his sole target for six receiving yards.
"He's just one of those guys you want to root for," Falcons offensive lineman Jake Matthews said. "He's a good guy. From the first day, I noticed when he comes in, he works really hard. You want to do well for him. Not to mention, he's a hell of an athlete. I'm really looking forward to setting him up, watching him run down the sideline."