Welcome to Straight from the 'Beek! The Falcons' mandatory minicamp is in the books and the players are heading out for one last break before training camp begins. In the meantime, you've got plenty of questions. So, let's get to them. Just remember, all opinions here are mine unless noted otherwise.
Yes, I would put Gerald Riggs over Warrick Dunn. Riggs ran for 1,719 yards in 1985 on a what was a pretty one-dimensional team. Dunn was good, also, but I would never say he was "the man" on any of those offenses. Vick, Roddy, and even Duckett split carries with Dunn. Maybe we are splitting hairs here. They were both pretty good. I just prefer Riggs.
Matt: Good stuff, John. And, yes, I think we're splitting hairs for sure at this point. But I'll stick with Warrick Dunn and his versatility.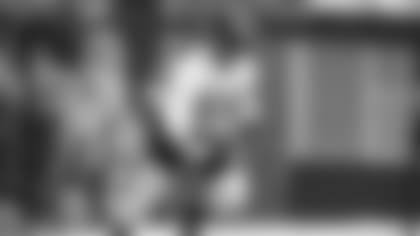 Jimmy from Douglasville, GA
Beek, are any of the rookie free agents that we signed after the draft standing out? Of this group who are the players with the best chance of making this team? I see promise in a few of them, but I know how hard it will be selected to the 53-man roster. Do we have the next future Hall of Famer in this group?
Matt: There are a few young guys that have caught my eye and, to be very honest, I have no idea if they'll make the team yet or how they'll perform once the pads come on or when preseason games begin. I'm going to give you four names, not all of them are free agents and two of them might be considered longshots. The first two are linebackers – rookies Foyesade Oluokun (pictured above) and Richard Jarvis. And two just happen to be from Ivy League football programs (Yale and Brown, respectively). Oluokun hurt his toe during minicamp (and it sounds like he'll be ready to go for training camp) but I can see why the Falcons used a draft pick to get him in April. He's big, fast, quick, instinctive and smart. Jarvis is more of an underdog but definitely looks the part. Can't wait to see him play when the pads come on. The other two players are rookie running backs – Justin Crawford out of my alma mater, West Virginia, and fullback Luke McNitt from Nebraska. Obviously, the Falcons are pretty stacked in the backfield, with Devonta Freeman, Tevin Coleman and fourth-round pick Ito Smith ahead of Crawford (pictured at the top of the page). But he has looked explosive at times, showing off that speed, and he's caught the ball well, too, coming out of the backfield. And the fullback battle is wide open at this point, with McNitt, Daniel Marx and Ricky Ortiz challenging for the starting job. But McNitt is another one of those guys who seems to be doing everything right. That is not a knock at all on the other two guys, just an observation when it comes to McNitt, is all. Thanks for writing in and reading SFTB, Jimmy.
Hi, Beek. In my opinion, the Falcons should figure out a way to pay Julio Jones and then move on after the third season. I like Julio, but the Falcons have more important obligations such as Deion Jones, Keanu Neal, and possibly Vic Beasley. What are your thoughts?
Matt: Hi, David. I think Julio Jones is the best receiver on the planet and so I would not put any sort of shelf life on his career whatsoever. He's a special athlete. That's my first thought. You're right about the Falcons' young defensive players, too, who will be up for new contracts in the coming seasons, David. Every team in the NFL has a salary cap to deal with – and, at the end of the day, you can't keep (or pay) everyone. I think general manager Thomas Dimitroff has done an exceptional job of identifying the core players they want to build around and signing them to long-term deals. I expect that will continue. Let's just wait and see how this shakes out. Like Matt Ryan said, that's their business to handle and something will be worked out eventually.
Beek, you mentioned in an article that there could be a real battle for the third-string QB spot. My question is this, do you think Kurt Benkert or Garrett Grayson could end up challenging Matt Schaub for the backup job? Thanks for all you do and keeping us in touch during the offseason, Beek.
Matt: Hey, Johnny. I don't see it happening, but that doesn't mean it won't or can't happen. Who would have thought that Dak Prescott would end up being the starter in 2016 after being drafted in the fourth round with Tony Romo and Kellen Moore ahead of him? And more recently, who could have imagined Nick Foles leading the Eagles to their first Super Bowl title with Carson Wentz entrenched as the starting quarterback last season? My point is, seasons can turn on a dime – or a play. But all things being equal, at the end of the day I think that's Matt Schaub's job to lose. He's experienced, can make all the throws, knows the offense, the coaches trust him, he's healthy and has a solid working relationship with Matt Ryan. Plus, he offers another set of eyes for Ryan during games. Thanks for writing in, Johnny.
It's been too long, Beek, but I'm finally back with another one! I'm hearing some good things from the coaches and other players about our first-rounder, Calvin Ridley. Do you feel like the time during minicamp was more of a cohesion time for him and Matty Ice – to get on the same page especially since Julio Jones was a no-show? How do you vision that whole situation, by the way, because you have a guy in Steve Sarkisian looking to have a bounce-back year, yet his best receiver is holding out over contract disputes? Will this interfere with game-planning in any way in your mind, especially if potentially he misses training camp? Thanks, Beek!
Matt: Hey, Leroy! Good to have you back here. Let's begin with Calvin Ridley. I think he's as good as advertised – he looks like a first-round pick, but I can't stress this enough: it's early. Granted, the players were running around in shorts during OTAs and minicamp, but he showed up that speed, terrific route-running and made some spectacular catches. I think any time he can get on the field running routes with Matt Ryan is beneficial – and he did just that. Regarding Julio Jones, there's not much I can or will say there because if I did, it would be pure speculation. We know this much – the two sides have been in contact and the talks, according to general manager Thomas Dimitroff, have been productive. Coach Dan Quinn has also been in contact with Jones but said those conversations will remain private. And Matt Ryan says he'll likely spend time with Jones during an off-site passing camp this summer. So that's all positive. Finally, there's a lot of time between now and the start of training camp, which is July 26. Stay patient and let's see how it all shakes out.