Welcome to Straight from the 'Beek! It's Friday, which is great, but we're also one day closer to the start of Falcons training camp, which is even better. And to top it all off, you've got plenty of questions. So, let's get to them (you can submit your own right here). Just remember, all opinions here are mine unless noted otherwise.
Before we start, an important programming note regarding Straight from the 'Beek. You will not be seeing a Straight from the 'Beek at all over the next two weeks (July 9-20). Why? I'm taking some time off to be with my family before training camp begins. I will, however, be filing my Scouting the 2018 Opponents series (you can check out the Bengals and Eagles here). That all said, please keep the questions coming.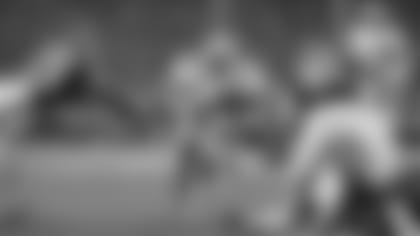 Jerry from Statesboro, GA
Hey, Beek. Are you going to be at the Falcons open practice in the Benz Nest on July 29th? The last time the Falcons practiced in the Dome, the players signed autographs immediately after. Will they do it again this time? They haven't released many details other than it being an open practice. I also have a Julio Jones question. How much a day will Julio Jones be fined if he doesn't show up for mandatory training camp? What if he sits out games (which I doubt)? What do we do? Remember Emmitt Smith? I don't blame Julio for wanting more money, but he did sign a contract. And I will close with this thought on his contract. What if he played horribly the last two years? Would the Falcons be wrong to ask him to take a pay reduction? Who's right here? I love Julio Jones and I love the Falcons, but I look at it like this: Julio Jones is an Atlanta Falcon, the Atlanta Falcons are not a Julio Jones. I guess what I'm trying to say is the Atlanta Falcons > Julio Jones. Your thoughts?
Matt: Let's begin with your first question about practice, Jerry. If you're a die-hard Falcons fan, be sure to check AtlantaFalcons.com on Monday morning. That's all I'm going to say on that. You'll just have to trust me on this one. Oh, and yes, I will be at every single practice.
Yes, I remember Emmitt Smith (pictured above). I'm a big fan of great running backs – loved watching Walter Payton, Tony Dorsett, Earl Campbell, Eric Dickerson, Thurman Thomas, Barry Sanders and, of course, Emmitt Smith. You know what else I remember about Smith and the year he held out the first two games in 1993? The Cowboys went 0-2 in his absence and when he returned, they finished 12-4 and went on to win the Super Bowl XXVIII. Smith was named league MVP and Super Bowl MVP as the Cowboys won their second consecutive title. Regarding Julio Jones and the Falcons, I'll maintain what I've said all along here. There's still plenty of time before camp (and, really, the season opener) and both sides, I'm sure, are continuing to work together. As far as fines go and all of that stuff, Falcons coach Dan Quinn was specifically asked about that and he said all of that information will remain internal. Sometimes business and football intersect, Quinn noted, and this will eventually work itself out. It's way too early to be thinking about hitting the panic button, folks.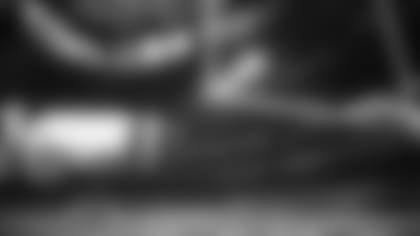 Brandon from West Valley, UT
Hey, Beek. So, this is way off topic, however, I have two boys that are huge fans of the Falcons and they would love to experience their first live game in the new stadium. Is there a way that you can help me out by sending me a link or writing down some steps on how to purchase tickets? I am all the way out in Utah as you can tell but I rock with these boys, and forever will. I was hoping I can save up to take them this season. Whether it is on here or if you could send me an email, I would greatly appreciate it. Thank you in so many ways in advance. I love the site by the way, I love how you allow people to state their opinions yet shut them down if needed. We are all fans but don't work for the organization and I know there is a lot more done behind the scenes than we think. Again, I read this every day. This is an amazing thing you did for the fans. Much appreciated.
Matt: Absolutely, Brandon. OK, here's the best way to go about purchasing tickets to see the Falcons: click on this link to the Falcons 2018 schedule page. Then click on the red "tickets" button to the far right, which will take you to the NFL Ticket Exchange page. It will promptly ask you how many tickets you'd like to purchase, your price range and then show you available seats. Then you should click on the blue "see tickets" button in the lower left corner. Then you simply pick your seats and hit the "get tickets" button. It's that simple. Let me know if you have any more questions, Brandon. Just curious, but is there a specific game you'd like to see? Be sure to let us know when you're in town. And thank you for all the kind words. Glad you're enjoying SFTB!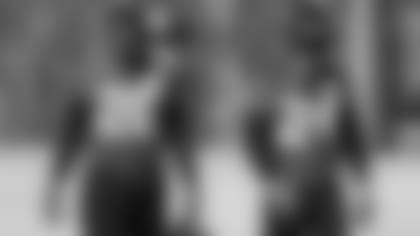 Timm from Stevenson Ranch, CA
Do you see us using Tevin Coleman as a real threat next to Devonta Freeman? I believe he is a beast yet to be unleashed.
Matt: I had to double-check your email to make sure you spelled your name with two M's, Timm. Thought I had needed some stronger coffee for a minute. To answer your question, yes, I think the Falcons have every intention in getting the most out of Tevin Coleman and Devonta Freeman this season. This is a big year for Coleman, as everyone knows. But let's also be clear here and note this isn't some new approach – these two have arguably been the best running back duo in the league the past couple of seasons.
Would you please find out and list the names of the Falcons team members and staff who visited our troops in Iraq? Were all invited to go? I'm so proud of this team and organization. Thank you for "rising up Falcons!!"
Matt: Hi, Vivian. In case you missed it, we had a story here on AtlantaFalcons.com recapping the trip – and it includes all the names of the Falcons contingent who traveled to Kuwait and Iraq to spend time with our troops. You can read it right here. It was an amazing trip and Falcons fans everywhere should be proud of the organization.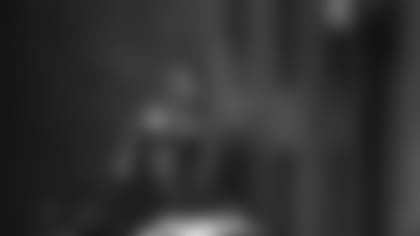 Silvanus from Westhampton, NJ
Where are the rookies that were signed and what are their status? Is there a chance that any of them will make the team? It so, who got the best chance?
Round 1: WR Calvin Ridley (No. 26 overall)
Round 2: CB Isaiah Oliver (No. 58)
Round 3: Deadrin Senat (No. 90)
Round 4: RB Ito Smith, pictured above (No. 126)
Round 6: WR Russell Gage (No. 194)
Round 6: LB Foyesade Oluokun (No. 200)
As far as undrafted rookie free agents making the team, there's always some who do. But, for now, it's too early to tell. Ask me again toward the end of training camp and I'll gladly give you an assessment of who's stood out and has a chance at making the team.