With Jake Matthews as the team's starting left tackle, Atlanta Falcons coach Dan Quinn and general manager Thomas Dimitroff head into the most important season of their careers not having to worry about one of, if not the most, important positions on the offensive line.
Matthews, 28, is entering his seventh season with the Falcons and has not only become one of the Falcons' most consistent players, he's earned the respect of the rest of the league earning his first Pro Bowl nod following the 2018 season. As the sixth overall pick in the 2014 NFL Draft, Atlanta had high hopes for Matthews and he's been exactly what they hoped he would be.
Success didn't come overnight for Matthews in the NFL. He learned quickly after an up-and-down rookie season that offensive linemen are expected to be one thing above all else: consistent. And that's what he's spent every day focused on being for his team.
"I would say the consistency of him has just been remarkable," Quinn said. "He's really detailed in his approach. He's a pro's pro in almost every way."
Matthews allowed seven sacks and 51 total pressures in his first season, according to Pro Football Focus. It's not uncommon for a rookie to struggle at the left tackle position at first considering the top defensive end talent they face week in and out. He's improved each season and it's shown in not only his play, but the offensive line's success as a whole.
In Matthews' third season, he helped lead the Falcons to an NFC title and a trip to Super Bowl LI in 2016. As the player who's asked to protect Matt Ryan's blindside, it's fair to say Ryan's success is often dependent on Matthews' play. In that same year, Ryan earned the league's Most Valuable Player honors and Atlanta had the NFL's best offense.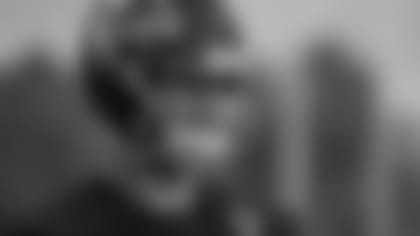 Matthews learned being reliable and consistent doesn't come without a plan of attack. He's methodical in everything he does, something he says has become very important to him.
"I have a routine I like to follow, whether it's studying, staying on top of my body, making sure I'm healthy, stuff like that," Matthews said. "I've always been that way. I find it's something I like. I stick to it. I have to do it, or it doesn't feel right. "As an offensive lineman, being consistent and someone everyone can count on is something I take a lot of pride in. It's something I want to continue to improve at. It comes with experience. I'm in Year 7 now for me, and I learned over time."
Clearly his plan is working as he's started 95 games for the Falcons over the last six seasons. Matthews has a "tool" he's able to utilize that not many other players have that has helped him get to where he is in his career.
That "tool" is his father, Bruce, who is a Hall of Fame offensive lineman. Bruce Matthews played in the NFL for 19 seasons from 1983 to 2001 with the Houston Oilers. He was a seven-time AP All-Pro and earned 14 Pro Bowl honors during his prolific career in which he played in 293 of 296 games. It's clear that consistency runs in the Matthews family blood.
"I'd be a fool not to ask him for advice," Matthews said. "I get a lot of help from him when it comes to technical stuff. He's been a big advocate for me and a tool I've been using. I don't think that will change for the rest of my career, I'll continue to call him and get advice from him."
Matthews and the rest of Atlanta's starting offensive line, will be tasked with ensuring Ryan is protected better and improving the run game. Ryan is coming off a season in which he was sacked a career-high 48 times. In the last two seasons, Ryan has been sacked 90 times.
The Falcons have also struggled to run the ball effectively since the 2017 season. In 2018, the Falcons had the 27th-ranked rushing attack, averaging 98.3 yards per game. The following year, the Falcons finished the year with the 30th-ranked rushing offense, averaging 85.1 yards per game.
With four of last year's starting offensive linemen projected to start again in 2020, Matthews is confident in his group as they get ready to take on the Seattle Seahawks on Sept. 13 at Mercedes-Benz Stadium. Right guard Chris Lindstrom and right tackle Kaleb McGary, Atlanta's 2019 first-round picks, are healthy and more experienced heading into their second season. Pro Bowl center Alex Mack continues to anchor the line and play at a high level. The only position along the offensive line that will have a first-year starter is left guard, where rookie Matt Hennessy is likely to start.
Fortunately for Hennessy, Atlanta's third-round draft pick out of Temple, he gets the luxury of playing in between two Pro Bowl players in Mack and Matthews.
"We've grown so much," Matthews said. "Just coming that far and feeling more together and comfortable with each other, it feels good. I feel we're in a really good spot. I'm excited for next week and preparing for the real deal."
One thing the Falcons don't have to worry about is Matthews not being ready to go. His teammates and coaches know they'll be able to count on No. 70 every day.
"'Jake the Snake,' he's always working," fullback Keith Smith said of Matthews. "He treats every opportunity on the field as a game rep and an opportunity to get better and prepare himself for Sundays. You see it on the field, and his preparation doesn't lie. When you see behind the scenes how he prepares it makes so much more sense why he's so good."
Atlanta Falcons will debut new uniforms this season, beginning with black home jerseys against the Seahawks in Week 1, new gradient jerseys in week 7 against the Lions and Throwbacks week 13 against the Saints.