The Atlanta Falcons sought to improve their pass rush and interior defensive line depth in this year's NFL Draft, and they did both by drafting one single player.
Former Auburn defensive lineman Marlon Davidson is one of the most unique players entering the NFL. The 6-foot-3, 303-pound Davidson played defensive end for the Tigers, despite his size, and was also sturdy enough to shift over to defensive tackle.
Even while he was out on the edge, Davidson played the game like a penetrating defensive tackle, which is the role the Falcons envision for him in Atlanta.
"He's been a defensive end," Falcons coach Dan Quinn said. "He's been stand up and down. We're going to try to feature him over the defensive tackle spots, at the guards, as often as you can. With a guy with that versatile, we're going to try to partner him up inside as often as we can."
Saying that Davidson played like a defensive tackle on the edge is by no means a slight. He possesses surprising athleticism and explosiveness that allowed him to get around opposing tackles quicker than they expected. Davidson also has jarring flexibility for someone his size.
It's his play strength and ability to set the edge that earn him those comparisons. The Falcons struggled at times last season to dictate the edge against opponents, most notably in the season opener against the Minnesota Vikings, but that shouldn't be the case if they do task Davidson with playing defensive end at times.
That inside-outside versatility is exactly what makes a player like Davidson attractive to Atlanta, which has valued that type of dual ability in players like Jack Crawford and Allen Bailey.
Although Quinn has stated they would like to play Davidson primarily at defensive tackle and allow him to compete against opposing guards instead of tackles, it would not be surprising to see the Falcons shift him outside on early downs. Atlanta re-signed defensive tackle Tyeler Davison this offseason, who was arguably the team's top run defender on the defensive line in 2019. It would make sense for the Falcons to want to keep him on the field in running situations while also utilizing Davidson's size on the edge.
It's in passing scenarios that shifting Davidson inside makes the most sense. Grady Jarrett, who was named to his first Pro Bowl in 2019, is one of the top pass-rushing defensive tackles in the league despite not consistently having a fellow interior pass rusher that teams have to worry about. Nobody yet knows if that's what Davidson can become in the NFL, but the tools are there. As a bonus, Davidson's experience rushing off the edge should make him an effective player to use on stunts, which the Falcons like to do with their defensive line.
Davidson ran the 40-yard dash in 5.04 seconds, and he isn't a speed rusher. That won't matter on the interior, however. What will matter is his technique, and he displayed good hand usage throughout his college career to help him win in pass-rush situations. A four-year starter at Auburn, Davidson improved with each successive year. As a senior, he recorded 48 tackles, 11.5 tackles for a loss and 6.5 sacks; he finished his career at Auburn with 14.5 sacks.
Jarrett is incredibly proficient with his technique, and he'll certainly provide Davidson with a great mentor early in his NFL career.
However, the most impressive thing about Davidson has absolutely nothing to do with his skills on the football field – It's his unshakable self-confidence.
"I knew when they pulled me out of the womb I was destined for greatness," Davidson said after he was drafted. "I'm 100 percent Marlon Davidson. I'm 100 percent proud of Marlon Davidson. I'm the best. I'm going to continue to be the best. Whenever you see Marlon Davidson come up in the spot, man, know he's one of those type of guys. You know he's coming here to bring havoc."
Davidson growth while at Auburn is a testament to his commitment to back up the talk. He has an infectious personality that should be welcome in the Falcons' locker room. He was a team captain as a senior in college, and it might not be too long before he emerges as a leader in Atlanta.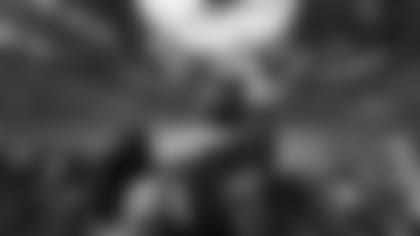 2020 Season Tickets
See the Falcons battle divisional foes along with the Bears, Lions, Broncos, Raiders and Seahawks at the best venue in sports.