Editor's Note: This is the first in a series of stories highlighting causes important to Falcons players, which will be featured on footwear during Sunday's contest against Tampa Bay, this year's annual "My Cause, My Cleats" contest. The first focuses on Chris Lindstrom's work with the Best Buddies organization, with featured Kyle Pitts on Friday and Grady Jarrett on Saturday:
FLOWERY BRANCH, Ga. -- From an early age, Chris Lindstrom's heart had been touched. His little sister, Eda, was diagnosed with autism when she was young. As a big brother, Lindstrom has always been inspired by her.
Eda taught him the importance of understanding boundaries within relationships, Lindstrom said. He added he's always learning from her, and he especially admires how hard she works for the things she wants. These days, she is playing on club volleyball teams and looking at colleges. Lindstrom jokes that "she's a far better student" than he was. He says so with pride that only a big brother can.
Eda is an inspiration to Lindstrom. It's an inspiration that led him to partner with a very specific organization working with those whose lives are also touched by an intellectual and developmental disability.
After entering the league in 2019 as one of two Falcons first round draft picks that year, Lindstrom found an organization he wanted to partner with: Best Buddies Georgia. That's also why Lindstrom has chosen to represent the organization with specially-designed shoes on Sunday against Tampa Bay during the NFL's annual "My Cause, My Cleats" game.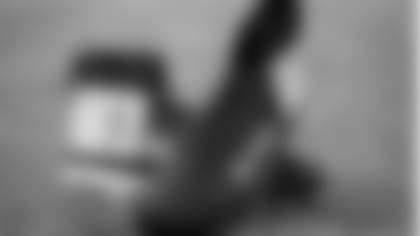 Best Buddies is a nonprofit organization that is "dedicated to establishing a global volunteer movement that creates opportunities for one-to-one friendships, integrated employment, leadership development, and inclusive living for people with intellectual and developmental disabilities," per the Best Buddies website.
Lindstrom said what makes the Best Buddies program unique is that it's not just a one-time event. It's work that is sustained throughout years.
Kozicki and Lindstrom have been buddies for a couple years at this point. Lindstrom said Kozicki has a huge personality, and loves talking sports with the Falcons lineman. Lindstrom laughed as he recounted that while they do talk about how the season is going, they don't talk too much about his play specifically. That's probably because Lindstrom said Kozicki tells it like it is.
"I don't know if I could handle it," he said with a laugh before adding that he gets just as much - if not more - out of his friendship with Kozicki as Kozicki does him.
"He's a really special person," Lindstrom said. "It's really inspiring the things that they are able to accomplish, work and overcome different adversities and I think you can really learn from and respect."
There have been a number of repercussions that came from the 2020 pandemic and the continued aftermath of it as people everywhere adjust to a new normal living with the presence of COVID-19. Lindstrom said the pandemic reinforced in his mind just how important programs and organizations like Best Buddies are to people across the country and throughout the world
Throughout the last year of the pandemic, Lindstrom and Kozicki couldn't meet in person. They had to make do like everyone else: via phone calls and FaceTimes.
"The friendship that we've been able to development especially through COVID the last two years, it's something that, it's hard especially if you're super careful about COVID," Lindstrom said. "It can be lonely at times being by yourself."
That's why Lindstrom says these friendships are so important, now more than ever.
"During COVID it's been really hard," Lindstrom said. "You're just lucky for FaceTime and just being able to call somebody on the phone."
But Lindstrom and Kozicki made it work, and their bond held firm. Now, Lindstrom is hoping Kozicki can make it to a Falcons game soon. But in the meantime, Lindstrom will continue representing his friendship with Kozicki, his love for his sister Eda and the entire Best Buddies Georgia organization.
That includes Sunday, when he'll be wearing cleats representing the Best Buddies cause. At this point in time, Lindstrom said that, while the root of the Best Buddies agenda is to create and foster friendships, this year there has been a real push to see more job opportunities arise as well as proper housing options put in place for people with intellectual and development disabilities.
To be able to represent that cause on Sunday, Lindstrom said he will wear the cleats with honor.
"You wear it with pride for all of the people in the organization, and all the good things that can come from it," Lindstrom said. "What I try to do with it is bring attention to the Best Buddies program here in Georgia and to expand the programs here in Georgia. Anyone who's interested or willing to be a participant of Best Buddies just to reach out to our office." Falcons Final Whistle | A Postgame Podcast
Break down the hottest topics surrounding the Atlanta Falcons and how they can impact the team's success with Falcons Insiders Scott Bair, Tori McElhaney and Terrin Waack. Like and subscribe to join us for the lively debate on Falcons Final Whistle.
Welcome to Falcons Final Whistle – an Atlanta Falcons football postgame podcast during the season that shifts gears in the offseason to answer a pressing question about the team's future each week through free agency, the NFL Draft and the offseason program.