FLOWERY BRANCH, Ga. -- Inside linebackers coach Frank Bush always believed Troy Andersen would transition well from Montana State to the NFL. It just took timing.
The first time Bush watched Andersen's college football tape, he noticed how the rookie linebacker would stand up high and look over the center rather than being in a low squatting two-point stance. And that was partly due to Andersen playing multiple positions early in his college career before permanently transitioning to linebacker his junior season.
Yet, all the elements he learned from playing quarterback and running back ultimately helped his transition to linebacker.
"Once you kind of get past the initial learning curve of the defense and know what you're doing, you can play more free," Andersen said, "And kind of use those instincts and just some of the past experiences that you've had and just try to make play."
Andersen says confidence in his playmaking ability has grown since arriving in Atlanta. From rookie minicamp to now in Week 16, Bush has seen Andersen focused on refining every aspect of his game.
"I think he spends time understanding nuances and whatnot," Bush said. "I think he's starting to understand that you can't just look at the offensive scheme. You've got to know who the people are, you've got to know who the coordinator is, you've got to understand how they operate within a football game and all those things that comes along with being a pro. He starting to kind of embrace those things."
Homing in on the all the off-the-field aspects of football has been vital to Andersen's growth, specifically learning how watch tape.
"[He has to] understand this particular coordinator when he puts the tight end in these particular spots," Bush said. "He's starting to talk the talk, basically, and that's what makes it so comfortable."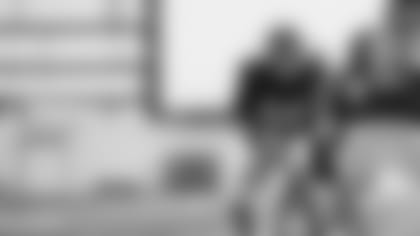 And that proves true to just how impactful Andersen has been this season. The rookie made his second start of the season against the Saints in Week 15, rotating with veteran Mykal Walker but taking the lion's share of snaps.
He finished the game with seven tackles, the second-most behind Rashaan Evans, and played 82 percent of the defensive snaps. Both defensive coordinator Dean Pees and Bush have said that Andersen has been trending in the right direction for a long time, which has afforded him more playing time.
"He's been getting better and better," Pees said. "That's why he's gotten more time and more playing time, because he's earned it."
Bush added: "The kid is doing a tremendous job. Obviously, he's a big, talented individual but his smarts and instincts are starting to show up. He's hitting people and knocking them on the ground better than he did earlier in the season. I think he's just more comfortable being a pro athlete right now so I'm happy with where he is."
Andersen ranks fifth in the NFL with the most tackles (32) by a rookie linebacker, according to Statmuse. For the Falcons, he has the fifth most tackles on defense.
His speed and innate ability to cover both a running back and a receiver in coverage, along with the physicality he brings to defending the run is evident. In essence, there's a lot to like about Andersen's game.
But, over the last 16 weeks of the season, the mental aspect of Andersen's game is what Bush sees a lot of progression in.
"Ultimately, the kid is smart, but you have to get out and play and there are things that happens in a pro football game that I can't even begin to describe to him," Bush said. "He's just got to go out and live that and get the experience. Since he's done that, he's starting to understand kind of how people attack him, how they attack the defense and where he fits within the big piece or the big puzzle. He's doing a good job of kind of relishing the role and being productive for us."
Being in this position early into his career is what Andersen has worked for. Coaches and players alike all see Andersen's potential and the type of player he could emerge into in the future.
"I think with the more reps he's gotten; he looks more comfortable," veteran defensive lineman Grady Jarrett said. "From the raw talent standpoint, and I think you've seen it early in training camp. It's still early for him but I mean he's playing that position for a reason and I'm excited to see him continue to grow."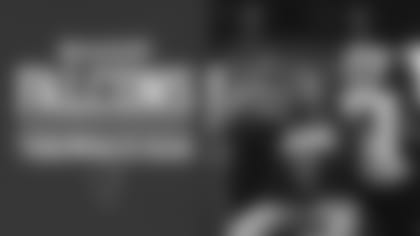 Swaggin' Since 1966
Takin' it back to 1966! Shop the Red Helmet Collection today online or in-store at Atlantic Station.