FLOWERY BRANCH, Ga. – Having patience within the pocket. That was one of Desmond Ridder's biggest takeaways after being able to process his first NFL start and evaluate his performance.
Ridder finished with 97 passing yards, completing 13-of-26 of his attempts. He also rushed for 38 yards.
He came out on the Falcons first play and threw a deep pass left to Cordarrelle Patterson that resulted in an incompletion and, two plays later, he threw another incomplete pass to MyCole Pruitt that forced an three-an-out.
"You look back on film where I would drop back in the pocket and sometimes, I would start hitching up and getting antsy to get rid of the ball," Ridder said, "when in reality, I probably had a little bit more time back there to take a second and let the picture develop."
That may be true, but that's also normal for any rookie quarterback trying to learn the speed of an NFL game. Ridder said that everything comes down to feel when doing something for the first time.
Despite the numbers Ridder put up against the Saints; head coach Arthur Smith felt like he handled his first game with poise that provided him a lot of hope in the rookie quarterback.
"Numbers are what they are and the result is what happened, but I think it said a lot about Desmond, his mindset, his poise, in the most stressful environment you can put somebody in other than being in a playoff game, with the ball in your hand and to go win it on the road," Smith said. "You get in 4th-and-5, and he delivered. I didn't see any panic from him even when he made mistakes. He didn't sit there and whine and looked to blame somebody. He understood it. Hell, half the time at least he had a reason why and said, 'I can't do that.' 'Yeah, you're right.' Those are things that give me a lot of hope with him, and you wouldn't have known until you've gone through a real game."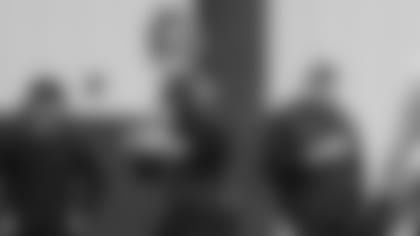 The passing game wasn't the cleanest, but Ridder knows that getting that area of the offense productive only comes with experience and repetition. He said it's all about having faith in what you see and being comfortable within the pocket.
"Trusting that those guys are going to give you enough time to let the play develop," Ridder said, "and that those guys on the back end are going to win their routes, win their matchups and go to work."
What did take pressure off of Ridder in the pocket was the consistency of Atlanta's rushing attack. The Falcons finished the game with 231 rushing yards with fellow rookie Tyler Allgeier leading the way with 139 of that total. Cordarrelle Patterson also contributed 52 yards on the ground.
"You know, does having a good run game help a rookie quarterback and staying comfortable? Of course," Ridder said. "I think with whether you're a rookie quarterback or any quarterback getting in the rhythm and getting in a flow and not even for the quarterback, for the whole offense and team is crucial for us."
Looking back on his first NFL start, nothing really surprised him outside of the speed of the game but he credits his preparation that led up to this moment and the insight he received from offensive coordinator and former NFL quarterback Dave Ragone, who also played his rookie season during his time in the league.
"'Play your game,'" Ridder said that Ragone told him. "'Don't ever try to be someone you're not or something you're not.' Which is what he harps on us all the time, especially right there around game day. 'Just go out there and let it fly.'"
Facing the Ravens in Baltimore in just his second NFL start will be another challenge, yet Ridder is ready for what's ahead. Taking everything one day at a time is the approach as he continues to settle into this new role.
"As long as you're prepared in whatever you're doing," Ridder said, "I think you're going to be good."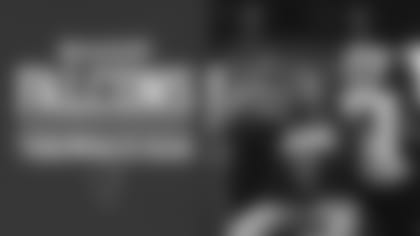 Swaggin' Since 1966
Takin' it back to 1966! Shop the Red Helmet Collection today online or in-store at Atlantic Station.