Throughout the course of his rookie campaign, Tyler Allgeier has consistently mentioned his goal to be an all-around running back in the NFL. Sunday against the New Orleans Saints further indicated the work he's been putting in to reach that goal of his.
The fifth-rounder out of BYU had a career-high day, rushing for 139 yards on 17 carries, averaging 8.2 yards a clip. In his mind though, there was never any doubt that he would be performing at an elite level once he got his opportunity.
"Even coming in, just always trying to have the mindset of, 'Oh, I'm going to be the starter.' So, just having that mindset and having that goal to be an all-around back as well," Allgeier said. "That's my goal and I'm still striving to do so."
On the eight-play, 75-yard scoring drive in the third quarter, Allgeier showed up and played a crucial role in that effort. On the fourth play of that drive, Allgeier cut right before finding an open lane, taking it 43 yards up the right sideline that would set Atlanta up in Saints territory.
Four plays later, he capped off the drive by scoring Atlanta's first touchdown of the day, trimming the lead to just four points.
"We just needed a score," Allgeier said. "Everyone in the huddle just had that mindset and we ended up doing it and getting the team in a good position to have a chance at the end."
Allgeier's production on Sunday solidified the argument that he's one of the best young running backs in the league.
"He's an instinctive player, smart, hard to tackle," head coach Arthur Smith said in his post-game press conference. "He had a big run on the third-and-one and I thought you (felt) him. He's another volume guy that as the game goes on, those guys don't like tackling him. He made a good play on the two-point, able to bounce it, show that burst to get to the front pylon. I'm really excited about him. He's been big for us."
Allgeier became the first rookie running back since 2015 to eclipse 100 rushing yards in a game. He's still leading the charge for the Falcons rushing attack which has been the offense's go-to this season.
"Every time you hand the ball off, you're expecting that he's going to make one guy miss," quarterback Desmond Ridder said. "You know, it's going to take more than one guy to tackle him and bring him down, so that's almost a security to just hand the ball off and know that he's going to get positive yards."
The rookie has been a bright spot for the Falcons this season to say the least. It's evident how confident Allgeier is within the Falcons' offensive system and his overall individual game, but he knows there's much more work to put in to ultimately become that all-around back he's striving to be.
"I think just reps. Practice reps and all that stuff," Allgeier said. "I think just getting more comfortable. Getting the speed down but I still got stuff to learn."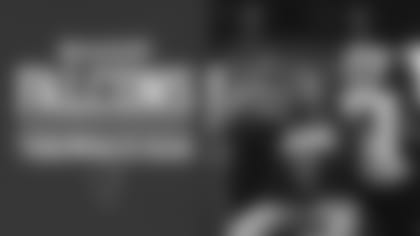 Swaggin' Since 1966
Takin' it back to 1966! Shop the Red Helmet Collection today online or in-store at Atlantic Station.