FLOWERY BRANCH, Ga – Since Hayden Hurst arrived in Atlanta last season, he's made an impact on and off the field. He finished 14th in the NFL among tight ends with 570 yards and six touchdowns last year, and through his charity, The Hayden Hurst Foundation, he has made an impact in the community.
Hurst has been vocal about his struggles with depression and the importance of mental wellness. He was moved to tears when he described his battle with depression in a video last year watched by millions. And through the Foundation, he has funded "In Focus" – which focuses on social and emotional learning – in thirteen Title 1 Elementary and Middle Schools across Maryland, South Carolina, and Georgia.
Not to mention, Hurst has brought one of the best hair and beard combinations in the NFL to Atlanta, with his thick caveman-like orange beard and long hair.
Following practice last week, Hurst talked about trash-talking in the NFL, how Lee Smith and Kyle Pitts have become his brothers and the best moment of his career.
Editor's Note: This Q&A has been edited for length and clarity.
Kris Rhim: The tight end room has changed significantly from last year, with Kyle Pitts and Lee Smith now on the team. Have y'all grown close this season?
Hayden Hurst: Kyle and Lee are the reason why I come out here every day and Have a smile on my face and have fun. They keep it light through the ups and downs of the season. Those two guys are good to fall back on.
Are there any stories you could share from those two?
[Hurst laughs and shakes his head]
I'm sure you could ask anybody about Lee and get a good story. He's awesome. He's been around a lot. Not much of a filter, but he's an awesome guy. Pretty thankful that he was put in our room this year. He's kept me level-headed for the most part, and Kyle is just funny. It's weird seeing how a 21-year-old acts when you're 28. Crazy how much of a difference it is, but he's an awesome guy. I love Kyle. I consider these two guys my brothers.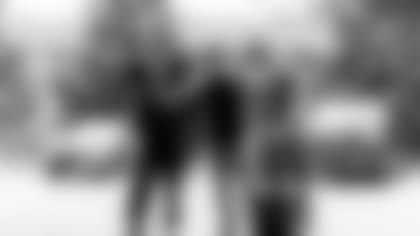 On the field, do you like to talk trash with players?
I don't necessarily go out with the MO that I need to talk trash. I guess I'm more responsive. If guys are saying stuff, and I'm not gonna sit back and take it. So I guess just through my play. I'm physical, and it pisses people off. So it comes with the territory, I guess.
Who's the best trash talker you've played against?
Oh, man. There's a lot of guys. A lot of guys kind of have their quirks. They say stuff that will kind of catch you off guard. There are some guys that are more funny with it. I can't think of a specific one that pops into my head. I know being in Baltimore [Terrell Suggs] the stuff he would say, just little comments kind of wore on you and you pick your head up you look at him like, 'Damn it. There's not much I can do to this guy. There's little things from each guy. It's fun.
Is there a guy like that here?
I think guys do their own thing here. Here there's not one guy who's like, our s* talker. Here it's more laid back. I can't think of a guy who's just every single day pretty persistent.
[Hurst thinks for a few seconds]
Like I said, I guess just through my style of play, like yeah, I guess that's what radiates off me. I guess that's what some guys say. I don't intend for it to, but I guess just how I play, that's kind of how it goes.
What have you learned through your four seasons in the league? What would you tell your rookie self?
Oh my gosh. A ton of stuff. Do your job. Make sure you play every play 100 percent. And I don't want to say this in the wrong way, but you have to take care of yourself. It's a business at the end of the day.
And what would you say is the best moment of your career so far?
I think my NFL career has kind of been just an uphill battle the whole time. And then, I'd say the highlight of my career was that second year in Baltimore. Playing in those games, playing with those guys, it was pretty fun. Falcons Final Whistle | A Postgame Podcast
Break down the hottest topics surrounding the Atlanta Falcons and how they can impact the team's success with Atlanta Falcons Insiders Scott Bair, Tori McElhaney and Kris Rhim. Like and subscribe to join us for the lively debate on Falcons Final Whistle.
Welcome to Falcons Final Whistle – an Atlanta Falcons football postgame podcast during the season that shifts gears in the offseason to answer a pressing question about the team's future each week through free agency, the NFL Draft and the offseason program.