NEW ORLEANS -- The Falcons have a challenge ahead facing the Saints at home this weekend after losing to the Panthers last Sunday, 19-13. It was a game that saw the Falcons lose the line of scrimmage on both sides of the ball.
Essentially, the Falcons offense couldn't stay on the field, and the defense couldn't get off.
Arthur Smith said the Falcons have to turn things around in those area and do so quickly.
"There were no secrets and (Carolina) beat us on both sides of the line of scrimmage," Smith said. "We better fix it in a hurry because we're going down to a hornet's nest in New Orleans and I could probably take a good, educated guess what their game plan is going to be. So, we got to get ready to go."
The Falcons enter into this year's rivalry matchup in New Orleans with a 3-4 record. In preparation for the divisional rivalry, let's take a look at five things to watch on Sunday.
1. Spreading the ball out
Smith and offensive coordinator Dave Ragone said give Carolina credit: The Panthers did a good job facing Kyle Pitts and taking Russell Gage out of the game.
When the Falcons are at their best, they are spreading the ball out. Atlanta's best drives of the season have a similar pattern, and it's Matt Ryan being able to hit five or more different receiving targets. The Falcons must do a better job of this against a stout Saints defense. Otherwise, it could be a long game for the Falcons defense if the offense continues to struggle to stay on the field. Smith, Ragone, Ryan and even Gage, too, all agreed the Falcons need to attack the Saints "by committee," especially without Calvin Ridley, who was placed on the NFI list on Friday as he deals with a personal matter.
"I'm ready to step up and play a role in what Calvin was able to do if need be; like I said, all of us are ready," Gage said. "It's gonna take more than just me to step up and play and help contribute in that role."
2. Needed improvements in third down conversions
In the same vein as the above section sits the Falcons 30 percent conversion rate on third down against the Panthers.
Ryan said after the Carolina game the Falcons needed to be more "opportunistic." And when it comes to missed opportunities of the Falcons offense, the 3-for-10 on third down stat line added up against the Panthers. By the numbers, Carolina's third down defense is better than New Orleans… but both land in the top 10 in the league. So, converting on third down is still going to be a challenge for Atlanta. It sounds simple, (almost like 'no, duh') but if the Falcons can keep the chains moving, they'll be more competitive this Sunday.
3. Containing the quarterback
The Saints announced this week that Trevor Siemian would get the start on Sunday. Jameis Winston suffered a torn ACL last week and Taysom Hill was just cleared from concussion protocol this week. Sean Payton noted in his final weekly news conference that Hill's most recent status change was one of the difference makers in the decision.
"A lot of it's based on, I felt like Trevor played well last week," Payton was reported saying on Friday. "Taysom was coming out (of concussion protocol) just at that same times. We'll see each week. We've got a good play, we feel like, this week, relative to this game, and we'll kind of go from there."
The Falcons run defense could be a little relieved when really dissecting this news. Dean Pees said when it comes to run defense through the first chunk of the season, he's been less disappointed in the Falcons ability to stop run designed plays as he has been in the Falcons ability to stop a mobile quarterback. In that regard, Siemian is not Hill.
"I am not worried about (Siemian) running over us, but (Hill) can run over you," Pees said. "That's kind of the player he is."
But with Hill active on Sunday, that doesn't take the possibility of seeing him away. If they do see Hill - or Simien shows an ability to move outside the pocket - the Falcons have to make sure no one leaks out.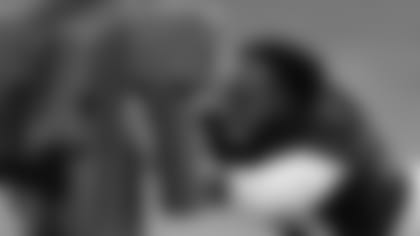 4. Controlling Alvin Kamara, Mark Ingram
Speaking of run defense, you can't talk about this game and leave out Ingram or, specifically, Kamara's names.
Pees probably said it best on Thursday: Kamara is not someone you fully stop. He is someone you try to control, or "handle."
"Is (Kamara) going to get open against probably anybody you put on him? Yeah, but we have to be there to tackle him and not give up a big play," Pees said. "There are just guys like that. We've gotta control him."
Kamara and Ingram's performances both as a running back duo, and individually, could be the difference in this game if left unchecked.
The Falcons have relied a lot on Bullard more than maybe it was originally thought when he first came to Atlanta. However, he's been out all week as he works through concussion protocol. The Falcons announced he was ruled out of the Saints game on Friday.
This likely means an extended role for Marlon Davidson and Mike Pennel in rotation. Grady Jarrett and Tyeler Davison will hold down their starting roles, but Davidson and Pennel and the next men up on the depth chart. It could be a big game for Davidson, who has been quiet at times this season. He's due up for a big game in Year 2. Falcons Final Whistle | A Postgame Podcast
Break down the hottest topics surrounding the Atlanta Falcons and how they can impact the team's success with Atlanta Falcons Insiders Scott Bair, Tori McElhaney and Kris Rhim. Like and subscribe to join us for the lively debate on Falcons Final Whistle.
Welcome to Falcons Final Whistle – an Atlanta Falcons football postgame podcast during the season that shifts gears in the offseason to answer a pressing question about the team's future each week through free agency, the NFL Draft and the offseason program.