The 2023 season is finally -- yes, finally -- here.
OK. Well, not quite yet. It'll be here at 1 p.m. on Sunday when the Falcons host the Carolina Panthers in Atlanta for an NFC South Week 1 matchup. Though these teams finished the 2022 season with the same 7-10 record, the Panthers finished second in the division while the Falcons found themselves at the bottom with a fourth place finish.
However, so much change has happened since the last time these two teams met on Thursday Night Football last November. For the Falcons, Desmond Ridder is QB1. They've drafted Bijan Robinson. They've hired Ryan Nielsen as the defensive coordinator and Jerry Gray as the assistant head coach/defense. Players like Jessie Bates III, David Onyemata and Calais Campbell have joined the Falcons defense.
As for the Panthers, they've undergone quite the amount of turnover, too. Frank Reich is now the head coach. He brought in his own staff. Carolina drafted Bryce Young with the first overall pick in the 2023 NFL Draft. He's their QB1. The Panthers also added a few free agents to the mix of their 2023 roster, too.
So, no. These two teams are not the same as the last time they shared a field.
With the 2023 set to kickoff for these organizations on Sunday, what is there to watch? A lot. So much, in fact, that five things will only scratch the surface, but let's take a look, nonetheless.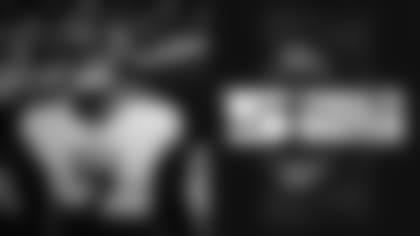 1) Who plays, who doesn't
The Falcons and Panthers have a couple question marks with some of their skill players going into Sunday's game.
For the Falcons, Cordarrelle Patterson (thigh) and KhaDarel Hodge (ankle) were listed as questionable. Smith said on Friday chances are the Falcons make a game-time decision on both players 90 minutes before the start of the game (when the team's official inactives list is released). The only Falcons player officially ruled out in Week 1 is Jeff Okudah (foot). The expectation would be that Tre Flowers would starting cornerback opposite A.J. Terrell on Sunday. Flowers has taken almost all of the first-team snaps throughout the preseason in Okudah's absence.
For the Panthers, their situation is a bit more fluid. On Friday, Reich ruled out WR D.J. Chark (hamstring) and listed WR Adam Thielen (ankle) as questionable. However, the biggest question mark for Carolina involves outside linebacker and two-time Pro Bowler Brian Burns. According to reports out of Carolina, Burns' status for Sunday's opener in Atlanta remains unclear amidst contract disputes. Burns finished the 2022 season with 12.5 sacks and his presence on the Carolina's defensive line would be greatly missed if he holds out into Sunday. Burns was not listed on Carolina's final injury report on Friday, but reporters in Carolina said it wasn't a sure-thing that Burns would play. His status -- along with that of Patterson and Hodge -- will be something to monitor in the hours leading up to kickoff.
2) Rookies to make their professional debut
A major storyline of Sunday's game involves the first regular-season look at prominent members of the 2023 rookie class. Bryce Young, Bijan Robinson, Matthew Bergeron and Chandler Zavala are set to make their professional debuts this weekend. For the Falcons, the list may grow as Zach Harrison, Clark Phillips III and DeMarcco Hellams could see playing time in rotation, depth or on special teams. Perhaps the list for the Panthers grows, too. Regardless, this is the expectation.
For Falcons fans, the excitement likely lies within seeing Robinson officially in this offense for the first time. Since the Falcons drafted Robinson with the No. 8 overall pick in the 2023 NFL Draft, this is the moment fans have been waiting for. Robinson has yet to be unleashed in his full capacity within this offense. Lord knows Smith wasn't going to show all of his cards for this particular offensive weapon in the preseason. Now he can.
So, what does that look like? How many carries are we talking? How many targets? How does the work load shift and alter between Robinson, Tyler Allgeier and -- potentially -- Patterson, too? What type of asset is Robinson in this offense, truly? We've talked about it ad nauseam. On Sunday, we'll finally get to see that dynamic in action.
3) Who wins the coaching chess match?
Here's the ultimate crux of this matchup: Neither team has a solid, concrete idea of what the other is planning. The Falcons don't know what Carolina's offense will look like with Reich in command and Young under center. The Panthers don't know what tricks Smith has up his sleeve with the offensive weapons he has at his disposal. What happens when Robinson, Allgeier, Kyle Pitts, Drake London and (possibly) Patterson are all on the field together?
In a game where there is very little tape to work off of, who has the advantage? The team (and coaching staff) that makes the most productive in-game adjustments, that's who.
There's something to be said about how this game is more of a coach's chess match than anything else. It's almost not about who has the best game plan going into the game, but whose game plan best evolves as each team gathers more information about their opponent. Neither team gave much away in the preseason, which should ultimately culminate into some pretty fun football. At least, in theory.
4) Will the Falcons defensive additions increase production?
The Falcons have worked hard this offseason to reshape their defense. They wanted to get bigger at the line of scrimmage and they did, grabbing Calais Campbell, David Onyemata and Bud Dupree in free agency. They wanted to be more secure on the back end and they did that, too, making a splash by signing Jessie Bates III in free agency. For the first time, these players get to pin their ears back as a defensive unit that still includes players like Grady Jarrett and A.J. Terrell.
But it's the layers within this defense that will be intriguing to see perform. How will Onyemata's presence in the defensive interior open things up for Jarrett? Can Campbell earn the 100th sack of his career? What about the partnership with Troy Andersen and Kaden Elliss? How does this duo work off of each other? What immediate impact can Bates have in the secondary?
Above all: There has been obvious money and resources pumped into this 2023 Falcons defense. What type of production will that investment yield? We'll be able to piece that answer together soon enough.
5) Desmond Ridder, QB1
You knew he had to be on this list, right? Well, here he is.
Though Ridder has already made four starts for the Falcons, Sunday's feels different. The Falcons had capital and opportunity to bring in a different starter in 2023 if they wanted to, but they didn't. They felt like they saw enough in 2022 to ride with Ridder into 2023.
Ridder said on Wednesday he feels a lot less anxious going into this start than his first in New Orleans last season. He said he feels more confident in himself and in his command of the offense. Smith added that Ridder wouldn't be out there if Smith wasn't confident in his abilities to lead this offense.
For majority of training camp and the preseason, we heard more about Ridder than we actually saw of him. Sure, we saw him in joint practices and throughout every single open practice. And yes, he had one series in the Falcons' second preseason game against the Bengals. But what we will see of Ridder on Sunday is real and will outnumber his preseason appearance quickly. On Sunday, everything that has been said about Ridder -- by coaches and teammates alike -- will be put to the test.
So, what are realistic expectations for Ridder in his first start of 2023? It's as simple as getting the ball in the hands of his playmakers and doing it often. Easier said than done, right? Well, hear me out: I've said since Ridder was named QB1 that the situation a young quarterback is in dictates a lot of the success he has. In terms of good situations, on paper, this situation in Atlanta is as good as any a young quarterback would want to be in. The pieces of this offense are strong. The Falcons have invested heavily in its offensive line. They've built up the unit's skill positions through the draft. In theory, this is a strong group. But they're only strong if Ridder can get the ball in the right hands.
Ridder doesn't need to be flashy. He has teammates for that. He needs to be consistent. He needs to make the right decisions. He needs to simply find his playmakers and get them the ball. That would be enough.
But, of course, that's simple in theory but more difficult in practice.
Check out the Falcons limited edition Sundays retail collection, worn by Atlanta native hip-hop recording artists JID and Earthgang. Shop the collection.